The Coca-Cola Company is the world's leading and best known drinks supplier. Its mission statement is:
'The Coca-Cola Company exists to benefit and refresh everyone who is touched
by our business'
Primarily, consumers associate Coca-Cola with its best known drink. However, the Company also continually develops its product range to meet everyone's needs.
A company has a portfolio of products; a product range. These products will be at different stages of their product life-cycle; some will be newly launched, some will be experiencing substantial growth, while others will be holding on to their position in mature markets. The aim of Coca-Cola is to ensure that its product range offers something for every occasion, for any time of day, for every consumer of its products.
The soft drinks category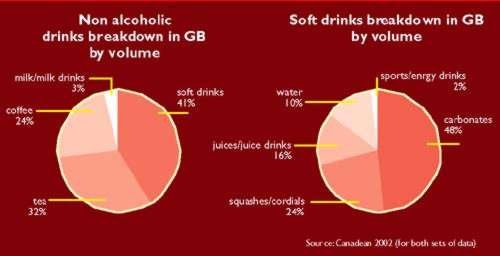 Coca-Cola GB operates in the non-alcoholic beverage market. How these beverages are supplied to consumers varies enormously, from vending machines that supply single units to supermarket multipacks. In soft drinks alone, Coca-Cola GB has a broad range of over 80 products.
Building the range
A business can enlarge its product range in two ways:
internally, through new product development based on market research
externally, by acquiring related companies, and if appropriate, building on their existing range.
For example, in 1999 The Coca-Cola Company purchased, in various countries, soft drinks brands from Cadbury Schweppes plc, including Dr Pepper, Oasis, Kia-Ora and Malvern.
The acquisition of Schweppes provided the opportunity to complement the range and accelerate growth through new product development.
Coca-Cola GB's approach to new product development is uncomplicated. It innovates to meet consumer demands; the consumer has a central role in the research and development process.