Football is the 'world game' and Coca-Cola is the brand name of the world's biggest selling soft drink, so it is hardly surprising that the two have become closely linked. Coca-Cola has a long history of supporting and working with people and organisations seeking to develop football at all levels. From this lengthy relationship, the Company has a deep understanding of the game and of the excitement of football fans.
One of The Coca-Cola Company's core values is to 'support and strengthen our communities' and Coca-Cola has taken a unique and innovative approach to local communities through the development of its football-related programmes. Not only have these been specifically developed to deliver on corporate and brand reputation, but also to develop its citizenship programmes through activation at the grass-roots level and tackling important social issues.
Creating strong relationships is at the heart of any successful business. By sharing values, building trust and providing mutual benefit to a wide range of consumers, customers, and other 'stakeholders' Coca-Cola aims to fulfil its promise – to benefit and refresh everyone who is touched by its business.
We live in a world of diverse cultures and interests and by focusing on the interests of local consumers – such as football – Coca-Cola strives to build closer relationships with consumers.  Coca-Cola has a long-standing commitment to encouraging young people to participate in team sports and live healthy and active lifestyles. Strong grass-roots programmes that introduce young people to football in a supportive environment are also the best way of building and sustaining football at the international level.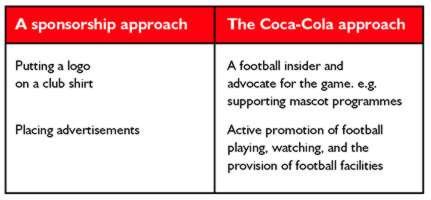 Because of its central position in the lives of many GB citizens, football plays a key role in Coca-Cola GB's marketing activities. The Company's focus is on the football fan rather than football itself and Coca-Cola sees itself not as an external sponsor of football but as a 'football insider'. This involves actively promoting the playing and watching of football and the provision of facilities for both of these activities, rather than simply helping to fund professional clubs (e.g. by buying advertising space at their grounds). The aim is to keep all promotional activity credible and authentic.