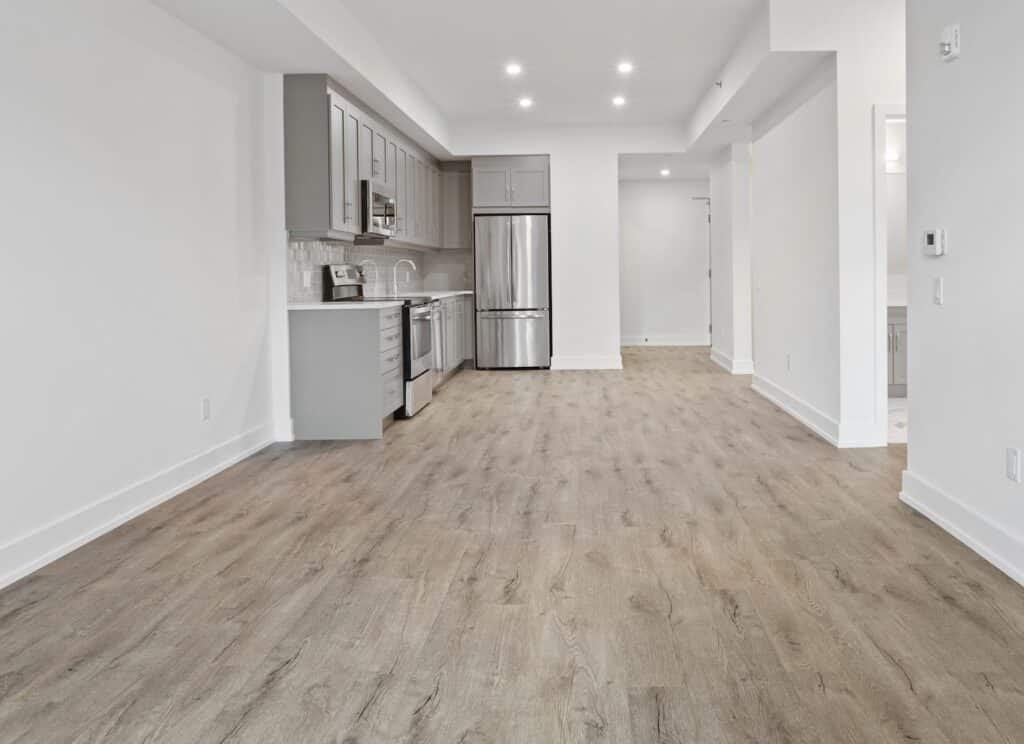 LVP is available in plank form and often has the look of real hardwood due to realistic scraping or embossing. LVT is available in traditional tile squares, with a more stone and concrete look, with surface texture for a lifelike appearance, and can even be fitted with adhesive. Despite the fact that some people consider them planks versus tiles, many flooring companies consider LVP to be vinyl tile flooring in plank form.
LVP and LVT are both multi-layered materials. It has a long-lasting wear layer, a specially designed print film, a PVC core, and an optionally attached backing for extra comfort and quietness underfoot, whether it's a plank or tile. They come in a variety of overall thicknesses and wear layer thicknesses for added protection.
Although some people associate LVP and LVT design with wood versus stone, luxury vinyl imaging can include ceramic tile, bamboo, fabric, art, or even animal print looks. The possibilities for printed pictures are truly limitless, especially with technological advancements, as well as the ability to implement different types can also change the look of the flooring, from herringbone planks to mixing different coloured square tiles for a varied style.
What is LVP?
Luxury Vinyl Plank flooring(LVP) is one of the hottest trends in home decor today. This unique type of wood-look vinyl plank offers homeowners a great way to add some style to their homes without breaking the bank. Made of a durable plastic core with a beautifully patterned finish, LVP looks like real hardwood and feels like real solid hardwood too.
What is LVT?
Luxury Vinyl Tiles or LVT flooring are one of the fastest growing trends in home decor today. They are similar to traditional tile installations but offer a number of advantages over traditional tile installation methods. Luxury Vinyl Tiles come in many different styles and colours and can easily be installed by yourself without hiring professional help.
How Is Luxury Vinyl Flooring Manufactured?
Luxury vinyl floors are made up of multiple layers. The base layer consists of PVC, while additional layers include resin, plasticizer, and additives like fillers and pigments. These materials make up the entire floor, including the surface.
The core layer is the thickest part of the flooring and provides stability and strength. It is usually composed of high-density polyethene, polypropylene, or PVC. The core helps give the floor its rigidity and durability.
Rigid core vs. flexible?
Luxury Vinyl Planks and Tiles offer flexibility over traditional wooden flooring. They are easier to install and maintain while providing better soundproofing properties. However, there are some things to keep in mind when choosing this type of flooring.
The common types of luxury vinyl flooring include:
• Laminate Vinyl Planks—These are very popular due to their ease of cleaning and maintenance.
• Vinyl Tile – This is the traditional option for homeowners seeking high-quality flooring.
• Luxury Vinyl Tiles—Like vinyl tiles, these products are long-lasting and durable.
• Luxury vinyl plank – With a look and feel similar to laminate vinyl, it provides the best value for money.
• Luxury laminate vinyl plank – A hybrid product that combines laminate's durability with vinyl's ease of cleaning.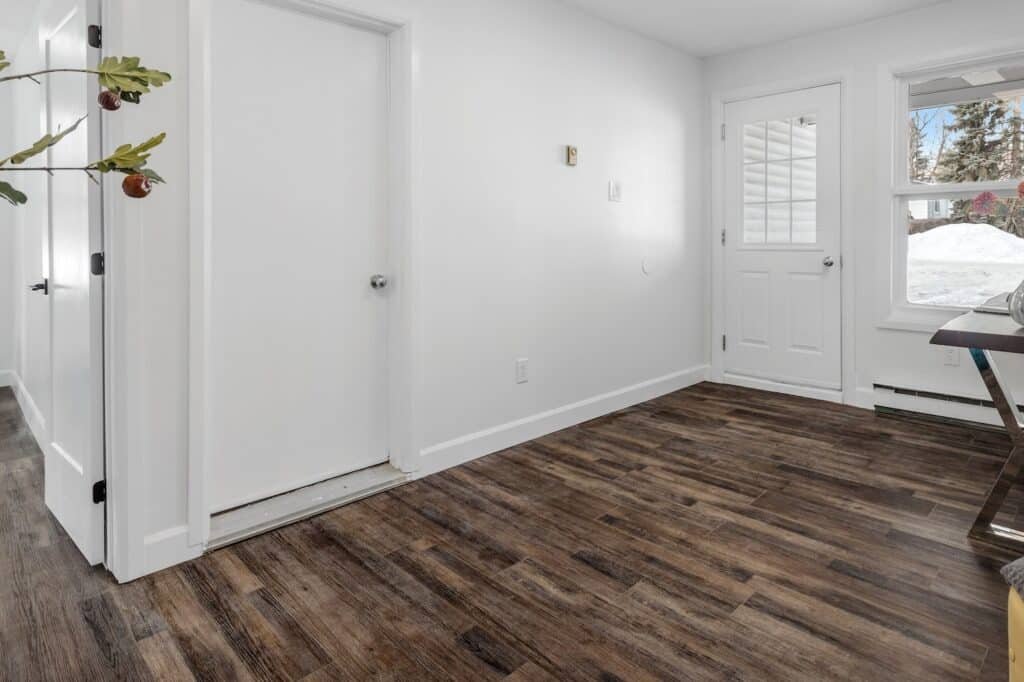 Are LVP and LVT flooring easily scratched?
Luxury Vinyl Planks (LVP) and Luxury Vinyl Tiles (LVT) are flooring options that come in a variety of styles and colours. These types of flooring are very durable, easy to clean, and resistant to stains, water, heat, and humidity. They are typically installed over wood subfloors.
While both LVP and LVT are great choices for homeowners looking for beautiful floors, it is important to know whether they scratch easily like carpets. In fact, some people even wonder if they scratch as much as the laminate flooring. While it is true that LVP and LVT floors do not scratch as much as laminated floors, they still require proper care.
Here are three things to consider about scratching:
Hardwood Floors vs. Softwood Floors
Hardwood floors are strong, dense, stable, and can stand up to high traffic areas. On the flip side, softwood floors are more flexible, lighter in weight, and less expensive. Both types of floors are prone to scratching.
2. Appliances & Furniture Legs
Furniture legs with nails sticking out of them and appliances with metal parts can damage your floors. Make sure to place furniture pads under the legs and appliances. This will protect your floors from being scratched.
3. Clean Your New Flooring
Cleaning your floors regularly is the key to keeping them looking good. You should vacuum your floors once every week and use a damp mop to wipe off dirt and grime.
Luxury Vinyl Plank Resistant to Water
Vinyl plank flooring is becoming increasingly popular because of its durability, low maintenance requirements, and ability to withstand high traffic areas.