In recent years, Vietnam has been increasingly promoted as a favourable dynamic country in which to do business. This is why many investors have started buying real estate, setting up businesses or doing import-export.
On this article, let's digest why Vietnam is a favorable country for investment and incorporating a company.
Investor perspective: should you invest in Vietnam?
The opportunities are various when you live there, such as this young investor who has set up his company, invested in real estate, points out the dynamism of the Vietnamese economy in entrepreneurship, taxes favorable to investors and the growth of the country :
If you consider a country where the cost of living is low and the opportunities are numerous, Vietnam is a favorable country in which to set up a business and invest. On the website movetoasia.com you will discover some of the reasons why you should consider Vietnam as a country of the future to invest in if you are an entrepreneur or investor looking to diversify your asset allocation.
Geographic Location and Strong Infrastructure
The importance of geographic location for flourishing business is undeniable. Located on the Indochina peninsula, Vietnam has a fairly good geographic location. Towards the north, it has a very extensive land border with China (4,550km). It connects to Laos and Cambodia towards the West and to the east, it has a coast with the Eastern Sea of Pacific ocean. Having such a long border with the 2nd largest economy in the world and a cost with an ocean makes imports and exports convenient.
Almost all businesses, at some point, depending on the imports or exports of a country, and having a favorable geographic location can be beneficial for business owners. It also has a very diverse topography which as an attraction for tourists. Tourism is important for local business growth. Along with a suitable geographic location, the development of a strong infrastructure is equally important.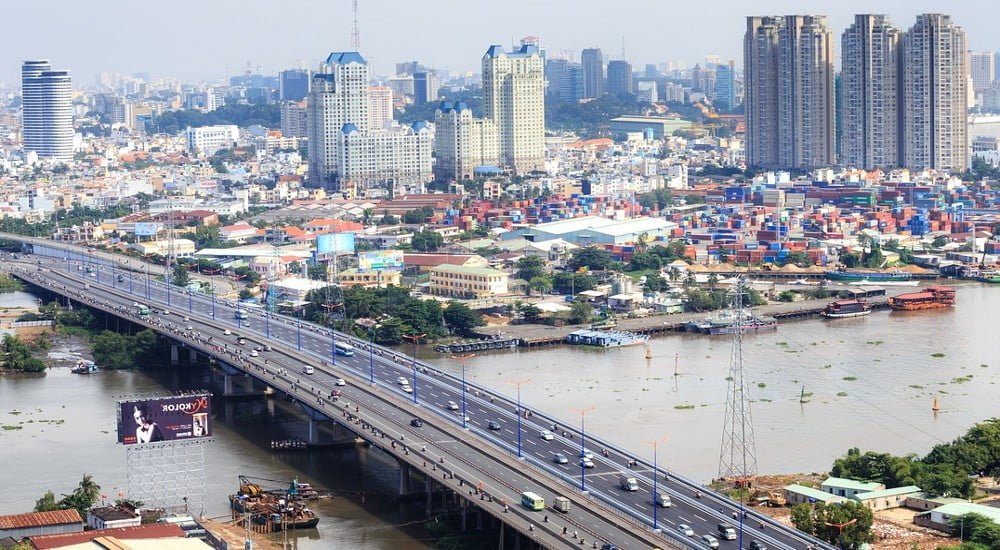 Paved highways, availability of electricity, and other facilities for industries play an important role. In recent years the internet has become just as important as any other facility. All of these are either readily available or under development in Vietnam which ultimately makes it a potential investment opportunity.
Stable Economy Growth
Although it depends on several different factors, the economy of Vietnam has been one of the fastest-growing economies in SEA countries. The average GDP growth per annum in the year the 2000s is 6.4%. In 2019 the peak GDP growth was 7.02% which was more than the target GDP growth that year. Vietnam saw the lowest increase of GPD in 2011 however since then there has been a noticeable growth in GDP every year. In Vietnam, Investment Law and Enterprise Law of 2014 made the conditions very favorable for private and FDI sectors. A business can be established anywhere except at a place where it is prohibited by the government. A good economy ensures future safety for your business. It decreases the chances of going bankrupt or suffering huge losses.
Favorable Policies and Taxes
Political stability plays an important role in business development. Being ruled by the Communist Party of Vietnam (CPV), Vietnam is a one-party state. The CPV has made some welcoming policies for investors in recent years. The government has been trying to make Vietnam a suitable place for investments and business growth. There is a fairly reasonable taxation structure. The Corporate Income Tax (CIT) and the Capital Assignment Profit Tax (CAPT) is set to 20%. Value-added tax (VAT) for standard goods is 10%, for essentials, it is 5% and there is no tax on exported goods and services. The Withholding taxes also depends on the nature of activities such as 5% General Service and Interest, 10% royalties, and 1% goods.
Enthusiastic Taskforce and Labor
The population of 97.2 million makes Vietnam the 14th largest population of the world. It has a growth rate of 1.2% per annum and it is expected to rise to 100 million this year. More than 50% of the population is aged 25 years or less. Having such a huge number of young, skilled, and talented workers readily available to work can help a business grow rapidly. Toiling workers makes Vietnam a perfect business hub. Students from all over the world come to Vietnam for internships and jobs.
Import and Export
Any business requires two things. The raw material for the development of their product and a market place for selling the product. Imports and exports play an important role in fulfilling this requirement. It opens your business to a new potential for growth. In 2019 the total value of imports and exports was estimated to be $516.96 billion. The trade balance was estimated to be $9.9 billion. Vietnam has seen a consistent increase in imports and exports since 2011. It also has a positive balance of trade after 2016. 2019 was the peak year of development for Vietnam.
FDI Attraction
In 2019 an investment certification was provided to 3,883 new products which are 27.5% more than the same period in the preceding year. In the year 2019, 9,842 times more foreign investment came into the country which contributed to a total capital value of $15.47 billion, which is 56.4% more than in 2018. The main focus of investors was the manufacturing and processing industry. The total investment was $24.56 billion which was 64.6% of the overall invested capital. It was followed by an investment of $3.88 billion in the field of Real estate business. Investors from 117 countries invested in Vietnam with Korea at the top ($7.92 billion or 20.8% of total capital) followed by Hong Kong ($7.87 billion or 18%). The China-USA trade war also led to more investment from China and Hong Kong which increase 1.65 times and 2.4 times respectively. As of 20th December 2019, 30,827 projects are ongoing which accounts for a total investment of $362,58 billion.
Tax Incentives and Exemptions
The relaxed taxation system of Vietnam is a reason for the attention of foreign investors. The government continues to provide more facilities and make the conditions more favorable for investors. These tax incentives help to establish businesses easily. The investment law of Vietnam has three specific forms of incentives. The lower tax rate for some time or till the end of the project. Raw materials and supplies are made tax free or the tax is reduced. Reduction or exemption on the land necessities.
Is Vietnam a great country to invest to?
The policies of Vietnam and the facilities available there make the country a suitable place for investment and staring a business. The growing economy, suitable geographical location for easy imports and exports, and all the tax relaxations are the factors that can help your business grow exponentially.