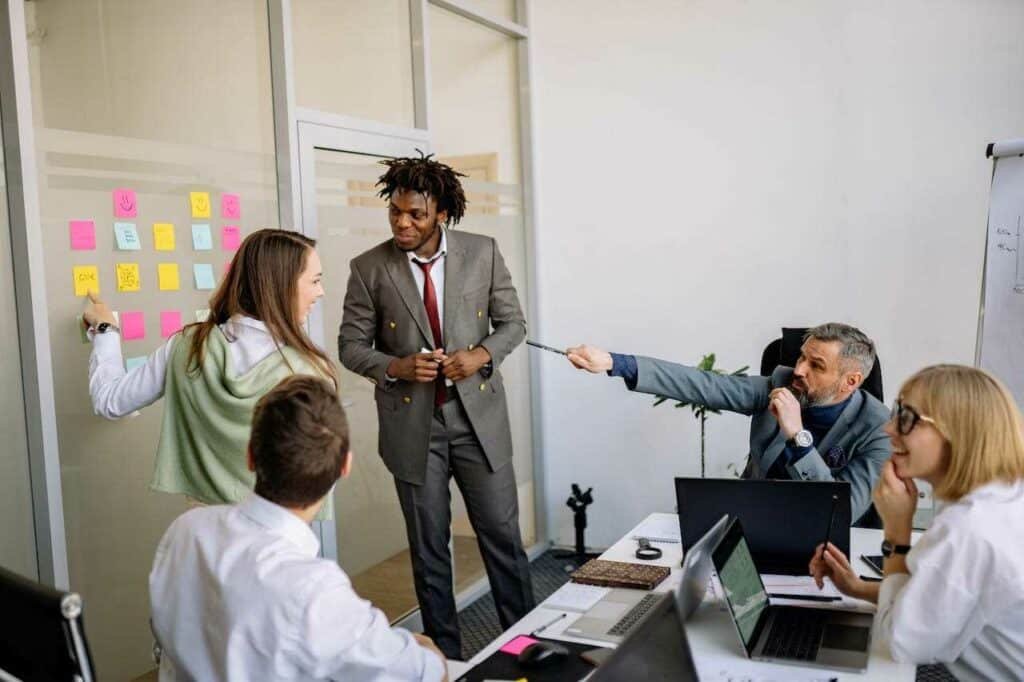 A collaborative meeting is an interactive discussion between people or groups with a joint agenda. The discussion's intention is usually to brainstorm and share ideas intended to build progress towards a common goal.
Collaborative meetings can be done under one roof but are not limited to that. Online meetings can be just as effective nowadays. In fact, with the coming of the pandemic, most collaborations have had to move to the virtual space and there's a great chance most companies will opt to continue working from home even after the pandemic is over. It's way cheaper and produces similar results if planned well.
With that, you might, now more than ever, have to know how to coordinate and put meeting resolutions into action effectively online.
Physical Vs. Virtual Collaborative Meetings 
Virtual meetings carry almost all the usual challenges experienced in physical meetings, which include keeping one's focus on the primary agenda and tracking the meeting in real time. It's usually a challenge to measure a meeting's success.
Whose job is it to jot down all important ideas brought forward and decisions reached during meetings? Who sets a clear ground for brainstorming? Who creates the agenda in sync with the team's values and overall goals? Is the team being interactive enough? If so, who encourages this? The questions could go on, but the main concern is whether is your team correctly positioned before each meeting for effectiveness.
If you find yourself having a less than straightforward answer for most of these questions, then your team might need to redesign how it conducts and tracks its meetings. Despite sharing some challenges with physical meetings, virtual meetings are ridden with challenges peculiar to themselves, such as how one, despite the distance, ensures that the meeting remains a thoroughly engaging collaboration.
So, if you're trying to adapt to increasingly virtual workspaces or your team had challenges long before meetings were conducted online, here's a list of ways that should help you improve your collaborative meeting experience.
1. Give Importance To Planning And Design 
Most meetings begin to fail before they even start. A sure recipe for failure is to walk into a meeting and expect it to "flow naturally." What will most probably happen is it will flow naturally, and you won't like it!
Picture a group of minds with different sets of individual goals, expectations, measures of success, etc. gathered in one place, hoping to land at one decision miraculously. It looks like a blueprint for failure. Yes, that's because it is.
If you're trying to improve your collaborative meetings, you should consider starting with the fundamentals. Ask each team member about their desired goal and how they are to measure success. Use this to come up with a unified list of team goals that will guide you in your meetings and decision-making. Having a clear sense of why you're holding the meeting in the first place is, of course, priceless.  
2. Allocate A Time Slot To Each Item On The Agenda 
Knowing why the meeting has been convened is not a guarantee that the meeting will respect its set agenda unless you police it.  
As soon as you know why you're meeting and how you'll jointly measure your progress, it's important to set a time slot for every item you put on the agenda. After setting these slots, the next important task is to have an assigned team member handle time management and ensure that everything gets covered within specific time frames. They will also ensure that no item gets excessively pushed at the expense of others.
To make this effective, you will need to allocate time slots realistically in the first place. Slots should be proportionate to the weight a subject might carry.
This is also an excellent time to decide on who will be responsible for the central documentation of the meeting's resolutions and overall progress. You'll need these notes to identify areas that still need your attention as a team.
3. Discuss More Than Present
It sounds like a no-brainer, right? But it isn't. People in meetings tend to focus more on delivering their presentations. They use up a considerable chunk of time stating ideas and/or discoveries, proposing concepts without leaving adequate time for the group to ponder on and discuss the given points.
You'd be surprised if you allowed the quality improvement your ideas would have if you gave enough time for the rest of the team to contribute to your notions. Presentations are an essential part of getting the conversation started. However, avoid making them the centre of your meetings; instead, encourage the team to discuss ideas back and forth. It's a good way to engage everyone and improve each idea brought up in the meeting.
4. Use Tools To Improve Flow 
Look for the best collaborative meeting tools that suit your team's agenda. Technology is here and not going away, so you might as well use it! You don't have to be a tech genius for you to find a tool you can use. You can scour the internet for the best online whiteboard that can incredibly be user-friendly during team collaborations.
Have your whole team work from a single whiteboard and be updated in real-time whenever a team member makes a change in the board, such as adding a drawing, a note, or media. This can help simulate an office environment and help your team create and bring their ideas together in real time.
5. Assign People Responsible For Each Decision 
Nothing can kill all the effort mentioned above faster than the absence of agreement on what the team is supposed to do next and whose duty it is to carry out the said task.
Identify this by the end of each meeting. Every actionable step must be assigned to an individual who will be primarily responsible for ensuring the progress, accomplishment, and keeping of the time frame for that action. If you set time frames for every task, you're making sure that the progress of your team's set goals is traceable and that should get you towards more effective meetings. 
Conclusion
You can improve your team's overall efficiency by improving how well you collaborate with each other in your meetings. It's especially important to adapt and continue being productive as a team without having to be in the same room.
It takes deliberateness on the part of each team member, most especially on the team's lead, to create and adhere to a structure for all your meetings. You have a lot to gain from modifying these few things. There remains room for growth, but first, the basics.