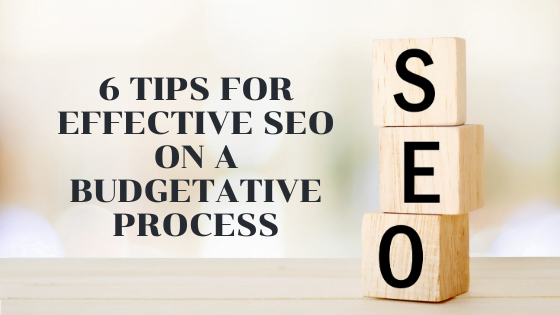 Every business is on the run to stand out in the crowd using SEO strategies. Since all of them realize the importance of SEO especially now when 93% of online experiences begin with search engines, they spend a fortune on it without thinking twice. But here's a reality check- You need not spend all your hard-earned money on this scheme when you can do it on a budget.
How? Check out these six simple strategies to kickstart your business online!
1. Create outstanding content
The search engine follows a very systematized method of displaying websites on the search results page. One of the key factors it considers is good content.
If the content in your website contains relevant information, caters to the demands of the customers and is non-plagiarised, your page is very likely to be selected by the search engine for public disposal on the search results page.
Thus, look for an expert writer who can create content that is not just unique in its style, but also focuses stringently on what your targeted customers are looking for.
2. Go keyword hunting
SEO is practically hollow without keyword research. It tells you what words or phrases are your customers using to search for your products. These words are then skimmed through all the web pages to rank on them. You can also contact professionals that provide SEO services, you can check Digital Cornerstone.
To pick the best keywords, you need to think like a customer with the same level of expertise and their position on the conversion channel. Don't stuff your content with keywords as this is strictly against SEO rules and will be considered as spam by the search engines. To safeguard yourself from any possibility of SEO penalties, hire some affordable SEO professionals and guarantee your online success.
You can also make use of various keyword research software available on the internet. It will make your job easy and help you identify keywords with less competition and high usage.
3. Shift the focus to meta tags
In many cases, you might be wondering, what attracts the server to a website besides the keywords and good content? Well, the answer is simple – Good title descriptions and meta tags.
Since the search engine is closely looking for titles that are most hunted for, a well-defined title and meta tag will help you rank on the first page. While these metatags don't improve the rank of your website directly, it will ghastly improve your website's click-through rates. So, why not?
4. Speed up the page loading
The amount of time consumed by the website to load a particular searched page is another major factor that affects the search ranking algorithm. Since the search engine is hunting for the best websites that can render convenience to customers, if your page takes forever to load, the viewer will switch to better and faster options. Stats suggest that just 2-second delay can increase your bounce rates by 50%!
Thus, make sure your page's speed is not compromised. Reducing server response time, enabling compression and minifying JavaScript are some techniques you can use to improve the speed of your web page.
5. Focus on the results
There is no point in formulating new strategies every day if you do not learn from your mistakes. If you observe that the search engine is constantly rejecting your web page, you know something is wrong.
Research about similar websites that are ranking high on the search result page. Chalk out the problems on your website that might be causing your business to stay behind the big screen. Focus on each of the problems individually and try to find a solution one after another. This will help you improve your online business to a great extent. Once the search engine begins to recognize your authenticity, you know you've reached the peak.
6. Stand out like no other
There are more than a million businesses online that are using search engine optimization today. So, it's obvious, the process may take a while to bring you the desired effects at the earliest.
If you want to break out of the stereotype and arrive in the spotlight, you've got to work for it. Think out-of-the-box. Use effective strategies to do things differently. When you generate content that stands unmatched, the search engine will have no choice but to pick you before anybody else.
Remember, good things take time!
Keep in mind that it takes time for the search engines to do their job. Don't rush with the strategies. Just believe in the power of SEO and don't give up!