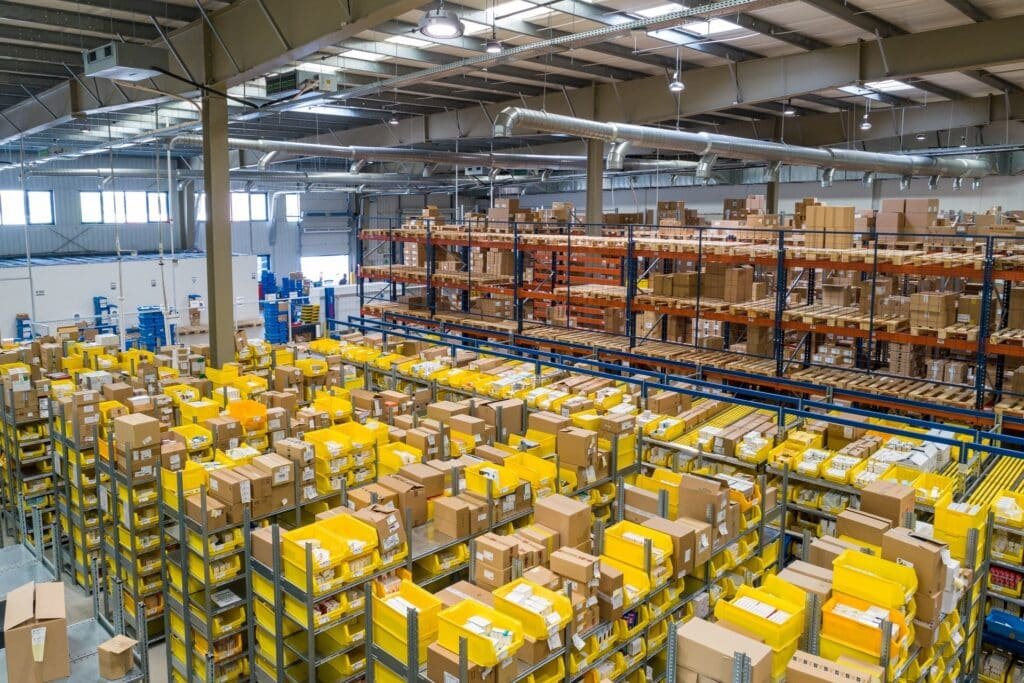 Organizing your warehouse is a good way to boost productivity and increase employee satisfaction. Your warehouse staff will be more motivated to work if their workspace is organized. Doing this will also protect your inventory during day-to-day operations. Here are some great tips for keeping your warehouse organized.
1. Label Everything
By labeling every product in your warehouse, it will be easier for you to manage your inventory and you'll reduce the number of picking errors. It's a good idea to use scannable bar codes like stock-keeping units (SKU) for labeling your products. If you use SKUs to label everything in your warehouse, your staff will be able to track inventory simply by scanning the bar code with a hand-held device. Without stock-keeping units, it can be extremely difficult to have a clear understanding of stock levels of your products and their variants.
2. Keep Your Warehouse Clutter-Free
One of the most basic things you can do to keep your warehouse organized is make sure it's always clutter-free. Encourage your employees to throw out anything trash they come across to keep their workspace clean. If your employees don't have the time to keep your warehouse clutter-free, you should designate cleaning roles for each shift. If your cleaning staff does a good job after each shift, employee satisfaction will increase.
However, if you want your staff to focus on other essential warehouse tasks, you should think about hiring a professional cleaning service to do the cleaning for you. Since most companies have the experience, skills, and tools perfect for the cleaning job, they can do it properly while your staff handles the operational aspect of warehouse management. 
3. Install Warehouse Shelves
Installing warehouse shelves is an effective way to maximize your storage space and keep everything organized. When your warehouse also uses shelving, your staff can also have easy access to your goods. Since everything is organized, you'd no longer have a hard time locating the goods you need. Moreover, having shelves in your warehouse can enhance the safety of your goods. 
With those things being said, it's important to provide shelves that can store your goods safely and adequately. You can accomplish this by collaborating with a shelf provider. If you get in touch with a shelving company, they will manufacture shelves in any size you want. Contact Rare Timber Shelving Cape Town to find out more about their shelves with strong support structure and secure interlocking systems.
4. Work on Speeding Up the Picking Process
By speeding up the picking process in your warehouse, you will find ways to keep the space organized. Keep in mind that this is the most error-prone task in the warehouse, which is you should work on improving the accuracy and speed of the process. If your employees make mistakes due to bad organization in the warehouse, it will have a negative impact on customer satisfaction.
To speed up the picking process, you will have to study the current travel time between picking locations and position bins. Try to see what improvements can be made to reduce this travel time. One of the best changes you can make is placing your best-selling items close to the packing area.
5. Position Employees Effectively
Just like it's important to position items in your inventory effectively, you should also pay attention to where your employees are located. Doing this will improve employee efficiency and productivity. Take into account the role of each employee and determine how to position them throughout the facility.
6. Eliminate Unauthorized Traffic
Unauthorized traffic can disrupt the workflow and prevent your employees from keeping the warehouse organized. To keep things running smoothly, you should prevent non-employees from entering the warehouse without a reasonable reason. It's a good idea to give your employees an identifier that is clearly visible, like a vest. If every staff member wears the same vest, it will be easy for you to see when someone without access is in your warehouse.
Aside from wearing a vest, you may also consider installing a biometric security system to ensure only authorized personnel has an access to the warehouse. This innovative device doesn't only eliminate unauthorized traffic, but it can also keep your warehouse safe against theft and other criminal activities.
7. Use a Warehouse Management System
In this day and age, it's essential to use software solutions to keep your warehouse organized. Using a warehouse management system (WMS) will help you reduce labor cost, increase inventory accuracy, reduce fulfillment time, increase employee productivity, and improve customer service. You can get a WMS as either a standalone system or as part of a larger enterprise resource planning ERP software.
There are many impressive features associated with warehouse management systems. For instance, you can use the software to optimize inventory allocation. It also uses advanced tracking systems, like automatic identification and data capture as well as radio-frequency identification. On top of that, your warehouse managers will be able to monitor staff performance using a WMS.
Due to the things mentioned above, it's important to have warehouse and inventory management software in your corner to handle the technical side of your warehouse operations. Aside from keeping your warehouse organized, using software lets you pay attention to some latest inventory management trends, which you can use to develop better processes and reduce operating costs.
8. Listen to Employee Feedback
Sometimes, your employees may come up with the best solutions for warehouse organization. After all, they're the ones who spend 40 hours a week working in the warehouse. You should listen to their feedback because they know the entire facility in and out. In fact, you should encourage your warehouse staff to come to you if they have any ideas on how to organize it better.
Final Thoughts
There are some notable benefits to keeping your warehouse organized. For instance, you will boost employee productivity, increase your storage space, and improve inventory management. All you have to do is keep the tips mentioned above in mind, make a few small changes and you'll start reaping these benefits.