Introduction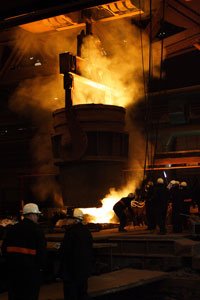 Sheffield Forgemasters International Ltd (SFIL) is a steel producer and engineering company. Based in South Yorkshire, the heartland of traditional steel production, the company has six subsidiaries, including operations in America and Europe. It is one of the biggest private sector employers in the area.
The company manufactures bespoke heavy steel castings and forgings. SFIL specialises in providing high quality total engineering packages for its customers. It supplies businesses in many industrial sectors, with customers in the defence, nuclear, oil and gas exploration, power generation, marine and construction industries.
Engineering is a highly skilled and specialised profession so SFIL needs well-trained employees. SFIL offers employees industry-leading training courses that are tailored to its own needs. It has been running a highly acclaimed apprenticeship programme since 2005. The company invests £1 million a year into this programme. It allows the company to supply its next generation of skilled workers, trained to its own high standards. Apprentices will form the future backbone of the business. Some apprentices have progressed to supervisory and managerial positions. As Graham Honeyman, SFIL's Chief Executive, explains:
'Our commitment to apprenticeships is evidenced by them gaining permanent positions and rewarding salaries from day one.'
Apprenticeships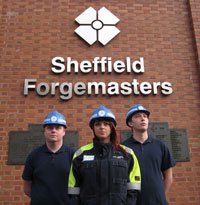 Applicants to the programme are usually aged between 16 and 24 years old. This allows SFIL to train young people in the 'Forgemasters Way' and to benefit from government funding. Apprentices are trained in all areas of the business. They do a variety of jobs during their apprenticeship and experience the many roles needed in steel-making and heavy engineering.
The scheme has an excellent reputation. It received the Large Employer of the Year award at the 2011 National Apprenticeship Awards. SFIL also features as one of the top 100 apprenticeship employers in the UK. It is proving attractive for many young people. As Dan, a 20-yearold apprentice, states:
'I chose this scheme because SFIL has a really good reputation in my local area and I knew this could lead to a job for life.'
This case study looks in more detail at SFIL's apprenticeship programme. It draws on the experiences of three current apprentices: Dan, Kurt and Rebecca. It also considers the broader training challenge for a modern engineering business such as SFIL.

About this case study:
This case study looks in more detail at SFIL's apprenticeship programme. It draws on the experiences of three current apprentices: Dan, Kurt and Rebecca. It also considers the broader training challenge for a modern engineering business such as SFIL.
Workforce planning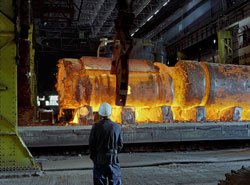 Workforce planning is the process of establishing and meeting a company's labour needs. It needs to take into account the skills as well as the overall number of employees required to conduct the business. It has to consider anticipated future demand as well as current needs.
SFIL faces many of the same workforce planning issues as other businesses. It needs to provide staff development, to respond to changes in its external environment and to remain ahead of the competition. SFIL also faces additional challenges due to the highly skilled and specialist nature of its work.
External influences
SFIL's workforce planning has to take into account many factors. For example, it needs to understand the local labour market. Skilled workers may move in or out of the area. It needs to consider the wider economy. A global economic downturn may reduce demand for its products. Within this ever-changing context, SFIL needs to plan the number of workers it will need in the future. It must assess the skills that these workers will need. By forecasting these future needs of the business, it can produce a plan to ensure that it will have trained staff that can deliver what its customers want.
SFIL strives to be the best at what it does. To achieve this, the focus of its operations is on quality. It believes in continuous improvement and being a leader through innovation in developing new products and processes. So to succeed, it needs a strong skills base. As these are vital features of SFIL's current and future growth, they must also be built into training programmes. This focus on quality is a feature of the apprenticeship programme. Kurt, a 21-year-old apprentice, says:
'I completed a level 2 foundation course in engineering to give me basic skills. I now work in the furnaces, calibrating the temperature to very strict standards. This heat treatment phase is a vital part of the manufacturing process and the slightest change in temperature can affect the hardness of the metal. We supply materials to lots of different industries, including the nuclear industry, so our materials must meet the highest quality and safety standards – there is no margin for error.'
Recruitment and selection
Another way that SFIL drives up quality is by taking on only the best people as apprentices. In 2010 there were more than 250 applicants for just 30 apprenticeships. SFIL undertakes a pre-recruitment screening exercise to make sure only the best candidates are interviewed. This is producing results. According to the local college, the 2011 apprenticeship cohort was the best intake so far. Dan, who started in 2010, explains the process:
'I started my apprenticeship after going through firstly a group interview, where everyone was really friendly, and then an individual one.'
SFIL is currently training 64 apprentices. This is just under 8% of the total workforce. This underscores SFIL's commitment to training the next generation. It will help the company ensure that it has highly skilled workers to meet the needs of the business in the future. The apprenticeship programme has helped SFIL to improve its skills base. This is vital as it increases the company's capacity to handle new and complex projects. Graham Honeyman says:
'Apprentices have contributed to the organisation's success for many years. They are now engaged in refining work practices and control systems to improve efficiency and productivity across the operation.'
The importance of training
Training is the process of acquiring knowledge and skills. It ensures that workers are better able to perform their jobs. The objectives of training include:
increasing productivity by introducing more effective ways of working
educating employees in the use of new equipment and new methods
making employees more adaptable by providing them with the skills to carry out a variety of tasks
increasing job satisfaction and producing a motivated workforce.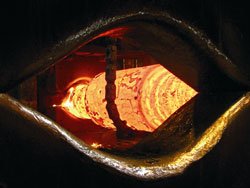 Apprentices at SFIL benefit from both on-the-job and off-the-job training. On-the-job training takes place at SFIL's premises. Trainees receive support and instruction as they carry out their allocated job roles. Off-the-job training takes place at a college or another learning centre.
Putting training to use
Dan spends one day a week at college studying the theory of metallurgy. During the four days of the week he is working, he puts this theory into practice. He has, for example, been trained to use ultrasonics to scan for cracks in the metals and he has now qualified to work on this unsupervised.
Kurt's off-the-job training includes a BTEC level 3 course in manufacturing engineering at a nearby college. This training supports his role working in the furnaces calibrating the temperature of the process. Dan and Kurt's roles are highly skilled and are vital to ensure SFIL's high quality standards.
Rebecca, a 23-year-old business and administration apprentice, is supported by other models of training:
'I undertake formal training for my NVQ and I get to apply what I learn in the workplace. My training takes place mostly on site. I receive project work set by my tutor, which I complete and have assessed by email. The tutor visits on a regular basis to carry out appraisals of my work. I've also been on in-house training courses for things like Microsoft Word and Excel. I have taken a "train the trainer" course to learn how to run training programmes for the company's own instructors. So I've acquired lots of new skills.'
There are several qualifications that apprentices can take depending on their level of education and the job for which they are training. These range from BTEC, City and Guilds and NVQ awards all the way up to doctorate-level degrees.
Training in action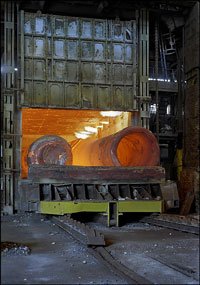 Apprenticeships are designed to provide the foundation for undertaking key roles within many of the company's divisions. They equip successful school and college leavers with skilled trades.
Dan, Kurt and Rebecca work in different parts of the business, but have all been shortlisted for the prestigious Cutlers Award. These awards encourage apprentices to expand their knowledge of industry through travel and reading. Each apprentice is developing different skills, showing the variety of approaches that SFIL provides on its apprenticeships.
Joining an apprenticeship
Apprentices come from a variety of backgrounds with varied qualifications. Dan says:
'I left school with A-levels in Business Studies, General Studies and PE, so not exactly engineering-related subjects, but SFIL has helped me to build up the right skills. I am now on a BTEC level 3 in Materials Engineering, which can eventually lead to a full degree.'
Dan enjoys the 'family' atmosphere at SFIL. Many SFIL employees have been with the company for years. This means that he can consult colleagues with plenty of experience as he is working with some of the best people in the industry.
Rebecca has a different background. She says:
'Being honest, I didn't do as well in my GCSEs at school as I had wanted. I did beauty therapy at college and worked for a time in a beauty salon and then after that in a call centre but neither gave me the sort of job satisfaction I wanted. I joined SFIL on an apprenticeship in business and administration. This might seem different from the traditional view of an apprenticeship in an industrial area but it works in a similar way. I work in the engineering forge performing a variety of different roles, such as purchasing, as well being the PA to the managing director, which involves setting meetings, managing spreadsheets and reports.'
In the longer term, each apprentice will aim to gain further qualifications and secure their future at SFIL. Each will be able to carve out a career path that suits them and the business. Kurt is planning to take a foundation degree to increase his theoretical knowledge and experience. Rebecca can see herself moving into a purchasing manager role or even into sales or accounts. The open policy at SFIL means apprentices have many different opportunities.
The benefits of training
As well as benefiting the apprentices, the apprenticeship programme generates clear business benefits. As well as addressing serious skills challenges, it also helps to:
increase productivity
reduce staff turnover
create loyal employees
produce efficiency gains.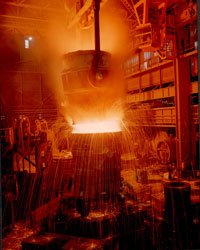 By increasing the skills and knowledge base of apprentices, SFIL is able to handle increasingly complex projects, resulting in stronger order books.
Apprentice experiences are varied, but all help to build a stronger business. Dan, for example, can now be entrusted with really important aspects of SFIL work, looking for cracks in the metal. If any are found, he is part of the team identifying how to correct the problem. This is a really important aspect of SFIL's work. It involves working with equipment and materials that cost millions of pounds and are used in critical sectors like the nuclear industry. Products need to be of the highest quality to meet the customers' standards and to ensure operational safety.
Conclusion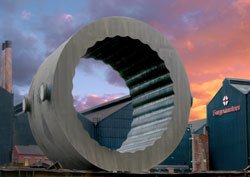 Sheffield Forgemasters seeks a competitive advantage through being the best and through innovation to improve its products and processes. The development of its apprentices is an important means of achieving these goals.
Through the scheme, it is able to develop people who will form the backbone of the company in the future. They are being equipped with required skills, as identified during workforce planning. Both male and female apprentices are offered the support they need to succeed. Rebecca says:
'Being female in a traditionally male environment is great - I love working with engineers.'
The company continues to invest £1 million a year in its apprenticeship training programme. Apprentices are offered a wide range of progression routes, tailored to both their needs and the needs of the business. Many apprentices progress to obtain further qualifications and develop long-term careers in the highest levels in the organisation.
Sheffield Forgemasters International | Apprenticeship training within the steel industry
Click HERE to download this case study »
Supporting resources
Training and development
Workforce planning
Other Resources