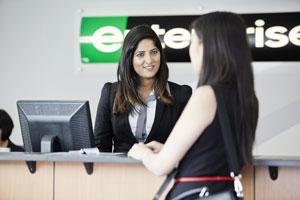 The external environment is continually changing, which means that to remain competitive and continue to satisfy both the needs of the market and its customers, a business needs the ability to respond quickly to these changes.
Enterprise Rent-A-Car is one such company that has successfully continued changing to meet market demands, always with the customer at the heart of its operations.
In 1957, Jack Taylor founded Enterprise. His visionary idea was that customers would see the benefits of leasing cars rather than buying them. He started the business with just seven cars and two employees, with the belief that by always taking good care of his customers, he could build a successful business. From its earliest days, Jack Taylor knew that the success of his company depended on one thing: its reputation.
"We're a brand that's recognised as a worldwide leader in the car rental industry. We value our employees and customers as much as a member of the family. Today, Enterprise continues to drive success through a simple, yet powerful set of beliefs to become a leader in mobility, as well as in sustainability and innovation."
Today, Enterprise Holdings -- which owns and operates Enterprise Rent-A-Car -- is the largest car rental service provider in the world. And Enterprise is now a household name for frequent travellers, road trippers, businesses and replacement customers.
Enterprise has over 7,200 locations in 40 countries in Europe and the Middle East. In 1994 Enterprise opened its first branch in the UK, and the company now has more than 420 branches across the UK with over 4,500 employees.
In 2014, Enterprise Rent-A-Car acquired Burnt Tree Vehicle Rental, which at the time was the UK's 2nd largest provider of commercial vehicles to businesses and public sector organisations. This acquisition added 17,000 commercial vehicles to Enterprise's existing commercial vehicle fleet and the combined business is now known as Enterprise Flex-E-Rent. With the combined Flex-E-Rent business, Enterprise is uniquely placed to offer the widest range of vehicles of any UK rental company.
This case study explores the integration process of the two businesses and how merging cultures is an essential aspect of managing change. It will show how leadership and effective, open and transparent communication was an important part of this process.
Drivers for change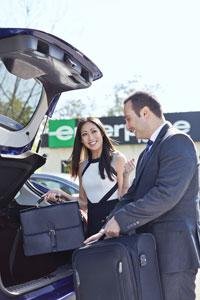 A business needs to be able to respond flexibly and creatively to the changing internal and external environments in which it operates. These are referred to as drivers for change.
External drivers can be political, economic, social and technological as well as environmental factors.
Internal drivers can be:
Change of leadership or owners of the business
Business performance
Growth – organic or through acquisition
One of the ways a business can grow is to acquire another business. An acquisition is where one business takes over another.
There are many reasons a company may acquire another business:
Diversification – this is when a business branches out into new products or markets
To reduce competition – acquiring a business that operates in the same markets can help reduce the number of competitors
To extend the market – expanding the business geographically by starting to trade in international markets
Increase economies of scale – by expanding its scale, for example of production, a business can reduce costs in the long term which gives it a competitive advantage
For Enterprise, the acquisition of Burnt Tree Vehicle Rental was part of its overall growth strategy. A key strategic aim in the Enterprise journey is "to become the UK and Ireland's principal mobility provider."
Up until this acquisition, Enterprise UK and Ireland had grown organically through the expansion of the business across the UK. It was not simply about increasing the breadth of vehicles and services that Enterprise could provide to its customers, but creating value through a combination of unique offerings from each company. Following the acquisition, Enterprise stated:
"We could immediately see the potential of Burnt Tree to give our customers access to skills and services that are particularly suited to the needs of commercial vehicle customers. Burnt Tree has some unique expertise that it can bring to Enterprise and it will also benefit from becoming part of a truly global organisation. The combined business post-acquisition will be far stronger with greater economies of scale and better technology, while the transfer of knowledge will allow us to better serve our customers", Enterprise stated following the acquisition.
The acquisition of Burnt Tree was also seen as an opportunity for employees to benefit both personally and professionally from the newly formed business.
Values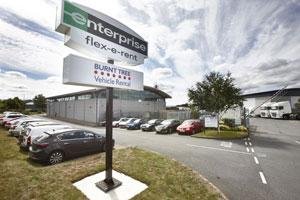 While the Enterprise company has grown and expanded, it has maintained Jack Taylor's original personal philosophies of taking care of customers and employees. Enterprise's values have always been the foundation that influences all of its operations, contributing to its success as a company. Values are the beliefs and guiding principles that influence the activities of a business and how it operates. For Enterprise, its values underpin its overall mission as a company, which is: to exceed our customers' expectations for service, quality and value ... to provide our employees with a great place to work ... and to serve our communities as a committed corporate citizen.
Enterprise's values directly impact its customers, employees and the local communities that the business serves. These values are:
Our brands are the most important things we own
Personal honesty and integrity are the foundation of our success
Customer service is our way of life
"We maintain an uncompromising focus on customer service, from our distinctive professional dress and courteous demeanour, to our practice of directly linking career advancement opportunities to the actual customer service we provide."
Enterprise offers a range of career prospects from apprenticeships and internships through to graduate opportunities and focusses on recruiting people with an aptitude for customer service.
Our company is a fun and friendly place where teamwork rules
We work hard…and we reward hard work
When one branch finds a new idea or technique that works, this is communicated and shared so that the entire company benefits.
Great things happen when we listen…to our customers and to each other
We strengthen our communities one neighbourhood at a time
Enterprise strives to make a positive economic impact in the neighbourhoods, towns and cities where it does business. Every branch aims to be involved in its local community. For example, the local Enterprise Flex-E-Rent branch partnered with the Shropshire Star newspaper in an initiative to distribute thousands of pounds among charities and community groups to make a vital difference to people's lives.
The Enterprise business revolves around its customers and employees. "This means conducting business with integrity, being honest, working hard and never forgetting to have a little fun along the way."
Organisational Culture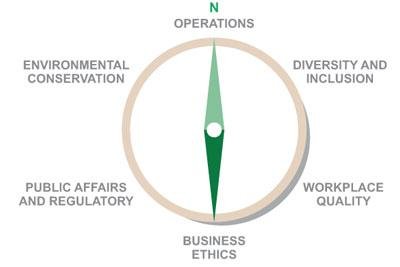 Values also influence how the culture develops within a business. Organisational culture is comprised of the values, attitudes, beliefs, meanings and norms that are shared by people and groups within an organisation. For example, the culture within an organisation affects how employees behave, how they make decisions and how they solve business problems. The culture of an organisation which develops over time is very powerful and has been described as the DNA of a business. You can quickly get a feel for the culture of an organisation just by looking around and talking to the people who work for it.
"We invest a lot of time and energy into ensuring our business operations are closely aligned with our values and our responsibilities to communities and the world around us. To make this a little easier, we manage our operations according to a "Cultural Compass" that guides our day-to-day dealings with customers, communities and one another."
Although every organisation has a culture, no two cultures are necessarily the same, so while Enterprise and Burnt Tree were both in the vehicle industry and there were similarities in terms of heritage, private ownership and branch autonomy, there were also differences.
Many Burnt Tree employees were nervous about being acquired by a global, multi-billion dollar U.S corporation.
However, an important aspect of managing the change through the acquisition process was taking steps to merge the two cultures. An integration programme was developed and implemented with representatives from the senior management teams of both companies to ensure a smooth transition of all aspects of the business:
"Since Enterprise acquired Burnt Tree, the management team has implemented a considered integration programme to create a single entity."
Through the implementation programme it became clear to the integration team that Enterprise and Burnt Tree shared many of the same values in terms of fairness, teamwork and placing the customer at the heart of the business. Both Enterprise and Burnt Tree succeeded by conducting their respective businesses with these principles underpinning their culture.
Strong leadership is also important in driving the values and shaping the culture of an organisation.
The role of leadership in managing change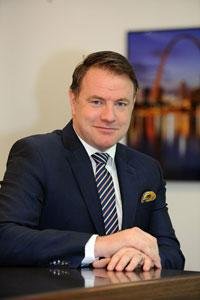 When undergoing change it is important that there is the commitment and support of employees in particular, as well as other key stakeholders, to ensure the changes are embedded within the business. The way the change is led and managed has a significant impact on how effective the change process is.
When a business makes changes, the employees of the business are likely to be uncomfortable and anxious. They might even resist the change. They may have concerns about how their roles might change, whether their job is secure or how they will adapt to the new business.
The leadership team at Enterprise knew that this could occur and took steps to ensure that the acquisition process was a very positive experience for both Enterprise and Burnt Tree employees. They did this through having regular meetings, involving the teams and branches and by listening and responding to any concerns that the employees raised.
From the outset the decision was taken to locate the newly created entity's head office on the same site as the former Burnt Tree head office. "This served to reassure the Burnt Tree employee base and gave a clear indication of Enterprise's desire to invest in and grow the new, combined business," said Danny Glynn, Managing Director of Enterprise Flex-E-Rent. Site visits from Enterprise's Global CEO, European CEO and UK & Ireland MD were also conducted to further reassure the Burnt Tree workforce and demonstrate the importance of the acquisition to the wider Enterprise family.
Over several weeks Danny Glynn introduced Burnt Tree employees to the Enterprise founding values, focusing on and emphasising the similarities between the values of both organisations.

Being open and transparent and regularly communicating throughout the acquisition process meant that a consistent message was conveyed across the businesses. The integration team also recognised the importance of respecting everything that had gone before, so that best practice from both businesses was incorporated into the newly formed Enterprise Flex-E-Rent.
"The Burnt Tree brand had a fantastic reputation in the commercial vehicle industry, which made it such an attractive proposition in the first place", Danny Glynn said.
The changes made were gradually introduced and paced to cause minimal disruption. This resulted in the employees seeing the opportunities that the growth of the business would bring them, including a range of training and development programmes that would develop their knowledge and skills.
"The past 12 months have been essential to enable the cultures of these two businesses to come together. Our vision was to combine the skills of both sets of employees to create a business that was stronger and could deliver an even better service to all our customers. We believe we have achieved that, have a great team in place and look forward to working with our customers moving forwards as Enterprise Flex-E-Rent," Glynn said.
The integration programme culminated in briging the businesses together as a single brand, Enterprise Flex-E-Rent, offering "the highest levels of customer service, investment and innovation."
Conclusion
Two years on since the acquisition, the journey of Flex-E-Rent is still ongoing as the culture of the new organisation takes shape and becomes embedded in all activities across the business. The acquisition has brought new opportunities for Enterprise's broad rental range, which can respond to the needs of its wide customer base by offering short- and long-term rental of anything from cars and vans through to refrigerated trucks and specialised vehicles. Throughout this journey the original values of Jack Taylor remain.