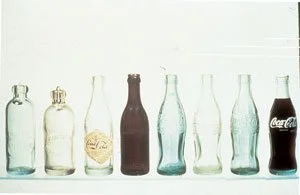 The Coca-Cola Company is the world's largest beverage company and is the leading producer and marketer of soft drinks. Today, Coca-Cola is consumed throughout the world at the rate of more than 600 million times per day and this figure is continuing to rise.
However, Coca-Cola is not the sort of company to live on its past glories; instead, it looks to the future as a challenge and constantly seeks new markets and ways of increasing its market share in areas where it currently has a strong presence. It is the world's largest producer and distributor of syrups and concentrates for soft drinks.
Products developed by the Company are sold through bottlers, fountain wholesalers and distributors around the globe. Brand Coca-Cola accounts for about 75 per cent of the Company's unit sales volume of soft drinks.
The remaining 25 per cent consists of well known soft drinks such as Sprite, Fanta, Fresca, Mello Yello, Surge, POWERaDE, Barq's Root Beer and many other brands. The Company's soft drink operations are managed in 6 Groups: North America, Latin America, Africa, Greater Europe, Middle/Far East and The Minute Maid Company (the world's leading marketer of fruit juices and fruit drinks).
Just a few years ago, Coca-Cola attracted frequent headlines as consumers in China, India, Eastern Europe and Russia tasted Coca-Cola for the first time. Now, however, Coca-Cola has become a well established soft drinks product for billions of new consumers throughout the world. Today, the challenge facing The Coca-Cola Company is to establish successful patterns of distribution to its global consumers.
This case study, therefore, focuses on the ways in which high quality relationships have been established with bottling franchisees across the globe to make sure that consumers' needs and wants can be met in the most effective way.
Benefiting from a franchise arrangement
Franchising is one of the most important ways of running modern business organisations. The franchisor grants to a franchisee the right to conduct business using their name in a particular area. For example, in Great Britain Coca-Cola and Schweppes Beverages Ltd is the company that holds the GB franchise with six bottling/canning plants.
The franchisee will have the exclusive right to bottle and can the product within a specified geographical area and is given considerable support by the franchisor. The main advantage to the franchisor of setting up a franchise is that responsibility for producing the product is delegated to a dynamic local enterprise, determined to make a success of the venture because most of the profit will be retained by the franchisee.
The benefits to the franchisee are immense. Above all, they are able to manufacture widely known products, they have exclusive rights within a particular area and they are able to benefit from technical advice and support from the franchisor.
Moreover, in the case of Coca-Cola, the franchisee is able to benefit from the sheer scale of the organisation, enabling them to purchase manufacturing equipment which is based on state-of-the-art technology at a lower price. It is not surprising that most of the world's leading bottling companies have become Coca-Cola franchisees.
By participating in the franchise arrangement, they are able to bottle and sell the classic Coca-Cola drink to retailers and trade using the most popular and famous brand in the world today. The classic Coca-Cola drink consists of water and a mixture of sugar, caramel (which adds colour), phosphoric acid (which adds tartness), caffeine (a mild stimulant found in coffee and tea) and natural flavourings.
The proportions of these ingredients in the Coca-Cola concentrate are a closely guarded trade secret, though all ingredients comply with the health laws of the countries where it is made and sold. The exact combination of these flavourings is known mysteriously as 'Seven-X' and the formula lies locked in a bank vault in Atlanta. It is said that only three people know the formula.
The Coca-Cola brand image is widely recognised throughout the world and has become a symbol of successful global marketing. The script for Coca-Cola has not changed since first written by Frank Robinson, bookkeeper to the inventor of Coca-Cola, John Styth Pemberton. The Coca-Cola franchisee, therefore, has access to one of the most highly desired products and one of the most successful marketing distribution systems in the world.
Division of responsibility
The company ships syrup or concentrate to the bottling plants where the franchisees mix it with sugar and treated local water and carbonate it. The water is purified to the highest standards using equipment specified by Coca-Cola.
Samples are taken regularly for chemical analysis and Coca-Cola staff make frequent spot checks to ensure that plants are maintaining the company's standards of cleanliness and quality. Coca-Cola provides its franchisees with access to 'state of the art' equipment needed to meet the Company's exacting standards.
Each bottler or canner supplies Coca-Cola and other company products to the retail trade. Standard outlets include supermarkets, sweetshops, restaurants, off-licences, pubs and bars. These outlets often sell Coca-Cola from vending machines and coolers which the franchisees must supply and service. There is a clear division of responsibility between The Coca-Cola Company and its franchisees as shown in the illustration above:
Thinking global, acting local
Bottling plants for Coca-Cola are, with few exceptions, owned and operated as separate businesses independent of The Coca-Cola Company. In some cases, the company will have ownership, but not a controlling interest in a bottler.
By contract with The Coca-Cola Company or its local subsidiaries, the bottler is authorised to bottle and sell Coca-Cola and other soft drinks within certain territorial boundaries. They are required to meet quality standards which ensure the quality and uniformity of the product.
The franchise bottler provides the required capital investments for land, buildings, machinery and equipment, lorries, bottles and cases. Most supplies are purchased from indigenous sources where possible, often creating new supply industries and areas of employment within the local economy.
The company not only supplies the bottler with beverage bases and syrup or concentrate, but it also actively engages in management guidance; helping to ensure the profitable growth of the bottler's business and enhancing the value of the franchise. Management advice will cover all sorts of topics such as product quality control, marketing, advertising, and financial and personnel training.
The company's operations are managed by geographical subdivisions known as divisions, regions and districts. Each has its own resident manager who is responsible for operations within a particular country or group of countries.
In addition, the company also owns and operates syrup, concentrate and beverage base manufacturing plants, as well as a few bottling plants. Although some regional differences exist, there is a certain degree of uniformity in the methods used to market products around the world. This process is coordinated by the company's headquarters in Atlanta, Georgia.
Coca-Cola advertising projects a uniform brand image around the world, to promote a strong consumer appeal for this successful, high quality product. Uniformity in advertising also establishes the image of the same pure, refreshing product in each country.
The universal consumer acceptance and high standards of quality of Coca-Cola, fostered by the system of locally owned bottlers and distributors, have made Coca-Cola the most popular soft drink in the world. Coca-Cola is the second most widely known expression after OK.
Coca-Cola bottling franchises in Great Britain
Coca-Cola first came to Great Britain in 1900 when Charles Candler, son of the company's founder, Asa Candler, brought a jug of the syrup with him on a holiday visit and introduced the drink to a soda fountain owner in London.
However, it was not until the 1920s that sales began to be significant. The Coca-Cola Company began bottling in a small plant in Brighton in 1932. By 1939, there were seven bottling plants – five owned by the parent company and two – one in Glasgow and the other in Belfast – by licensed bottlers.
The war put a temporary halt to most of these operations until the late 1940s when operations set up again, principally in the hands of franchised bottling organisations.
The most significant new change was in 1987 when The Coca-Cola Company and Cadbury Schweppes plc. set up a jointly owned company to handle the soft drinks of both parent companies.
Coca-Cola in cans, initially imported but then later filled by contract canners, was first marketed in the UK in 1961. In 1976, however, the company opened its own canning plant at Milton Keynes with its first line, at the forefront of technology in its time, capable of filling 1,500 cans a minute.
Ten years later, when the company was celebrating its centenary, a second line was added with a filling speed of 2,000 cans a minute – then the fastest in the world.
Within four years of its existence, at a cost of £60 million, Coca-Cola and Schweppes Beverages Limited had opened Europe's biggest soft drinks production complex at Wakefield, with two lines capable of filling 2,000 cans a minute – to give a production capacity of over five million cans a day. In Northern Ireland, The Ulster Iced Drinks Company Ltd, having been given a franchise in 1939, was given a new franchise and today operates as Coca-Cola Bottlers (Ulster) Ltd. This company is now owned by the Leventis Group, which also holds the franchise for the Republic of Ireland.
Products for home consumption are usually purchased through supermarkets in larger quantities and at a lower unit price than other distribution channels.
Coca-Cola bottling franchisees work in close association with retailers and wholesalers to identify the sorts of packaging and quantities that home consumers prefer and to ensure packaging mixes, brands and flavours, merchandising and promotion, as well as stock and shelving are appropriate for the needs of consumers.
Coca-Cola Enterprises
Coca-Cola Enterprises is a publicly quoted company (on the New York Stock Exchange) and is the largest franchisee of Coca-Cola products. In addition to its operations in the United States, CCE holds the franchise for Belgium, The Netherlands, Great Britain and 90of France.
Early in 1997, it acquired full ownership of Coca-Cola & Schweppes Beverages Ltd. It is therefore the largest of what Coca-Cola calls its 'anchor' bottlers. Coca-Cola Enterprises employs almost 50,000 individuals who operate 310 facilities and is responsible for one million vending machines, beverage dispensers and coolers used to market, distribute and produce the Company's products.
Coca-Cola & Schweppes Beverages Ltd has some 3,500 employees in Great Britain with five plants in England (Edmonton and Sidcup in the London area, Milton Keynes, Wakefield and Colwall – where Malvern Water is sourced) and one in Scotland, at East Kilbride. Apart from holding the franchises for the products of The Coca-Cola Company and Cadbury Schweppes plc, CCSB has distribution agreements for such varied products as Appletise, Capri Sun, Perrier and Duchy Originals.
Coca-Cola Enterprises is responsible for bottling and distributing Coca-Cola to the markets it serves. Together with The Coca-Cola Company, it seeks to maintain the highest quality standards so that a consistent, high quality product is produced in each of the countries in which it operates.
However, ensuring quality goes well beyond creating a refreshing drink which is instantly recognised as the 'only one Coca-Cola.' Bottlers additionally assume broader corporate responsibilities such as environmental management and they seek to develop and apply standards which go beyond regulatory compliance in this area.
The future of Coca-Cola depends on the relationships built by its bottling franchisees with the wholesalers and retailers they supply. Strong and enduring relationships in the supply chain leading to the consumer are of vital importance.
For Coca-Cola Enterprises, this involves listening carefully to wholesalers and retailers to find out what sorts of product requirements they have – e.g. what size of containers and what types of packaging are most likely to sell in retail outlets.
Coca-Cola Amatil
Coca-Cola Amatil is the second largest of The Coca-Cola Company's international bottling partners which today operates in 18 countries throughout Australasia, South-East Asia, Central and Eastern Europe.
It serves a market of over 450 million people and is No. 1 in every market in which it operates. Some of these markets are relatively mature in terms of opportunities for future sales expansion e.g. Australia and New Zealand, but others such as Poland, the Philippines and Indonesia, are growing at a fast pace.
Coca-Cola Amatil is continually seeking to expand where new opportunities arise – particularly in Eastern Europe and South-East Asia. To meet the increasing demand for capacity in Ukraine, for example, a large greenfield production facility is being completed in Kiev in 1997, as well as a new plant in Minsk, Belarus.
Coca-Cola Amatil is committed to the highest quality standards and has developed rotating environmental audits, intensive training of personnel at the plant level and a continuing commitment to waste minimisation through all stages of production and distribution.
The Company's environmental management initiatives have been recognised in Indonesia, where the Medan plant was presented with the Green Award for outstanding environmental efforts in both 1996 and 1997. CCA's plants in Brisbane and Perth were also commended by government authorities for their achievements in water conservation and recycling of wastewater.
These achievements highlight the important relationships that Coca-Cola has built with its bottlers throughout the world. Franchising arrangements involve a sharing of responsibility for products and corporate image. Organisations are only as successful as their public image. It is therefore essential for Coca-Cola to develop clear and well-thought-out partnerships with top quality bottling franchisees if it is to continue to remain the world's number one soft drinks company.
In many of the countries in which Coca-Cola Amatil operates, home consumption of Coca-Cola has been developing. In simple terms, consumers in South-East Asia and Eastern Europe are beginning to purchase supplies of Coca-Cola to enjoy in their own homes. Beverages purchased for home consumption already constitute around half of the total soft drink volume sold in the Australian and U.S. markets.
Conclusion
The Coca-Cola Company is continually expanding, working to meet consumers' needs for refreshing drinks. The strength of the Company is based on quality products, the power of the Company brand image and the relationships that Coca-Cola has built with its franchisees and customers. Consumers want to associate with brand names they know and especially with ones which have built high reputations over a period of time. Faced with a choice, the consumer will prefer the brand which they know to be of the highest quality.