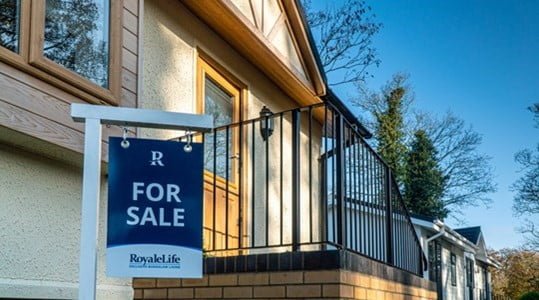 A visionary and an innovator in the field of strategic business growth, Robert Bull has guided RoyaleLife's development from a small family business to an industry leader. Despite the unprecedented expansion of his company, Robert Bull continues to operate RoyaleLife with a dedication to the fundamental standards and values that have remained in place since its humble beginnings.
In fact, the roots of RoyaleLife date back to 1945. Over the years, the company has consistently reinforced its commitment to delivering high-quality single storey living that meets the specific wants and needs of each customer that it serves.
RoyaleLife caters exclusively to a customer base of people who are 45 years of age or older, offering this key demographic access to luxury bungalows in some of the most beautiful areas of the United Kingdom.
Under Robert Bull's leadership, RoyaleLife purchases and develops its bungalows, focusing on older customers who might want to downsize their existing home as they move through the later stages of their lives.
To further these ends, Robert Bull pioneered what is now widely known as the "bungalow lifestyle," which promotes the affordability and ease that go hand in hand with single-storey living together with the comfort and peace of mind that goes with owning a home in a luxury gated community. This strategy has fueled RoyaleLife's exponential growth throughout the past decade.
And the bungalow lifestyle has become even more attractive in the wake of the COVID-19 pandemic with RoyaleLife offering a financial lifeline to homeowners who have found themselves with a much lower income – or none at all – and trapped in a mortgage that they can no longer afford.
No matter what their circumstances are, homeowners have grown to trust RoyaleLife for offering the full market value of their existing home when they downsize into one of its luxury single-storey homes, leaving a balance of much needed cash. At present, RoyaleLife is building in 64 different residential bungalow complexes. It also has 30 more in various stages of planning and development.
Despite this considerable company expansion and the well-publicised popularity of the bungalow lifestyle, there is a profound shortage of single-storey properties throughout the UK. This was the key takeaway from RoyaleLife's latest White Paper, entitled "Bungalows: A Resurgence in single storey living and the promise of a better life."
The White Paper drew its findings from a comprehensive survey of 1,000 UK and Northern Ireland residents who are 50 years of age or older. This survey collected their views about the current housing market in addition to personal information regarding their residential wants and needs, both today and in the future.
Paying particular attention to their goals and aspirations for home life in their later years, RoyaleLife determined that "developers are not providing buyers with enough single storey dwellings, despite a growing demand."
The various findings of "Bungalows: A resurgence in single storey living" are supported by statistics and evidence from other reputable industry sources including the National Federation of House Builders and the National Custom & Self Build Association. The White Paper also drew upon interviews and opinions from industry experts.
Addressing the dearth of bungalow housing in the UK, Robert Bull paid particular attention to government policies and industry trends. "From our findings, it has become evidently clear that bungalows have slipped down the housing agenda," he said, "no doubt due to UK land prices remaining high, forcing developers being pushed by planners to build as many homes as possible to address the nationwide housing shortage."
Continuing to analyze the White Paper, Robert Bull highlighted the fact that "the demand for bungalows is bigger than ever, particularly for those over 50 who are seeking low-maintenance, community living and the opportunity to free up cash by downsizing."
In addition to citing the COVID-19 pandemic as one of the key drivers of the bungalow lifestyle, he listed several other documented reasons for the growing demand for small, single-storey residences.  
"Not only are more people working from home, but many are also choosing to leave the cities they live in to be closer to family or in more rural locations to reap the benefits of outdoor living," said Robert Bull. "The research also revealed that more than half of those questioned wanted to downsize to free up much-needed cash," he added.
Robert Bull ultimately concluded, "It is a reasonable assertion, argued in this White Paper, that RoyaleLife is transforming the landscape of the housing market and redefining bungalow living in the UK, and with the help of this research we can continue to improve and grow to continue our world-class service to our customers and residents alike."