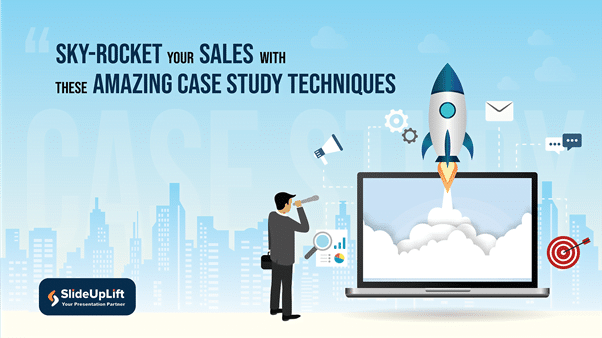 Case studies are and will always be an important component of the corporate world, which necessitates the need for winning case study templates. Case study presentations are always included in the process, whether it is to assess internal issues and discover answers or to persuade a customer of your skills.
In the parts that follow, you will learn what goes into creating an effective case study presentation. Using this knowledge, you will be able to easily persuade your audience of your solutions via a well-structured argument.
Don't forget to check out SlideUpLift's exclusive collection of free PPT templates to create compelling business presentations.
What Is A Case Study?
A case study is a succinct and well-reasoned argument that discusses the why, how, where, and who of your research and persuades the audience to support it. Consider it a response to a specific question that has been asked from you.
Should the business grow in this market?
Should we put this product on the market?
What is the cause of our decreased sales?
What makes you the greatest candidate for the client's project offering?
All of these questions are supported by flawless case study presentations. This poses the issue, when should a case study analysis be performed?
Some of the instances in which case studies are required are as follows:
Persuading customers of the value of your services and expertise.
Analyzing and offering solutions to internal corporate concerns.
Use real-life examples to back up your claims.
Systematic deliberation on the feasibility of a proposal in terms of its impact on the company (client or self).
The goal here is not just to identify a solution but also to persuade the audience of your results. It is critical to organize a large amount of information concisely and interestingly for your customers and stakeholders. As a result, an amazing case study presentation template is required.
Prefer Google Slides over PowerPoint?
If yes, then we will not let you go empty-handed because you can grab some fantastic Google Slides templates created by the expert team of designers.
Moving further, let's look at how to create a well-structured case study presentation that will wow your audience.
Features Of Effective Case Study Designs
A good case study design should/must include the following elements:
Keep it brief and to the point.
Simple and concise
Clearly describe your vision.
Demonstrate the project's worth and usefulness to the company or customer.
Maintain a style that is consistent
Effective Structure Of Winning Case Studies
Before we go into case study examples, it's important to grasp the framework of a case study. A good case study design can be broadly divided into the following components.
Executive Summary / Challenge / Key Highlights: This part gives a concise and effective overview for company executives to swiftly go through and grasp the core of what you want to emphasize.
Problem Statement: Your case analysis aims to be detailed in this area of your case analysis template. This grouping brings together all of the issues that you plan to address in your case study.
Idea Description: This is the most important part of your case study. It is the section where you discuss your solution, explain your logic, and explain why your approach is the best one to follow.
Financial Impact/ Results: This is when the administration will be persuaded that your suggestion is worthy of attention. You must convince your audience that what you are suggesting will significantly influence their company or project. Alternatively, describe how customers who employed your solution, services, or goods profited financially.
Execution: In this portion of your case study template, you will go through all of the planning, considerations, risks, and metrics you will need to implement your solution. Alternatively, describe how you carried out the action steps for your customers to get the intended outcomes. What were the problems and hazards, and how did you deal with them?
A well-structured case study may vastly improve your chances of persuading your customers. Let's take a look at some case study presentation templates to see what goes into making them. We'll also go over some of the finer points and pointers for building fantastic case study templates.
Tips and Best Case Study Examples
1. The Key Points
Throughout your case study, it is critical to emphasize the significant lesson from your research. When selecting or developing your template, make sure that each part has enough potential to highlight the primary takeaway, which is your strongest argument.
2. Icons and Data
Nothing backs up your claims like real, quantitative data. In today's parlance, these facts are referred to as data. Data is the foundation of your analysis since everyone believes that "numbers don't lie." Use significant data points and systematically present them in your case study template to persuade the audience.
Furthermore, employ intelligible icons to summarize and anchor data elements so that they grab the viewer's attention. Icons also make the case study template simpler to understand since you can just seek for the symbol to get the information you need.
3. Designing Scientifically
Presentation design is not just an art form, but it is also a branch of science. There are scientific considerations to producing a visually appealing design that increases your chances of success.
Visual Hierarchy: To bring attention to the proper content on the page, use visual hierarchy rules and create a contrast between the key information and the background matter.
Professional Colors: To demonstrate your professionalism, choose color schemes that complement the location and pitch. It just takes one incorrect color to give the appearance of a shoddy company. A smart piece of advice is to stick to a monochromatic color scheme, which is a traditional professional color scheme.
Engaging Visuals: You may stuff your pages with content in the hopes that it will persuade your visitors. An overabundance of text and figures, on the other hand, bores the reader and weakens your argument. As a result, employ appealing graphics, photos, symbols, graphs, and charts, and keep your audience engaged and transmit information without taxing their grey matter too much.
4. Content is King
While I provided a broad format for case study examples in the previous section, there are a few considerations to keep in mind while creating intriguing material.
Research Thoroughly: You should do extensive and comprehensive research. Investigate the firm, the customer, the issue statement, the solution, and all of the facts you've stated in your answer. Be prepared for things you aren't writing about, such as alternative solutions, market shifts, legal hiccups, and finer specifics of your suggestions. Under-preparation or misleading claims will undoubtedly pull the rug out from under you!
Language of the Professionals: Instead of passive language, such as that found in a research report, utilize active and action-oriented language. This language should be convincing and interesting. Instead of stating "customer numbers climbed by 10% in the previous year," write "10% more customers chose our services over others in the recent year." The little change makes it more believable and thrilling for the reader.
Be client-oriented: Case studies are a great marketing strategy for persuading your customers. So, keep your customers in mind while creating a case study template. Put yourself in their position and question what they are seeking and how you can deliver it right in front of them!
Wrapping It Up
Doing a case study is a delicate but massive activity that must be completed meticulously and thoroughly. You must be fully aware of the issue you attempt to solve and devise the finest feasible answer.
An excellent case study presentation template can assist you in supporting your position and persuading your audience. You may construct a snappy, professional, and full case study presentation by following the recommendations given above, which will add impact and strength to your analysis and argument.