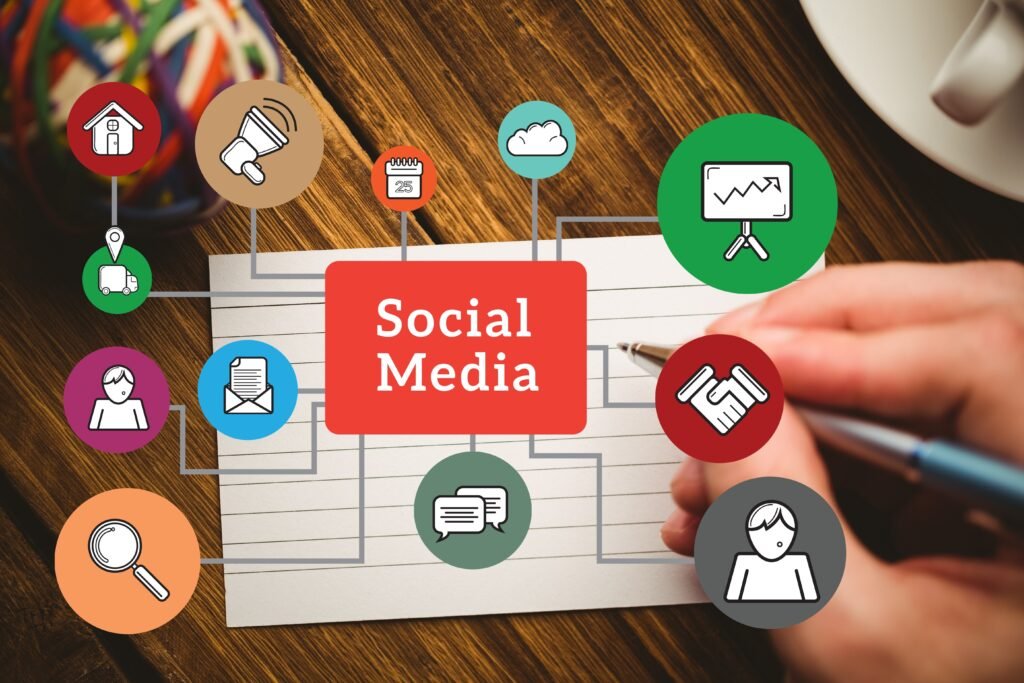 Whether you're a small Café or Nike, it matters just as much whether your business is a tiny, locally-owned store or a huge, multinational enterprise.
When I hear about a new company or brand that I may be interested in, one of the first things I do is conduct some research on them, particularly via their social media platforms.
It provides you with important information about the company's management style, and corporate culture, and how they might benefit you as a client.
More than three billion individuals use social media each month, and as the sector is expected to grow even more in the next years, your company should start using it as soon as possible.
The popularity of social media isn't going away any time soon. It's essential that you seize this chance right now. You may be able to withstand the digital media revolution if you prepare for it.
Today, every company needs to make the most of social media platforms. The more you spend on these platforms, the bigger they are going to become and the more power you may get.
We discuss the importance of social media for business in 2023 in this post.
Brand recognition
Aliza Naiman, marketing manager at Olgam states: "The most crucial component of social media marketing for startups is brand awareness. As a consequence, many multinational corporations depend heavily on social media websites like Facebook and Instagram to market their goods and services.
For instance, Clinique utilized Facebook ad campaigns to introduce a new product line in 20 different countries, increasing add-to-cart rates by 36 points and ad recall by 13 points.
In addition, almost half of similar companies utilize social media to advertise their brand. They, therefore, become a hub for advertising your business."
Direct interaction
Any relationship requires communication, but suppliers and customers need it the most. Utilizing social media removes the middlemen from the transaction. As a consequence, businesses may communicate with consumers directly.
Google has just overtaken social media in terms of searches for goods and services. According to research, 90% of the time, consumers have communicated with brands using social media.
In addition, 63% of users think businesses need to provide customer support through social media.
So, in order to build brand value, you must utilize social media to get consumer feedback and address problems.
Display Authority
Customers are becoming more knowledgeable and pickier about the companies they support. They'll quickly check your website and social media before making a choice.
Will they discover a barren shop or a wealth of knowledge? In order to establish your brand's authority and ensure that you have a favorable first impression on social media, you should create sturdy accounts that you update often with pertinent material.
This will demonstrate that your company is reliable, competent, and accessible.
Seek for opportunities to establish yourself as a thought leader in your field by writing about relevant topics or developing the goal of your business.
You may win over prospective clients' trust by demonstrating the services and principles of your company.
Convey authenticity
Carl Jensen, owner of Compare Banks shares: "Customers aren't interested in companies that post on social media in a formal, corporate manner.
Instead, make sure that everything you post on social media reflects the personality of your company.
What does the voice of your company sound like? In what ways does it reflect who you are? While companies should be kind and sympathetic to their customers, it is crucial to have a voice and speak up for what you believe in.
Practice finding the perfect tone, whether informal, humorous, or kind."
In other words, don't try to be someone you're not; instead, be loyal to who you are. Your social media followers want to see actual individuals behind your pages. Let them see it.
Increasing Website Inbound Traffic Through Social Media
Making an effort on social networking platforms can help boost website traffic. One of the best methods to produce targeted leads is using this method.
Sharing high-quality material on social media encourages consumers to visit your website.
Your chances of generating more inbound traffic increase as you share more high-quality content. Compared to other platforms, this approach offers a lot more potential for conversion.
André Disselkamp, founder of Insurancy shares: "Don't undervalue social media's potential for your company. Your sphere of influence will become constrained to a small group of individuals who are already acquainted with your company.
You may open up a brand-new sales channel by making more of an effort to promote your business on social media. Social media attracts focused incoming visitors with higher clickthrough rates. And those clicks result in purchases.
It is simpler for your brand to keep in touch with your audience if you have an active blog with fresh information posted on your website.
Your influence and reputation grow if you assist them in sharing material on social media platforms.
In the same amount of time, you will reach a lot larger audience than your website would. Interested people will like and share your material, who may also follow and support your company or buy anything from you.
There are fewer people already looking for your major keywords on social media than there are those who aren't at all searching. You may connect with the biggest untapped market group you're targeting through social media."
Brand Loyalty
Nothing compares to a devoted clientele. Someone you can count on to buy that new phone every year; a customer that consistently uses your services, a customer who favors your brand above rivals.
They are the lifeblood of a flourishing enterprise. These devoted clients are far more likely to interact with the social media material you publish, thereby increasing your visibility on these platforms.
Improved client satisfaction
Customers don't hold back in today's society when it comes to speaking out on social media if they have a bad experience with your business. Fortunately, you can change it thanks to the influence of social media.
When done properly, a bad experience quickly transforms a bad experience into a pleasant one by showing the consumer that they are appreciated by making a nice gesture, providing an update, or even simply offering a tailored apology.
A staggering 71% of customers say they are more inclined to suggest a business to others if they had a great social media experience, according to an infographic released by Ambassador.
I can personally attest to the fact that mentioning social media platforms while promoting a firm is a common practice in today's culture (having done it myself many times!)