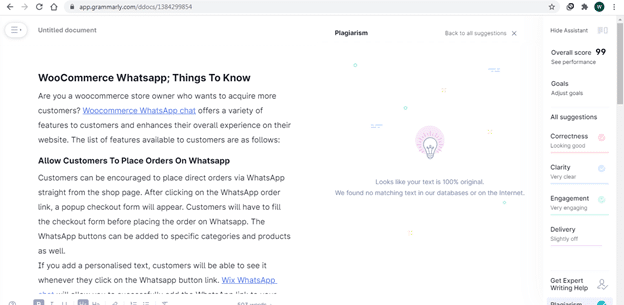 Are you a woocommerce store owner who wants to acquire more customers? Woocommerce WhatsApp chat offers a variety of features to customers and enhances their overall experience on their website. The list of features available to customers are as follows:
1. Allow Customers To Place Orders On Whatsapp
Customers can be encouraged to place direct orders via WhatsApp straight from the shop page. After clicking on the WhatsApp order link, a popup checkout form will appear. Customers will have to fill the checkout form before placing the order on Whatsapp. The WhatsApp buttons can be added to specific categories and products as well.
If you add a personalised text, customers will be able to see it whenever they click on the Whatsapp button link. Wix WhatsApp chat will allow you to successfully add the WhatsApp link to your website. You can watch this video to learn the instructions for adding a WhatsApp link to your website.
2. Access The Checkout Details
When placing their orders through Whatsapp, customers will also receive checkout details. The checkout form can be filled out easily on the messaging platform. You will find the checkout details in the chatbox after you place the order. You can refer to the checkout details later in case of any discrepancies in the order or payment.
3. A Share Button For Your Products
If you add a share button for the products on your website, customers will be able to send it to others. The customers will be able to share the product links instantly with friends and family. It will help in promoting your products, and your customer base might increase as a result. This option can also be added for specific products or categories on your website.
4. Enable The Facility On Specific Categories And Products
The facility of placing orders on WhatsApp can be enabled for specific products and categories. The products that do not require too much information from customers should be available for being ordered on WhatsApp. It will ensure that the customers do not require too much time for placing the orders. Therefore, customers will not find it annoying to place orders on WhatsApp, and your sales will register a boost.
5. Order Status Display
The ability to place an order on WhatsApp does not deprive customers of knowing the order status. You can update the status of the orders to let customers know where their orders stand. If the order fails or the payment does not get completed, the customers will be able to know about it.
How To Get Started
Buy "Order on Whatsapp for Woocommerce" from the official website of woocommerce.
Download the extension and install it.
Activate the extension and go to settings to configure it.
Ending Note
Woocommerce is available for free to all users. The feature has simple integration, and no coding is required. You will not be required to update it or think too much about its maintenance. The feature is available for both desktop and mobile websites.