Working as an indie gamer comes with some inherent pros and cons. Although this dream job allows you to be creative and independent, there is some uncertainty and unreliability that only disappears with success. For a majority of indie gamers working within the field, it is a consistent effort to find relevant work. If you've been attempting to work in this industry, this list will finally clear up any doubts or confusion. Here are five ways that indie gamers can look to make money while doing something related to their passion.
1. Make Your Own Game.
The big money within this industry comes with creating and selling your own indie games. While the most popular indie games can generate millions of dollars in profit, even minor releases can generate enough income to making a decent living. As an avid fan and regular consumer of indie games, you're the perfect candidate for creating a new game. You already know what is popular within the industry through your own experience. By drawing inspiration and practical insights from your interest in the industry, you can come up with a great indie game which people would buy.
You should start this process by brainstorming some ideas for games. If you've been a gamer for many years, there's a good chance that this part has already been accomplished. Once you have a general structure and theme for the game, it's time to find resources to start the creation of the game. You can always talk directly to indie developers to see if they're interested in sponsoring the project. The major benefits of working with an established company include better resources, association with a reputable company, and professional staff.
For more info check out Kotaku's guide to starting your first game.
2. Working for a Gaming Development Company
If you aren't financially or professionally ready to start your own indie game, you should consider working for a gaming development company. These companies offer a wide range of positions that will give you the experience and knowledge required to make your own games in the future. Whether you specialize in gaming graphics, story development, or mixing sounds, you'll find a perfect opportunity at a gaming development company. As a tech industry with relatively high turn around, these companies will consistently be looking for new employees.
You don't have to give up your dreams to work at one of these indie development companies. If you don't feel like there is enough time to work on your own projects, you can always work part-time instead of full-time. This can give you enough money to survive while also leaving sufficient time to get your businesses off the ground. When searching for an open position, it's important to be aggressive and thorough. It's not enough to wait for a company to advertise for work. You should be actively searching for positions and contacting companies to see if there are any availabilities.
3. Testing Other Games
If you're not interested in making your own game, you'll probably drool with excitement at the idea of testing indie games for a living. As an avid fan of this industry, you already invest a lot of time playing these games. You understand how they function and can determine when something isn't done correctly. This is a perfect position for critical gamers who find themselves creating their own modifications to games in their heads.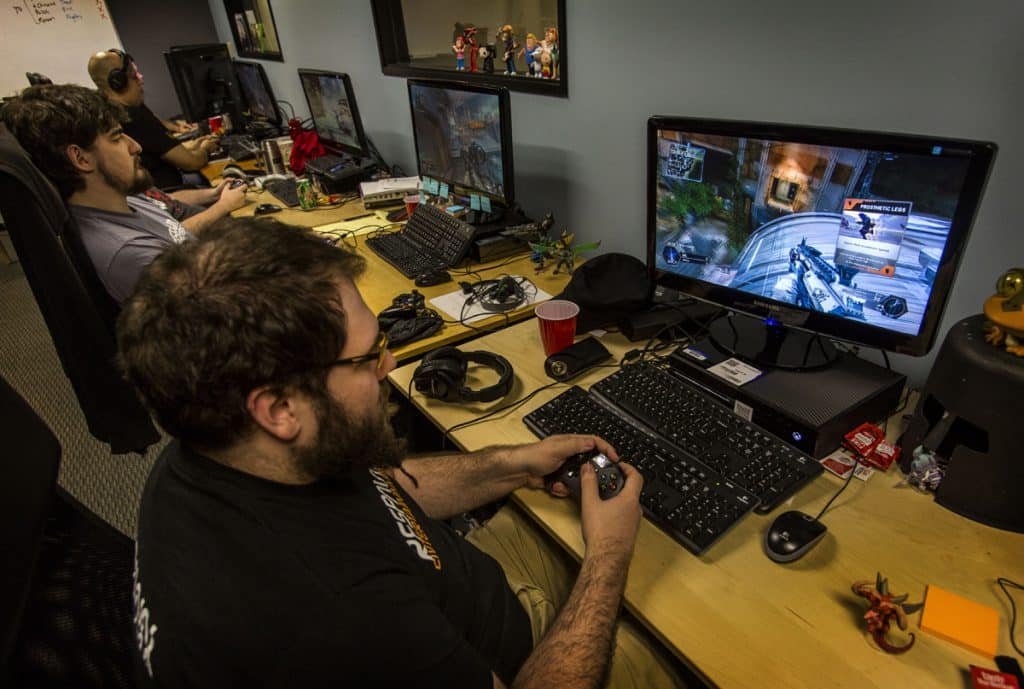 Every successful gaming company hires professional gamers to test their games. Developers want to ensure that everything works properly and that the game is interesting enough to capture the attention of an avid gamer. Although playing indie games may not seem like valuable experience, there are people making money from this position right now. As a consumer of indie games, you're already the perfect candidate to become a game tester. All you have to do is search and apply for available opportunities.
Here is a great guide explaining the ins and outs of becoming a pro game tester.
4. Review Gaming Products
If you're a gear head who loves using the newest and greatest indie gaming technology, you'd be the perfect curator for a review website. There are countless websites that generate money from reviewing products for interested viewers. If these site visitors end up becoming paying customers, the review website receives income as well. This payment either comes in the form of a commission percentage of the total sale price or as a referral bonus. Either way, reviewing gaming products is a viable way to earn money online.
In order to start your own website, you have to find a hosting platform, a template, and products which to review. It can be helpful to consult successful review sites in order to determine what features contribute to their success. Sites like Game Gavel have thousands of gaming gear reviews to help consumers understand each product. This is one of the many examples you can use for affiliate marketing. It's a great idea to take inspiration from these websites in order to find your own success in the industry.
Indie gamers don't have to dream about having a job within the industry. Furthermore, gamers already in the industry don't have to settle on a paycheck to paycheck existence. There are some profitable and exciting ways to make an income within the indie gaming market. The key to success within this area is to think outside of the box. You shouldn't be afraid to take chances, create your own business, and push for further growth. Although these five suggestions are great places to start, there are many other methods for making money as an indie gamer.
It's important to remember that making money within the indie gaming world isn't something that can be achieved at the snap of a finger. This is a growing field with exciting prospects that are ripe for the picking. However, there is a lot of interest and competition. Instead of focusing on menial work, you should find ways to generate your own source of income. Whether you start your own website or build your own game, these efforts will end up generating more revenue in the future when compared to jobs that pay hourly.