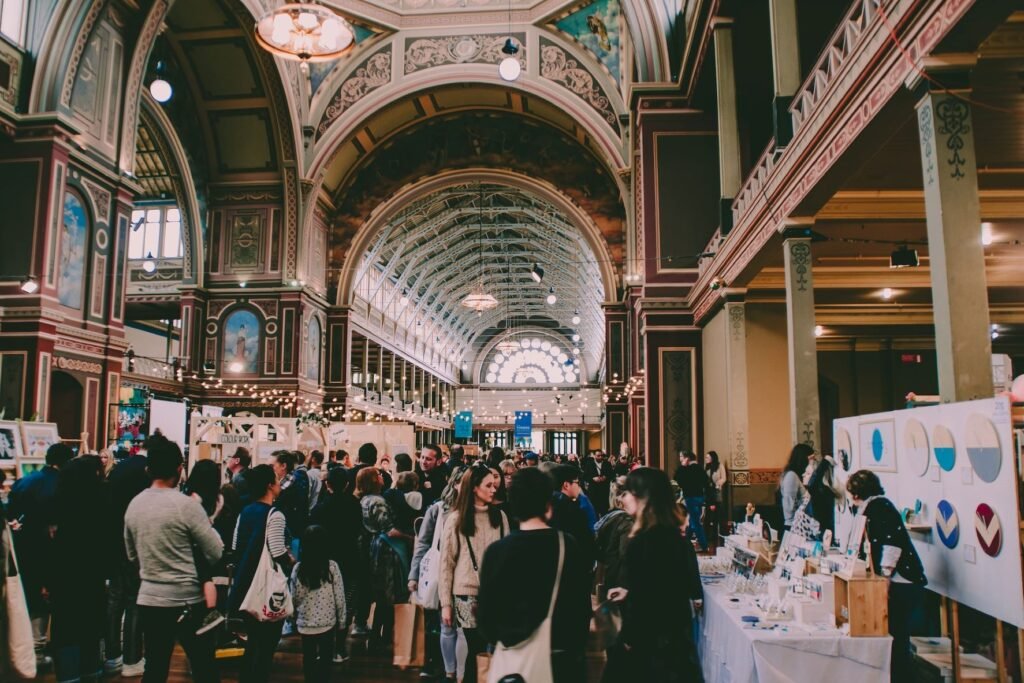 It's common knowledge that our world has been becoming increasingly digitised for some time now. Social media platforms that can be accessed at any point via one's phone or computer (the two now rather synonymous) seemingly dominate modern communication, and thereby, the landscape of marketing. However, there are exclusive benefits to interacting with potential customers face-to-face.
Corporate events are an often overlooked, yet singularly effective, way of promoting your brand in order to attract new customers while establishing stronger connections with your current audience. If you're a small business, you may be keen to dismiss the notion due to budget concerns. In this article, the team at TFH Gazebos dispel the myth that these events are reserved for cash-rich companies by outlining how they are a universally essential promotional tool.
What are Corporate Events?
A corporate event is an in-person occasion that's sponsored by a business, one which primarily places a focus on customers. Such events typify an opportunity to promote products and services while necessitating physical engagement with a given customer base. This is in direct contrast to virtual events which consist of webinars and live streams. Although these latter instances can be a cost-effective method of reaching a wide range of people, they lack a certain tangibility that is inherent within the former.
Corporate events come in various forms, the most pertinent being trade shows often referred to as exhibitions. There are two options when it comes to trade shows, a business can either act as a host or attend one which has been put together by an external entity for an affordable price. Evidently, the main purpose of these events is to connect businesses with customers, but also to likewise propagate symbiotic partnerships.
Trade shows/exhibitions are industry-specific and usually take place in large indoor or outdoor spaces with an abundance of similar businesses in attendance. Meaning, that these types of events are relatively competitive environments. As a consequence, it's virtually a requirement to adorn your allocated booth with plenty of enticing promotional materials. This includes things such as banners, flyers, and business cards, all of which should work to coherently represent your brand's image. That is if your business is to stand out and successfully interest attendees in your stand.
The Benefits of Corporate Events for Small Businesses
It can't be argued that attending, let alone hosting, a corporate event demands a substantial amount of effort than if you were to simply advertise your business's service or product online. If you're to do it right, then you'll have to plan months in advance and gather the necessary equipment. Online marketing is remarkably more convenient, so what makes these in-person events especially worthwhile?
1. Improved brand awareness
It's natural that the first step to gaining a loyal customer base is making your target audience aware of your brand. For your business to have a physical presence at a corporate event, immediately heightens the level of visibility which is needed for your product or service to thrive. It's the reason that large-scale companies plaster their logo on merchandise, namely, because it solidifies lasting impressions. This is why it's so integral to effectively protect your business's image on your stand, it is a tried and tested way of influencing people to recognise you. By the same token, it will also cause said people to spread the word about your business, and so lead to exponential growth. Moreover, just appearing at corporate events signals that your brand has a degree of authority within the field it operates, thus inspiring consumer trust.
2. Increased customer engagement
As we initially mentioned, corporate events allow you, as a small business owner, to interact with your customers face-to-face. This fact is significant because it affords them a platform to ask relevant questions and provide feedback. In the majority of cases, brands can actually learn a lot from their customers in terms of how to improve what they offer. What's more, this approach to marketing is a lot more personable than online alternatives, which potentials are wont to neglect. Events are spaces where businesses are intrinsically humanised, making them relatable. Connecting with one's audience in this manner is of notable importance, given that customers are the very centre of every business.
3. Opens networking opportunities
When thinking about the idea of a corporate event for your small business, it's useful to bear in mind that it's not just customers that can be attracted to your product or service. The prospect of being surrounded by other like-minded businesses may be daunting at first; you'll understandably be prejudiced to view them as rivals. Contrarily, entering discussions with other business owners can, in fact, lead to networking opportunities which manifest as mutually beneficial collaborations. In a similar vein, it's possible to develop both local contacts and those from other parts of the country who can give you valuable supplies at high-quality rates. The ultimate end here is expansive chances which will widen your brand's scope.
4. Generates revenue
Whatever the vision of a small business, the main obstacle to its actualisation is resources. It's expensive to run a business, and money is limited, this means that revenue is always at the forefront. It's hard to consider all of the above benefits without factoring in the monetary gains involved. I.e., if your business attracts more customers, then this equals more sales, if your business has engaged & loyal customers, then this equates to a sustained income, and if you successfully network, this translates into lucrative business relationships. Further still, if it is your brand which is hosting the corporate event, then you'll be garnering a sizable turnover through what will be made in the context of ticket sales and booth space rentals.
As we have illustrated, the benefits of corporate events are comprehensive, any associated cost is outweighed by what is inevitably attained. And needless to mention, such occasions are fun & lively, and they will motivate you to better your image and operations. Thank you for taking the time to read this article, we hope that it has fully shown how your small business can utilise corporate events for effective brand promotion. We wish you luck if you decide to undertake the venture!