To truly look sharp, a man has to get accessories right. For better or worse, accessories contribute a lot to the vibe you're putting out. Whether your look for the day is dressed down or buttoned up, be sure your accessories make the statement you want to make.
Get With the Program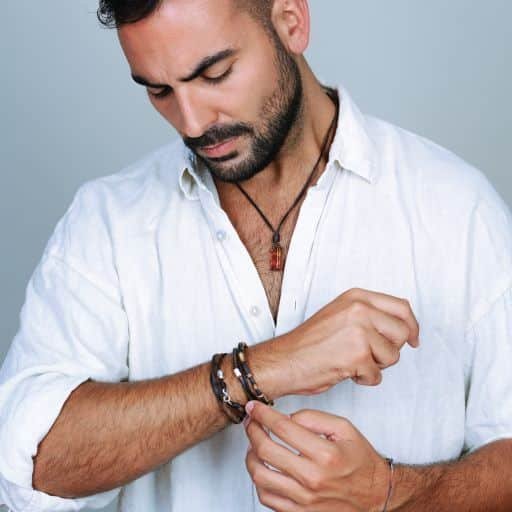 Even if you're not a committed fashion follower, accessories are a smart way to update your look. Check out what's happening in men's spring fashion. Designers are turning the corner to post-COVID-19. The comfort is still there, but styles are more pulled together, with brighter colors, bold looks, and playful details. 
Robe-style jackets and hip cardigans keep away the chill with a chill vibe. Outdoors-inspired utility wear (aka gorpcore) is big. Think cargo pants, fishing vests, and work shirt/jacket hybrids ("shackets") in earthy greens with safety orange. Ready for retro? Guys are sporting preppy duds too, like sweater vests, button-downs, chinos, and loafers.
Ground Rules
Selecting accessories can be easy:
Don't overdo it.
Balance. When you go over-the-top on clothes, cool it on accessories and vice versa.
Don't do matchy-matchy colors.
Get a few classic pieces. You won't regret it.
On big guys, big accessories will look better than small. Conversely, if you're not a big 'un, stay away from jumbo pieces.
Accessories are an ideal opportunity to express yourself. Go for it.
Heads Up
Some think hats are a young man's game. But if you've got the swag to carry it, a hat can make a strong statement at any age. This year you'll see newsboys and 1990s hip-hop-inspired baseball caps and snapbacks. Wear them straight; sideways isn't cool anymore. Men's spring fashion 2022 also includes Panama hats and fedoras to add a dapper touch any day. Buy them in neutrals trying to match your clothes won't work.
Real Men Do
Men often hesitate to wear jewelry, but the right piece can be just the thing to enhance your look. Men's bracelets are growing in popularity. There are options to suit almost any style, funky to formal, rugged to refined. Anchor bracelets are turning up everywhere. With casual bands and anchor-shaped clasps, they evoke a carefree summer mood.
Throwing Shade
Sunglasses can define your style. If you want to pull it off well, they must fit properly. The width should match your face width. The height matters too. A man with a long face should look for shades with a bigger frame height. Men with round faces should stay away from round frames, just as men with angular features should avoid angular frames. It's about balance. And stick to neutral colors. It's the coolest look.
The Bottom Half
Proper fit is crucial with belts too. If it's too long, short, wide, or narrow for your waist and pant style, your suave look is shot. For colors, it's a safe bet to match belt to shoes on dress-up occasions. For casual wear, you can go more interesting, maybe even a statement belt. And here's a trick: A belt color similar to your clothes can give a taller appearance.
Finally, socks. They seem hidden, but a fun and intriguing pair always gets noticed. Even socks can say a lot about a man. You know the man you are. Use your accessories to show it.