Mobile technology has changed the way in which numerous organizations work. The food industry is an area where app development has a huge impact. The food industry growth pattern is extensively large as compared to other sectors. Almost 7.2 billion people will be using smartphones worldwide in 2021. It will give you a better idea of the importance of mobile apps.Mobile application advancement can help restaurant owners cement their quality in the market.  It can also help them to enhance their image on the web. Whether it's a coupon app, or a table booking app, these apps are helping restaurants experience ground-breaking order numbers and increased profitability.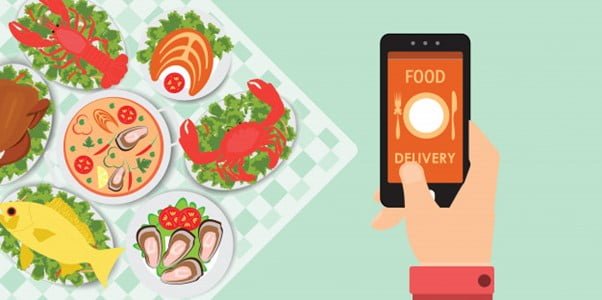 These days many restaurants are eagerly searching for the best online ordering software. If you are a restaurant owner or manager, a feature-rich mobile app offers benefits that can help you satisfy your customer base and expand your business successfully.
The Necessity of Mobile Apps in Restaurants:
2 Check for hours of operation
3 Search for nearby restaurants
4 Search for deals
5 Restaurants by cuisines
6 Better reviews on ranking sites
7 Order food online
Benefits of food apps:
We know that the food industry is booming again with the support of technology. The food industry has appeared as a highly profitable industry due to its great potential and due to massive growing demand for restaurants of different food themes in various cities. These days food app is seen everywhere. There are many restaurants that are affordable and provide end-users with a highly convenient experience.
Online slot reservation:
There are many food applications that connect users with the closest restaurants. It also gives them the necessary details to reserve the table. Various active restaurants are connected to such requests through online registration.
User-friendly Interface:
Better ROI on specials you offer:
With the help of Push Notifications, you can offer your customers new dishes and combos. It will help you to gain good sales on weekdays and whooping sales of double amount on weekends. You should remember that timing is the key so you should send the notifications at right time. For instance, you can send notifications about your restaurant's special dinner offer from the morning itself.
Cost-Effectiveness:
Many development companies give you low-cost mobile application development compared to websites. In this way, so you can avail a mobile application at a much lower cost than the online website. It will help you to control your online ordering system so that you can enjoy increased sales.
Marketing Advantages:
With the help of food app development, you can ensure that your marketing messages reach your customers within time. In this way, it will become effective in minimum time.
Step-by-Step Process to Create a Restaurant App:
Restaurant food app development is a difficult process. It is not limited solely to coding. The development process of a food app is comprised of different stages that should be followed before you get your hands on a ready-to-use restaurant food app. Below you can learn about to develop a food app by following a 4-step process.
1. Conduct market research:
Market research should be your main and basic step in the food app development process. It is essential to understand the target audience of your future application. You should understand what problems your potential customers are currently facing.  You should develop a food app for your restaurant that will solve all of these issues. You should identify the app type depending on your business objectives, market specifics, and audience preferences. You should identify a specific sore point within your audience to make sure your app meets the demand. If you are not doing all these things, you won't have a chance at competing with the established market players.
2. Set your strategy:
In any mobile app development, you should fully understand the advantages that you expect to get from this. It is essential to remember that not all food app ideas can turn into applications that bring profit. You should think about the main KPIs, set business goals, and search for the best ways to get the necessary results. You can clearly communicate your needs and expectations to the team by having comprehensive and detailed specifications at hand.
3. Find a software development company:
Getting information about creating a food delivery app is not enough today. The process of development of a food app doesn't end with its release on the app market. You should work hard on its promotion to make it successful in the market. A comprehensive approach will allow you to develop a robust marketing strategy. You should consider concentrating on the following types of promotion:
Paid ads
Social media marketing
Influencer marketing
Partners
4. Collect and analyse feedback:
If you want to know how to create a restaurant app that users will love, you should collect feedback on your products. In this way, you will be able to find out which features are helpful and which ones your application lacks. It should be a continuous process. You should also pay close attention to feedback after the release of any new functionality.
Must-have Features for Your Food App:
As food apps in 2020 become more popular, more restaurants will be providing them. That's why we can see greater competition in this industry. It also implies that having a food app has lost some impact as a tool to differentiate your brand from others. Now I am going to discuss some essential features to consider adding to your food app in 2021.
Menu screens:
This feature is very essential for any online food app. This section should describe what dishes look like, provide the list of ingredients. When you develop a menu for any food app, you should consider designing and developing an attractive and menu. It should include good images and an order button that will allow food to be ordered directly from the menu.
Registration and Profile Creation:
Profile process is probably one of the basic steps of the customer interacting with your food app. Your customers may choose not to complete the process if the process is complicated. So, you should make the registration feature simple. You should allow users to finish the registration via social media accounts. You should also make the profile management feature needs secure and robust back-end to keep the user details safe.
Push Notifications:
As we know that online food ordering is growing very rapidly. So, it's obvious to have more than one food delivery app on your smartphone. Sending push notifications is the best way to create visibility and let yourself stay ahead of your competitors. In this way, you can stay connected with the customers. With the help of push notifications, you can send all kinds of information such as discounts, offers, and location-based order dropped messages, and so on. You should try to manage push notifications in such a way that they help your business app grow substantially. You should also constantly notify your potential customers about discounts, special offers, and loyalty programs. In this way, you can quickly get customer attention and engage them.
Multiple payment options:
Adding multiple payment options is the best feature for your food app. Due to busy routine people prefers digital payments over cash payments. There are also certain payment gateways that provide amazing discounts. You can open more options for people by adding multiple payment options. In this way, you can allow greater visibility to your brand. Along with the payment options, you should also take care of the data security of your customers. It is the best way to develop trust between your customers and your brand.
Build a relationship with a loyalty program:
As we know that customers are the core of every business. Without customers, there would be no one to buy your products. Organizations with a customer-oriented approach must make loyal customers. They should make them feel special, and eventually, they will be your best brand ambassadors. I am not talking here about any expensive rewards, but a carefully planned Loyalty program that can increase customer engagement and increase transactions. You should select a Loyalty program that fits best with your business needs. You can also add a single-card loyalty program for a single location or a multi-card loyalty program for multiple locations. With the help of the statistics module, you can understand user behaviour and improve your app to achieve the best results.
Social media integration:
Social media integration has become an essential feature for every app out there. In the food industry customers need to show their experience, take pictures of and upload them to their social media accounts like Instagram, Snapchat, Facebook, etc.
Gamification:
It is another important feature that is developing quickly in many food ordering apps for restaurants. The main reason behind its development is psychological in nature. Studies have shown that the human brain creates dopamine whenever they are happy, and receive rewards. In gamification, you can use the game mechanics to reward its users for task completion.
To sum up, all, if you're a restaurant owner looking to improve sales, customer loyalty, and retention or you're an entrepreneur investing in your next venture of online food ordering or delivery service – the above features are a must to include in your food app. The main reason behind the success of any food app development is finding a reliable tech partner that will help you along the journey by successfully identifying your USP and coming up with an amazing food app idea.