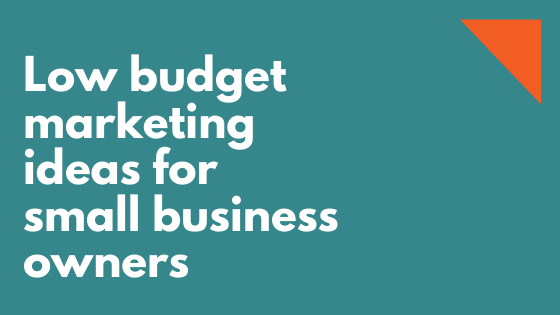 Marketing is one of the most important aspects of building and running a business. People can't buy from you if they don't know you exist after all. If you don't have the budget for a huge marketing campaign then worry not, as these are some of the best low budget marketing ideas for small business owners.
Google my Business
The most important thing you can do for your business is to have a well optimized Google My Business listing. Google My Business, also known as Google Pages, connects users to businesses through Google searches and online directories. A good listing includes NAP information (Name, Address, and Phone number).
Your business should have a GMB listing to take advantage of local SEO and local searches. Having a good GMB page means your business gets a lot of extra digital and physical activity. Make sure that the information on the page is all up to date and fully optimized. An optimized gets more traffic; both in terms of website traffic online and foot traffic in your store.
Have a Solid Social Media Presence
Everyone and their mum is on social media. Your business should be on there too. It's free to own and operate a social media account, and being on social media comes with the potential for social media advertising. Social media advertising can be a bit on the expensive side, so focus on free and otherwise inexpensive marketing through social media.
Some social media services allow users to review business pages directly through the website. If you're on one of those services, then you should encourage users to leave reviews for you. When people come across your profile they'll see all these glowing reviews and recommendations from satisfied customers. When they see how satisfied other people are, they're more inclined to use your business because they believe they'll get the same satisfaction.
Social media pages are also a great place to share new information. Share pictures and videos of new products, post coupon codes or information about sales, and run online contests for followers to keep them engaged.
Create a Website
Having a website for any kind of business has gone from becoming a want to a need. Every business needs a website. Your website should be among the first things people see when they search for your business online. SEO is the best way to get your business to appear higher up in search results. You can handle SEO yourself or hire someone else to do it. There are plenty of places where you can hire low-cost SEO workers so it shouldn't make too much of a dent in your marketing budget.
Wondering what goes into making a good website? It should include clear and precise business information. Again, people should be able to find the name, address, phone number, and business hours for your business. A good website also offers some information about products and services. Consider running an informative blog and having a page dedicated to customer testimonials too.
Build Business Partnerships
Hook up with other businesses in your area for a strategic business partnership. Agree to promote each other's business for mutual gain. For example, perhaps you could offer a coupon for another business to customers and they can offer their customers your coupons. You could also include links to each other in email lists.
When looking for a business partnership, be sure to choose a complementary business. Of course, you want to avoid working with the competition. Look for something similar, but not exactly the same. Run a sandwich shop? Why not partner up with an ice cream parlor?
Make Something Old Something New
Content creation is an important part of marketing, but you might not have the budget for new content. If you're not able to create brand new content right now, why not turn some old content into something new? There's a lot of studies and stats on the internet that have gone largely unnoticed. Use them to your advantage.
Find some studies related to your industry and give it some extra shine. Highlight interesting and important elements, add some images and charts, and add your own thoughts to the data to create something new and unique. You don't have to be a writing master to do this either as the data does the bulk of the work. Just make sure that you cite your sources and check the data is legitimate before going ahead.
Invest in Vehicle Branding
If you won a company car or other vehicle that gets a lot of regular use, then you should brand it with your company logo and some basic information like the phone number. It would be expensive to have the vehicle given a full paint job, so get some magnets or decals instead. There are plenty of places you can get custom business decals made.
Put Down Some Signs
Is your business located on the main street? Or just off of the main street? If the area around your store has a lot of foot traffic then you should put down a sidewalk sign advertising your business. You could use the sign to advertise the latest deals or items in the inventory. People will see the sign as they pass by and be likely to stop in and see what's happening.
Local Media
The local media will be your friend in advertising efforts. You can encourage the local media to advertise your business for you. Send out some press releases and connect to local reporters. Why should consider best free press release sites. Press relase is a leading online public relations and marketing service that will help you to connect with consumers, media and bloggers.
One thing to bear in mind is reporters don't cover promotional materials like sales. You'll have to buy the ad space for something like that. If there's something newsworthy or unique about your business though, you could get free publicity by being featured in the local paper.
Market to Existing Customers
You don't always have to market to new customers. You can market to existing customers. These are people that have bought from you in the past, so the goal becomes converting them into loyal repeat customers that keep coming back.
Ask people if you can include them in your email list when they buy something from you. If they agree, send them regular updates and coupon codes to encourage them to come back for more. Also consider creating a customer referral program where people can earn discounts and free goods by referring a friend.
It's possible to market a business with a small budget. The key is to put together a strategy and focus on the right things.