Introduction
In a world in which young people follow the National Curriculum and then prepare for examinations, it is easy to ignore some of the very special creative skills that they have. Sometimes these skills simply need unlocking. For them to be released there needs to be a purpose. This is something that gives young people the need to achieve as well as think and behave in a different way. One way of doing this is to bring 'enterprise' into the classroom.
Enterprise in education
There has been a lot of focus on enterprise in education in recent years. According to the Howard Davies Review (2002), enterprise capability is concerned with: ´the ability to handle uncertainty and respond positively to change, to create and implement new ideas and new ways of doing things, to make reasonable risk/reward assessments and act upon them in a variety of contexts, both personal and work´. Howard Davies emphasised that enterprise in schools involves creating a different learning environment where students take responsibility for their actions. This could involve an element of risk in order to solve problems. The Review also emphasised that learning about enterprise should involve a work-based context. This context is not a simulation. It is not pretend. It is real and provides students with knowledge and understanding and a valuable experience.
As students develop their enterprise skills they develop the opportunity to become an entrepreneur. This is somebody who uses their initiative and takes risks in order to develop a return. According to David Kirby at the University of Surrey: ´Entrepreneurship is a way of thinking and behaving. It is about seeing opportunities and bringing them to fruition and in the process bringing about change.´
How entrepreneurship came about
This case study is probably very different to any other case study. On the one hand, it looks at the work of The Network for Teaching Entrepreneurship (NFTE) in schools. On the other hand, it focuses the link between NFTE and a range of small businesses set up by students within one school, Norbury Manor Business & Enterprise College for Girls, in Croydon. In doing so, this case study looks at areas of business that need to be understood before starting up a small enterprise.
The idea for NFTE came from Steve Mariotti when he changed career to become a teacher in the Bronx in New York in 1982. He recognised that young people were business-minded. He learned how to motivate students in challenging situations by teaching them how to run their own businesses. He discovered that entrepreneurship can engage young people. Steve Mariotti set up NFTE as a 'not for profit organisation' in 1986 and since that time it has reached over 150,000 young people worldwide.
NFTE came to the UK in 2000 with a mission to teach entrepreneurship to young people from disadvantaged communities to enhance their economic productivity by improving their business, academic and life skills. Its programmes are run in many schools within the UK. NFTE programmes also link with the Edexcel BTEC Intermediate qualification 'Preparing for Enterprise'. This non-exam based qualification ensures that students not only gain work-related experience, they also achieve a valuable award.
Identifying an opportunity

The first stage in creating a small business is to come up with an idea. The sources of ideas are varied. The idea may come from a chance thought or an inspiration. Sometimes the idea comes because somebody feels that they could provide a better product or service than a local competitor. The idea may come from a period of overseas travel where an individual may see a product or service that is not available at home.
There are many other factors that may inspire a business idea. For example, somebody wanting to set up their own business might see a franchise opportunity. They might see another product that they could provide accessories for, such as speakers for an iPod. Alternatively the person wanting to set up the business may have special abilities. These could include creative talents, an excellent knowledge of IT systems or simply being good at communicating with customers. It is the idea that creates the business opportunity.
Researching the market
Market research

Having had an idea and created the business opportunity the next thing is to explore the idea. This is done by undertaking some market research. This will help the owner of the idea to find out whether the business opportunity is likely to be successful. It will help them to understand more about the needs of their customers. From this they can build strategies that enable them to tailor products to various parts of the market. This process is known as market segmentation. Every market will have a number of segments. In each segment will be groups of customers with similar needs. For example, in the market for cars there is a segment for multi-purpose vehicles (MPVs), one for convertibles, one for small cars, one for large luxury cars and so on.
SWOT analysis
At this point, in order to match their idea with the research they have undertaken, an entrepreneur may undertake a SWOT analysis. A SWOT analysis sets out to focus on the Strengths, Weaknesses, Opportunities and Threats facing a business as it develops. The internal element looks at the current strengths and weaknesses of the organisation. The external element looks at the opportunities and threats present in the environment in which the organisation competes.
Turning ideas into products

After mindstorming ideas students at Norbury Manor came up with a range of ideas for their businesses. They then undertook wide-ranging research using questionnaires. This enabled them to set realistic prices. It also helped them to anticipate demand. Many of their ideas evolved into products that could be developed at the school. These included making jewellery, badges, make-up, smoothies for students within the school, making teddy bears and also making and selling hot chocolate. They also came up with ideas for services such as selling bric-a-brac and getting students to sell text books. The idea was that once they had finished with the books, they were sold on to other students at a much lower price.
Costs - start-up and running
Starting a small business is not cheap. When a small business begins to operate it has many costs to pay. These can be split into start-up costs and running costs.
Start-up costs
Start-up costs are one-off costs associated with setting up a business. For example, for a sandwich delivery service, these might include buying a van, getting uniforms for staff, bread baskets as well as cutlery and equipment. It may also include buying premises.
Running costs
Running costs are the day-to-day costs associated with operating a business. For example, for the sandwich delivery business these might include the cost of petrol, payment for sandwiches or other raw materials, the payments to staff as well as overheads such as electricity and business rates. Running costs are usually divided into direct costs, which are specific to output or indirect costs, which are sometimes known as overheads. In our example, direct costs would include the sandwiches or other raw materials and the payments to staff. The indirect costs would include the electricity and the business rates.
Cash flow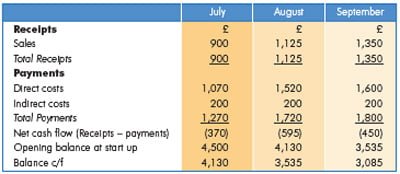 Having identified these costs, it is important that cash within the business is managed properly. One way of doing this is through a cash flow forecast. This lists all of the likely receipts and payments of a business over a period and allows the entrepreneur to plan ahead.
Note that if payments are more than receipts then this is a negative cash flow and is shown in brackets. This business started up with £4,500 in the business bank account.
For students at Norbury Manor, nearly all of their indirect costs were paid for them. However, they did have to think about their start-up costs and their direct costs. For example, when they made badges or make-up, materials were their direct costs. They also paid 5% of their profits back to the school and 2 ½% of profits had to be contributed to charities.
Sources of finance
Every modern organisation needs to draw on sources of finance. These provide it with the funds to carry out its activities. There are a range of sources of finance. Some of the more important ones include:
the owner's capital as the business owners take the risk in setting up the business, it is only right that they provide some of the finance for the business
banks banks will provide a range of facilities for small businesses. These include bank loans which are taken out for a fixed period. They might also include a bank overdraft. This is an arrangement between a bank and a customer to identify a limit on an account beyond which a customer will not be allowed to overspend
venture capital venture capital companies provide finance for small businesses in return for holding shares in a small business
trade credit providing goods for a period without having to pay for them immediately. This is an accepted practice in some industries. It provides a breathing space where small businesses can buy goods before they have to pay for them.
The students at Norbury Manor were supported initially with a £50 loan from their school for which there was a contract. In some instances students, acting as owners, contributed their own funds to support and develop their business ideas.
Enterprise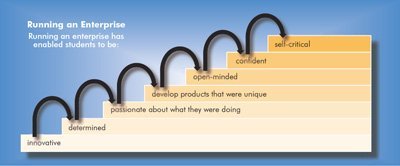 Small businesses are not just about people with remarkable ideas. The students at Norbury Manor enjoyed their experience running their own business. They felt that it had helped them to develop many personal and positive qualities. They felt that by starting up a small business they were being encouraged to take a risk. It also helped them to work as a team. When working in teams they had to get on with each other and time-keeping for all members was particularly important. The students felt that many of these skills and qualities were difficult to develop within the curriculum. They found that they came automatically when they set up and ran their own businesses.
Skills and capabilities
Running an enterprise has enabled students to be:
innovative
determined
passionate about what they were doing
develop products that were unique
open-minded
confident
self-critical.
Conclusion

The work of NFTE helps to empower young people from disadvantaged communities. In doing so it provides them with skills beyond the curriculum. The experience helped students to open up their minds to many of the broader and more diverse opportunities within the modern workplace. More than half of employment and turnover within the UK is accounted for by small businesses.
The work of NFTE helps students to gain first-hand experience of the exciting opportunities available within the workplace. Students learn how to set up a business, manage market research, cash flow, teams and production. NFTE has prepared many students for the real world of business by equipping them with vocational experiences and vital skills that they can carry into businesses when they leave school.
The Enterprise Education Trust
The Enterprise Education Trust brings together businessdynamics, NFTE, Blue Skies and Achievers International. Each has a different but complementary focus and together we deliver a wide range of programmes. The original trust was founded by 3i in 1977 and more than 90,000 14-19 year olds benefit from our programmes every year.
It offers flexible, interactive programmes that use real life business experience to inform, involve and inspire young people of all abilities including; gifted and talented, disaffected and disadvantaged, young offenders and those with special needs. It develops the skills employers want and increases students' knowledge of business, bridging the gap between school and work.
For further information on the programmes run by the Enterprise Education Trust contact:
info@nfte.co.uk
Tel 020 7261 4550
www.nfte.co.uk
info@enterprise-education.org.uk
Tel 020 7620 0735
www.enterprise-education.org.uk
NFTE-UK | Developing enterprise skills