Barclays is a global bank. It provides a range of financial services in 56 countries. Barclays provides retail banking services to customers, whether they are individuals or businesses. It offers a broad range of financial products and services including current accounts, savings accounts and general insurance.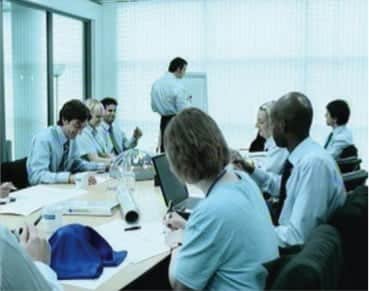 Within the UK, Barclays communications are designed to help customers 'Take One Small Step' to managing their money better every day.
Different kinds of customers represent distinct markets for Barclays. The market for personal banking services is very competitive. Personal customers have a choice of banks on the high street or on the web to assist them in managing their finances. For example, they can have their salaries paid into accounts, pay bills through the bank or save money to gain interest on their savings.
There is also a competitive market for business banking services. Businesses require different services such as credit management, payments for suppliers or loans and overdrafts to help them to survive and grow. For example, an expanding business may need a mortgage to buy a new building.
Market segments
Each market is capable of being further subdivided into segments. A market segment is part of a whole customer group that shares particular characteristics. These include such factors as age, life stages, geography or occupation. Within the market of personal banking, the segments could include categories such as students, graduates, 'new to work', mature, and families. By identifying different market segments, organisations can ensure they are providing products or services to meet the needs of these customers.
In addition to this, appropriate promotional techniques can be used to reach people in separate segments. Through segmentation, Barclays has been able to devise appropriate banking offers for customers in different segments. This approach is helping Barclays to improve its market share in the student accounts market.  
Barclays believes students constitute a very important market segment for the business. Students may be choosing a bank for the first time and Barclays hopes to retain these customers. By focusing on the specific needs of this segment, Barclays hopes to attract more student customers and keep them in the long term. Using market research has enabled Barclays to identify the right product offer that will meet their needs.
The case study shows how market research enabled Barclays to improve its student account offer.