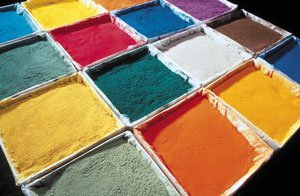 It's a colourful world!
Akzo Nobel's products are among the most looked at in the world. Its business is colour. It is a company literally devoted to brightening people's lives. Akzo Nobel can trace its corporate origins back to the 1770s and is now a multi-national, multi-product firm and the world's leading producer of all kinds of coatings, i.e. paints, finishes, stains, printing inks and adhesives.
Based in the Netherlands, Akzo Nobel has developed a diverse product portfolio, from industrial coatings and domestic DIY markets, to highly specialised, durable finishes on cars, ships and aircraft. Akzo Nobel offers specialised colour advice and training for decorators and designers to make the right colour choices.
In July 1998, Akzo Nobel acquired the former Courtaulds plc, an international chemical company specialising in high-tech industrial coatings. Within the UK, Akzo Nobel is now the leading supplier of paints, coatings and associated products.
This case study examines the company's comprehensive knowledge of colour and its applications, particularly through decorative coatings, and how its customer orientated service and product development programme, together with a high environmental profile, ensures Akzo Nobel maintains its strong market position.
Synergy benefits
Akzo Nobel derives synergy benefits from being a multi-product coatings business:
Critical mass – being global means benchmarking against best practices worldwide and sharing information.
Research & Development – technical centres provide research that is market focused and available to all businesses.
Distribution, manufacturing, process & logistics 'know how' – widely used throughout coatings.
Emerging markets – businesses work together to enter new markets particularly if one has a foothold.
Purchasing – raw materials.
Marketing – concepts/ plans can be replicated in several countries.
Health, Safety & Environment – issues can be the same for businesses and solutions are applicable to many.