Introduction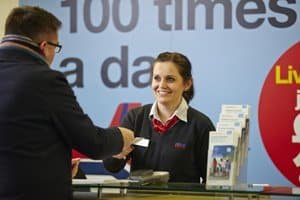 If you have travelled by road recently it is highly likely that you will have seen the familiar sight of a National Express coach. As the UK's largest scheduled coach operator, National Express has more than 520 vehicles, covering around 84 million miles to reach nearly 1,000 destinations across England, Scotland and Wales each year.
As well as providing regular, scheduled coach services, National Express is the official transport provider for Wembley Stadium, with services to all major music festivals and different sporting events across the UK, taking around a quarter of all Glastonbury Festival ticket holders to the site in 2016.
National Express UK Coach won a number of external awards in 2016, ranging from the prestigious 'Sword of Honour' from the British Safety Council (BCS). Only open to organisations who have achieved 5 star audit status, the award recognises the best of the best. Through to a 5 Star accreditation from The European Foundation of Quality Management (EFQM) for how they manage plan and refine their business.
As part of the wider National Express Group, its ALSA brand is also Spain's leading operator of coach and bus services, whilst every day students across the US and Canada go to school on the iconic yellow school buses, operating in 36 US states and four Canadian provinces. There are also rail operations in Germany, Morrocco, Bahrain and bus services in Scotland. Founded in 1974, National Express is a major player in the international market, employing 44,000 people worldwide.
This case study explores National Express' overall business strategy and shows how its Youth Promise initiative supports the companies' vision and values.
Business Strategy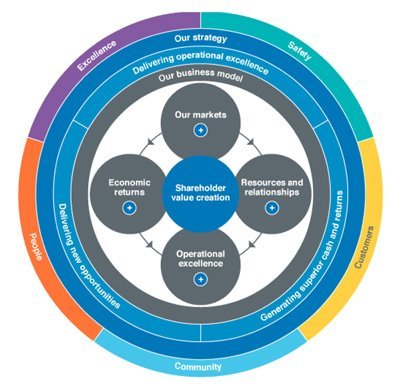 Business strategy refers to the overall plan for a business. The strategy sets out the direction for the company and what it wants to achieve in the long term for business success. The strategy defines which markets the business needs to compete in, which activities will give it a competitive edge and how its resources will be used to achieve the overall plan.
To remain competitive an organisation can choose specific strategies, for example:
Cost leadership – becoming the lowest cost producer in the market
Differentiation – offering something different, extra or special that customers perceive to be better than competitor products or services
Focus – achieving dominance in a niche market.
The overall strategy for National Express Group is to deliver long term value for its shareholders and to deliver safe, punctual and frequent services at excellent prices for its customers worldwide.
Vision and Values
A business such as National Express Coach needs a core vision that remains constant while its business strategies and practices continuously adapt to a changing world. In an increasingly competitive global environment, without a clear vision a business will lack direction and may not survive. A vision should be both aspirational and inspirational for stakeholders.
The Vision and Values were launched in 2011 as a fundamental statement of who National Express is as a business and how they operate.
It originates from the conviction of the Company that National Express wants to be. The way National Express acts as a business embodies these Vision and Values. In National Express' view being a good and successful company should be - and are - synonymous.
The Vision is: To earn the lifetime loyalty of our customers by consistently delivering frequent, high performing public transport services which offer excellent value.
The Values underpin the Vision an organisation's values are the guiding principles that influence its activities across the business. Values show how the company expects everyone within the business to behave.
The Values are:
Excellence – We constantly strive to be excellent in all that we do
Safety – We only do what is safe and stop any unsafe behaviour.
Customers – We place them at the heart of our business and relentlessly meet their expectations
People – We develop the talents, reward the exceptional performance and respect the rights of all our employees
Community – We are active in the communities we serve to generate economic, social and environmental value.
For example, under the Safety Value the National Express 'Driving Out Harm' programme encourages staff to make sure that their workplace is safe and ensures that the safety of customers and colleagues is put first at all times.
The 'Driving Out Harm' programme has been running since 2011 and is supported by training and internal marketing activity including posters, pledge cards, training booklets and brochures. It has its own brand for use at internal events and training programmes. Every member of staff pledges to follow the golden rules' of safety. There are role specific golden rules for different jobs. For example, the golden rules for bus and coach drivers include putting the safety of passengers first, checking of vehicles to ensure they are safe to drive as well as driving safely.
Under the Community Value and following the success of its Military Covenant the coach business wanted to explore other important and current issues, so the Youth Promise was developed and launched in 2014.
The Military Covenant is a ground-breaking pledge to support the Armed Forces their families and veterans, which National Express was selected as the first company to sign in 2013. As part of its Military Covenant, National Express Coach offers guaranteed job interviews for people leaving the forces with relevant qualifications.
Running alongside the guaranteed interviews, discounted travel for service personnel, veterans, reservists and spouses also forms part of the agreement. November 2016 saw the useage of the discount reach a hundred thousand journeys equating to savings made by the Armed Forces community well in excess of one million pounds.
Minister for Defence Veterans, Reserves and Personnel Mark Lancaster said: "National Express was the very first company to commit to a fairer deal for the Service Community and this remarkable milestone demonstrates how the Armed Forces Covenant is helping thousands of Servicemen and women across the UK in practical ways every day. This, alongside the other commitments National Express has made, means our Armed Forces feel the weight of Great British businesses behind them."
The Youth Promise initiative is made up of five commitments and recognises the challenges facing the 16-26 age range in terms of education, unemployment and social engagement, enabling National Express to have a positive, responsible and meaningful influence on young people.
The five commitments in the National Express Youth Promise are:
We will offer great value travel for young people
We will work with the young people in the communities we serve
We will help young people into work and education
We will deliver the most accessible public transport network for young people
We will showcase youth talent.
To enable the Youth Promise to be bought to life, National Express has partnered with four national youth organisations: The Prince's Trust, The Scouts Association, Whizz Kidz and the Girl Guiding Association. Each of the Youth Promise partnerships is unique, focusing on the needs of each organisations young people, with support ranging from discounted/gifted travel, through to work placements and the opportunity to shape the vehicles and coach stations of the future.
Examples of other Youth Promise projects include: competitions, ad-hoc sponsorship and support of young photographers and athletes. Alongside engagement pieces with local colleges and universities to provide work placements, internships and job skills training.     All of this activity is lead by the Youth and Community Co-ordinator, a new role for the business which has been in place since August 2015.
Growth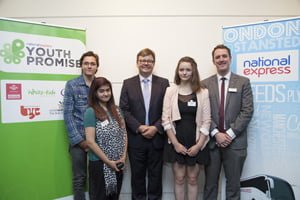 An aspirational vision and an ambitious strategy are all tools for business growth. Most companies need to grow to stay in business and having the right strategy is a way that enables a business to achieve growth. Business growth can be realised by increasing market share, new product or service development as well as diversifying into different markets, all of which can improve profitability.
The way National Express acts as a business embodies their Vision and Value and has a positive impact on its consumers, communities and the environment. By implementing its Youth Promise, National Express Coach is able to grow in the following ways:
Increased perception as a responsible business
Potential new revenue streams
New business opportunities as a result of all the
Exposure to new customers'.
With its premier position in the market, National Express Coach needs to ensure that as the business grows its services remain relevant, respected and appealing to consumers.
National Express, UK Coach activities have been reviewed to establish environmental risk, legal obligations, impacting activities and measurement and monitoring opportunities to determine overall environmental impact, as a result of its business activities.
'Our services make an important contribution in reducing UK emissions from travel, because buses, coaches and trains produce fewer emissions per passenger kilometer, than other forms of transport such as car or air travel. However as a public transport company emissions from our fleet of coach's constitutes to around 93% of our carbon footprint. The remaining 7% of emissions that are generated by our buildings, our use of water and generation of waste water, generation of waste and use of non-renewable resource are also important to us. Therefore National Express include the environment in its business strategy. To reduce our impact on the environment from it coach's, National Express is constantly investing in its fleet with all vehicles being replaced every five years. National Express also uses fuel efficient technology such as telematics and driver camera systems, which monitor driver behaviour and provide alerts. These systems are used to let our drivers know how they are performing and provide a coaching tools should improvements be required.
To reduce our impact on the environment from it sites, National Express has installed sensor lighting, fitted solar panels and sets energy reduction targets. To reduce water and waste water it uses water recycling wash systems and has a rainwater harvesting system at its Head Office. All sites have the facilities to segregate paper, cardboard, plastic bottles, and drinking cans with our current landfill diversion rate being 62.3%, targets for the reduction to paper use and printing are also set.
Adopting a risk based approach has allowed National Express to minimise the risk of pollution by increasing spillage provision and training spill responders and has seen the enhancement of its resilient to flooding.
To increase environmental awareness regular communication are provided which include summary of performance; improvement ideas, tips, general awareness campaigns. Our World Environment Day campaign saw the adoption of a section of Woodland in Plymouth as result of our employees making pledges to improve their personal environmental performance.
Conclusion
Business strategy is derived from the overriding vision and values of an organisation. These steer the company in the direction it wants to take for future business growth. A company is not always simply driven by profits. Having a strong set of values and a culture that puts the customer first enables a business to explore different business opportunities that allow it to grow, while continually providing excellent customer service. The company recognises that providing customers with safe, reliable and convenient transport helps to differentiate it from the competition. By introducing initiatives such as the Youth Promise, and aligning 'Golden Rules' to their values, National Express is further distinguished from its competition and ensures that its customers are served with pride.
National Express | Vision, values and their influence on business strategy