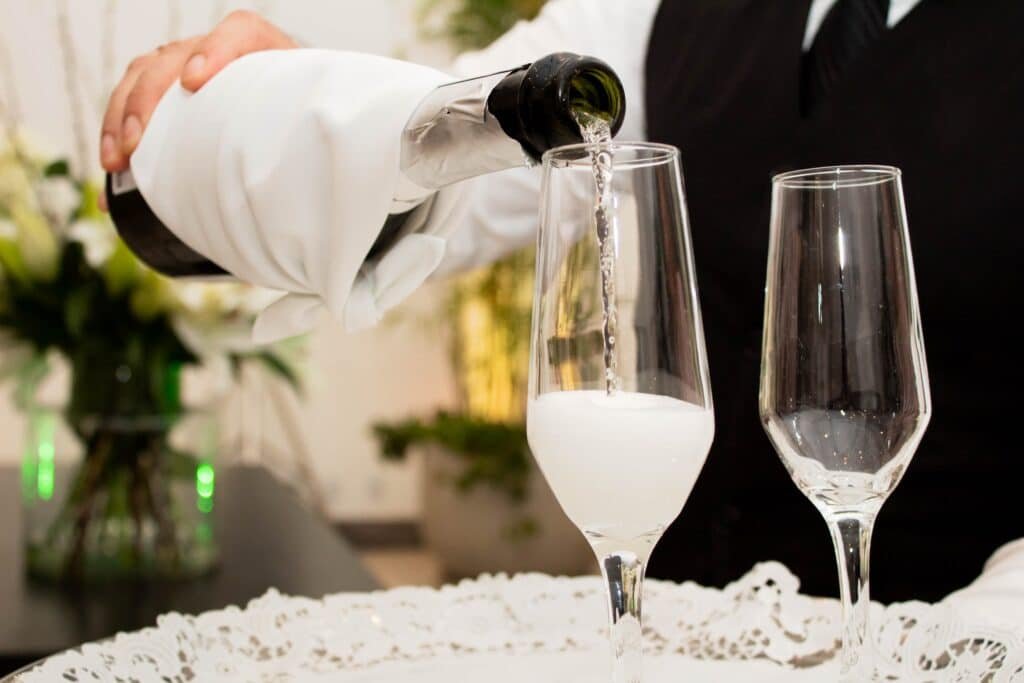 In Italian, "antipasto" means "before the meal." The entire concept is about serving small bite-size appetizers before the main course to stimulate one's appetite. An antipasto platter is an easy way to offer guests a variety of tastes and textures before the main event. Serve it at your next cocktail party or as a prelude to a special dinner.
The best way to make an incredible starter is paring it with Prosecco DOCG. This sparkling wine is
the perfect aperitif. It's light and bubbly with just enough sweetness and flavours. Prosecco pairings work best with lighter appetizers like salads, seafood, and cheeses.  You can also pair it with desserts for a fun twist on an after-dinner drink.
Here are some ideas on how to pair a prosecco with your appetizer.
Prosciutto and melon: the perfect Prosecco appetizer
This appetizer is both simple to make and an amazing pairing for Prosecco. All you have to do is roll up a slice of Prosciutto (or cured ham) around a melon slice, and you've got an elegant and delicious bite. This appetizer is great for a date night or a casual evening out with friends. It's also easy to make in advance, so you can focus on everything else when the time comes. Prosciutto and Melon is the perfect Prosecco appetizer.
Prosciutto is salty and oily, which will bring out the sweetness in the Prosecco. Meanwhile, the melon will add a sweet flavor that will fit the sweetness of the Prosecco.
Bruschetta with smoked salmon
With only five ingredients, this appetizer is super easy to make. You all need smoked salmon, a tomato, a piece of crusty bread, a bit of garlic, and olive oil. The smoked salmon and tomato are diced and mixed together in a bowl. You can add a bit of salt and pepper to taste. The garlic is also mixed into this along with a bit of olive oil. This mixture is spread on the crusty bread and then baked for just a couple of minutes. The result is a delicious appetizer that is sweet and savoury at the same time. It goes well with Prosecco because the sweetness in the sparkling wine is complemented by the tomato in the bruschetta.
Spicy shrimp skewers
The spicy shrimp skewers are perfect for a party. They are easy to make ahead of time and can be popped in the oven at the last minute. Made with a mixture of cayenne pepper, paprika, chilli powder, and other spices, the shrimp have a nice kick to them that will warm your guests up on a chilly day. Serve them with a different type of bread to dip in the sauce and a glass of Prosecco. The sweetness in the sparkling wine is a nice compliment to the spiciness of the shrimp.
Cheers with Prosecco!
Prosecco is the quintessential sparkling wine. It's light, refreshing, and perfect for sipping. While you can serve cheese, crackers, and other simple snacks with Prosecco, it's a little more interesting when you add some appetisers to the mix. These small bites complement your glass of Prosecco perfectly.
If you want to surprise your guest, pair your starter with Foss Marai Strada di Guia 109 Brut. This Prosecco DOCG is made with Glera grapes grown on Valdobbiadene Hills, Unesco site heritage. Acacia flavours and unripe fruits' aroma create the perfect synergy between sweetness and bitterness: taste it and you will believe it!