Living in a safe community that provides such a wide range of public services is easy to take for granted. Even as students, the list of all the products and facilities that are provided for you is endless. The roads, schools and colleges, sports centres, parks, youth clubs, services of the police, hospitals, ambulances, teachers and nurses are all supplied by public money to create a certain standard of life.
An 'audit' is a formal examination of a set of accounts to see that they are true and fair. It is also a check for quality and efficiency. It involves a process of finding things out. In the public sector where public money has been raised from taxes and other sources, this is key as it helps to make sure it is used properly.
This case study looks at the work of the Audit Commission as well as the roles of some of the people who work for it. The Audit Commission is an independent public body that ensures public money in areas such as local government, housing, health, criminal justice and fire and rescue services is spent efficiently.
Although the Audit Commission is an independent body, it is accountable to the Office of the Deputy Prime Minister (ODPM). This means that its actions must be explained to the ODPM.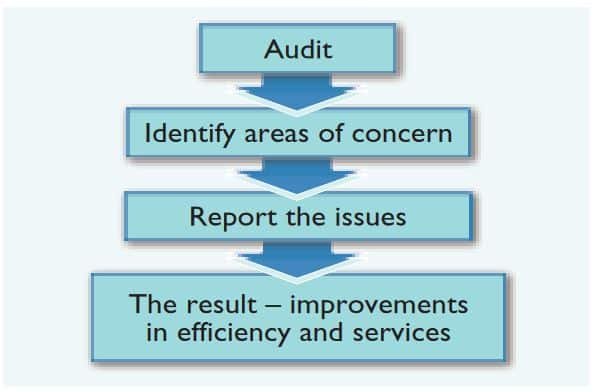 If they find any problems, the auditors and inspectors report to the people who make the highest decisions within that local authority. This is known as a process of governance. Decisions are then made to improve the way that money is spent, and to provide better value for money that comes from taxation and other sources. This also means better services for the public.
The work of the Audit Commission is part of a wider process of making public services accountable. In addition to its audits and inspection role, the Audit Commission also gives an overall judgement on the quality of local government services. The way it does this is through its Comprehensive Performance Assessment.