Introduction
Provident Financial was founded in West Yorkshire, England in 1880 by Joshua Waddilove. The company's headquarters are still based in West Yorkshire. However Provident Financial has grown from a family owned business to a public limited company (plc) whose shares are quoted on the London Stock Exchange. Provident Financial is a group plc; its largest subsidiary is Provident Personal Credit.
Provident Personal Credit is a home credit company. This means that it provides small, unsecured, cash loans to customers in their own homes and collects the repayments weekly from their homes. Provident Personal Credit has more than one million customers in the United Kingdom and the Republic of Ireland. So someone in one in every twenty homes in the British Isles is a customer. Provident Financial has recently started to offer its services outside the UK and Ireland and now has over 80,000 customers outside the British Isles, mostly in Poland and the Czech Republic.
This case study focuses on the expansion of Provident Financial into markets outside the United Kingdom and Ireland. One of the major reasons for this expansion was the belief that there was a demand for the company's home credit service in countries beyond the United Kingdom.
Home credit
Home credit customers usually borrow small amounts of between £50 and £500 which they pay back to the company over a short period of between six months and a year. The company's agents usually arrange the loans with customers in their own homes. The charges on the loan are fixed at the beginning and will not change. However, if the customer's circumstances change, the agent can agree that the customer can pay back a reduced weekly amount. But even if the customer has to take longer to pay, the total amount that the customer pays back will not change. When a loan is granted the agent will agree on a convenient time to call each week to collect repayments from the customer. Provident Personal Credit has more than 10,000 agents operating in the United Kingdom and Ireland, most of whom are women.
International marketing
There are a number of reasons why business organisations market internationally.
For example, the business within the UK may be mature or want to broaden its market base. In the mid 1990s, the directors of Provident Financial decided that the company should investigate whether there was substantial demand for home credit in countries beyond the British Isles. This was one part of a planned growth strategy for the group. The other element of the growth strategy was to increase Provident Financial's customer base and its profitability within the United Kingdom.
Before entering any market, decision makers within organisations require answers to questions. Market research involves systematically gathering, recording and analysing data about the market for specified services. Senior managers at Provident Financial believed that there might well be a demand for small, unsecured cash loans in certain overseas markets. Early market research indicated that this was the case. The research also suggested that customers would welcome cash loans which could be provided in and collected weekly from their homes.
The opportunity

The collapse of the Berlin Wall in 1989 had opened up the economies of many countries in Central Europe, such as Poland and the Czech Republic. However, even by the mid 1990s, citizens of these countries only had access to a limited range of banking and financial services. Provident Financial could offer a home credit product which was not currently available to customers in these countries. It was likely that home credit would prove attractive to people in these countries, because, unlike banks' customers, Provident customers would not have to provide security – or guarantees - before small loans were provided to them. Finally, research among the company's customers in the
UK had shown that customers liked the fact that the company's agents could agree to provide them with loans relatively quickly and that the arrangements to take out a loan could be agreed in their own homes. In contrast to the home credit service which Provident Financial could offer, existing financial services companies in Central Europe did not offer such a flexible and convenient service to customers who wanted to borrow small sums of money.
Targeting a market
Provident Financial had to identify correctly the most suitable countries outside the UK where home credit could be offered. The company's market entry strategy was based on the key factors which would influence its ability to operate in a given country. With the benefit of more than 100 years' experience of operations in the UK, the company could identify four conditions which would have to be met for it to operate successfully in a given country. A suitable country would have:
a developed economy
a high proportion of the population living in urban areas
a limited range of providers of small, cash loans
a legislative regime which would allow a UK company to set up in business and grant cash loans.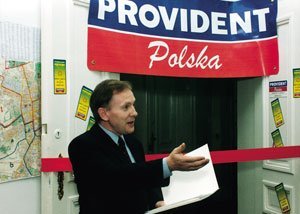 A number of countries in Central and Eastern Europe seemed to meet these criteria. Following the collapse of communism in 1989, these countries had begun to develop rapidly. As financial and legal restrictions on these economies were lifted, investment opportunities for overseas companies in these markets were developing. With a population of around 40 million, Poland offered a large market potential. It was politically and economically stable and it was planning to join the European Union. At the same time a large proportion of the Polish population had limited access to financial services. The Czech Republic also appeared to be a promising market, although it was a much smaller country than Poland with a population of only 10 million.
Market research
Research would help to estimate the market potential of those who would want to use Provident Financial's home credit services. It was carried out in three stages to identify suitable countries into which Provident Financial might expand. It consisted of:
in-house desktop research
country visits
primary market research.
Desktop research involves using existing secondary materials as a basis for research. This enabled economic, social, political and legislative data to be gathered on a country by country basis. Country visits by senior UK managers to Poland and the Czech Republic added to the company's knowledge of these countries, which had been built up from desktop research. These visits also allowed the company to develop contacts with specialists in each country on areas such as taxation, business law and human resources. Assistance was also given by the British Chamber of Commerce who provide guidance to British companies considering investing overseas.
Provident Financial also commissioned primary market research companies to conduct qualitative and quantitative market research among its potential customers in Poland and the Czech Republic. The qualitative research investigated the in-depth views of small groups of people on the home credit service which Provident hoped to offer. Quantitative interviews were also conducted to assess the views of larger numbers of potential home credit customers to the service Provident was hoping to introduce. The results of the research data were positive and confirmed that there would be strong demand for home credit in Poland and the Czech Republic.
First steps
It was decided that pilot operations should be established in Poland and the Czech Republic. If these proved successful then the company's operations would be rolled out throughout these countries and a network of branches would be established. One of the first steps was to find suitable premises. These had to be affordable and needed to be located in areas which were convenient, safe and accessible to agents.
In the UK, experienced managers guide the agents of Provident Personal Credit. Efficient computerised administrative systems ensure that the loans granted to customers and repayments collected from them on a weekly basis are promptly processed. These management information systems are linked to Provident Financial's UK head office. Before Provident Financial's first overseas customer could be granted a loan, these systems had to be installed, tested, linked to the company's UK head office and staff needed to be trained to operate them.
Recruitment of staff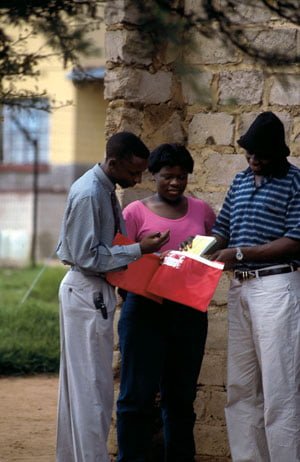 Each overseas operation was headed up by one UK manager, each of whom had many years' experience gained in Provident Personal Credit. However, local staff also needed to be recruited as agents and administrative clerks. At first, English speaking staff were recruited in Poland and the Czech Republic and trained in the UK. However, it proved difficult to recruit staff who had both the skills the company required and good English language skills. As a result, local training facilities were established and training materials were translated into local languages. At the same time new employees were given assistance to learn English or improve their existing English language skills.
The choice of home credit product to be offered in each new country had to be carefully assessed. It was necessary to offer a loan which closely matched the amount that the potential customers wanted to borrow and to set weekly repayments for such a loan at a level they would be able to afford. The market research already carried out had helped to identify what kind of home credit product would most closely meet customers' needs. At the beginning, only one product was offered. Provident planned to assess how successful this first product was with customers before offering additional products, i.e. loans of a higher value which could be repaid over a longer period of time.
Customer recruitment
Although Provident Financial had considerable experience of marketing in the UK, it was understood that these methods might not be culturally appropriate in Poland and the Czech Republic. However, the methods of recruiting customers that have worked well in the UK, such as leaflet delivery and personal recommendation from existing customers, were also found to work well in Central Europe. In addition, home credit could also be promoted through newspaper advertising.
Provident Financial's Polish subsidiary, Provident Polska, granted its first loan in January 1997. The Czech subsidiary, Provident Financial sro, granted its first loan in August of the same year. Today, Provident Financial has more than 80,000 customers in Poland and the Czech Republic. By the end of 1999 Provident Financial sro will have a network of branches which will enable it to offer home credit in all the main population centres in the Czech Republic. Provident Polska is also rapidly expanding its branch network. By the end of this year it will have established branches in 30 per cent of areas in Poland. Provident Financial has proved that the home credit service it offers meets the requirements of customers in countries outside the UK. Provident Financial's Polish and Czech subsidiary home credit companies now have a network of branches across Poland and the Czech Republic with more than 2,000 agents. By September 1999, in Central Europe customer numbers were increasing at a rate of more than 2,500 a week.
Conclusion
For a UK based company to enter overseas markets, the first step is thorough investigation of all potential markets. After desk-based secondary research in the UK, Provident Financial made a series of visits to a limited number of countries to see these potential markets at first hand and establish contacts. It then commissioned primary research in these countries which confirmed that introduction of its services into these new markets had the potential to grow the business.
Provident Financial began its overseas operations by setting up pilot offices in Warsaw in Poland and in Prague in the Czech Republic. Once these pilot operations had proved successful more branches were set up, more agents were recruited and loans were granted to more customers. Today Provident Financial is continuing to develop its branch network and operations in Poland and the Czech Republic so that its services can be made available to customers right across both countries.
Provident Financial | Entering overseas markets