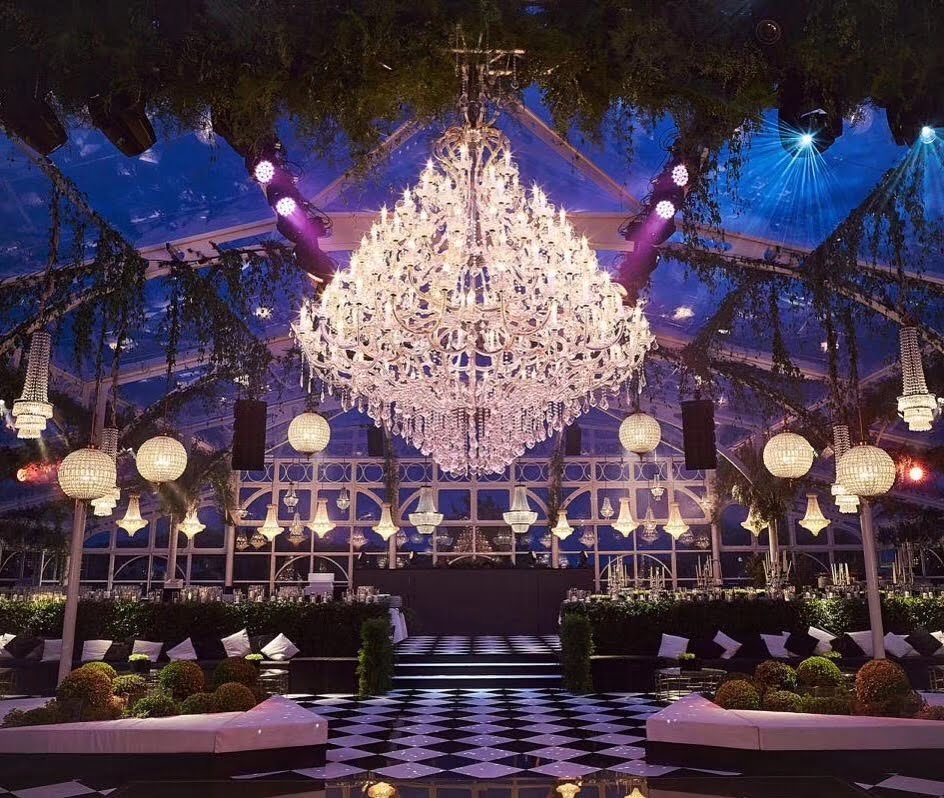 Lightening up your home is a bright idea to improve the way it looks and also to increase your home's value. It would fetch you a decent return on your investment, should you decide to sell your home at any point of time. A well lit room would always make it look spacious and cleaner and thereby making you feel cheerful. You could enjoy the bright effect by adding good and elegant lights to a formal dining, living room, family room or to a dim kitchen which will make you feel warmer and would be more welcoming to your guests and prospective buyers.
Classic and effective, nothing will add more glamour and elegance than a sparkling crystal chandelier floating overhead in your living room or dining room. Same way it also adds a touch of romance to your bedrooms. Whether you want to make your rooms look traditional or modern, there are different styles which will do wonders to your decor. You can enhance and adjust this lighting feature by installing a dimmer. It is wise to select a chandelier to match with your home's architecture to avoid replacing it every time you redecorate. It should complement its surroundings rather than match or contrast.
The modern trend and options in Chandeliers lighting has taken this popular fixture from living rooms, dining rooms and entryways to bedrooms to turn them into luxurious suites. Not only master bedrooms, but also any girl's bedroom can be turned into a princess palace by hanging beautiful crystal chandelier overhead.
Today's dining rooms reflect changing lifestyles and have become multi-purpose. They are not just used to have meals but as work-zones or gathering places to have parties etc., resulting in the requirement of having multiple options of lighting from functional to fashionable in the flick of a switch. When you are getting a chandelier fitted in your dining room be sure that the chandelier is centered over the dining table and not at the centre of the room. When you have a sideboard, your dining table would be slightly off the centre and if the chandelier is hanging exactly at the centre of the room, everything would look off-kilter. Ideally the size of the chandelier in the dining room should be 1/3rd of the width of the dining table. For example a 75 inches round dining table would require a 25 inches diameter chandelier. At the same time with an oval or rectangular dining table, the chandelier can be slightly bigger.
Another point to be kept in mind is that roughly 30 inches should be left between the table and the bottom of the chandelier so that it does not hinder the view of your dining companions and also leaves some space for a flower vase or a centerpiece. Most people make the mistake of hanging the chandelier too high.
When choosing dining room lighting, keep it in mind that chandelier should not be the only source of lighting as it would not make the room well lit. Don't worry about its quality of light as much as about its beauty. Wrought iron or steel fixtures with crystal drops or pendants create a softer and romantic setting. If a chandelier is too bright it would not be comfortable for the eyes and if it is comfortable for the eyes it would look dim for the room. Start with a chandelier in the middle with accent lights on either side to add a festive sparkle. Space the accent lights in such a way that they are not above the head of the diners or not so close to the chandelier to create shadows. To add sparkle to the chandelier angle them toward the chandelier.
The height and size of a room is an important factor to consider while selecting the chandelier. Usually a room with a ceiling height of more than 9 feet would be ideal for a chandelier. But in smaller bedrooms or in children's bedrooms mini chandeliers or chandelettes would do wonders. With mini chandeliers available in 9-12 inches in diameter, it is easy to fix them into any tight spots like corner spaces or powder rooms. They can also be grouped together, which is a latest trend, to create a great impact over a kitchen island area or bar area. Common mistakes while installing chandeliers are either they are too overpowering for the furnishings of the room rather than complementing them or too small for the room.
Once you have decided on the right size of the chandelier, choose a fixture depending on the style and mood you want to create. If you are for a traditional look, choose a chandelier with more ornamentation and decorative details. If you want to create a modern look go for a chandelier with simple lines and less details. The chandelier is another decorative element and if it is visually pleasing then it is enough and does not have to match with the décor in a very rigid manner.
Weight of the chandelier is also an important factor to be considered while selecting the chandelier. If it weighs more than 50 pounds, it will have to be mounted more securely to the structure of the house as per the criteria of the National Electrical Code.
Crystal chandeliers can be chosen from a variety of colours. While sparkling clear crystals reflect light, different shades of crystals can be combined to offer a rainbow of shades to match and complement your décor. Some crystals like rock crystals, amethyst and smokey quartz create an antique feel.
The latest trends and looks in chandeliers are no longer limited to one material or finish but to multi-tone finishes created by painting or chemical processes. Though crystal chandeliers are one of the traditional ways to complement a room setting, It has now also become more contemporary and modern with simple and clear designs like geometrical shapes in cubes, pyramids, rectangles and spirals to create auras of light for a rich and vibrant look.
It is important to choose the correct bulbs for your chandelier to enhance its sparkle like clear bulbs in crystal glass enclosures. A common design trend these days is to mix the different styles and materials in one fixture. For example a rustic cast iron fixture with crystals or different types of glass and metals added to one fixture are not uncommon.
Whether your chandelier is contemporary, traditional, simple or multi layered, another important factor is to have dimmers to control the intensity of lights. The lighting capacity of a chandelier is always more than what is actually needed and dimmers help in controlling the intensity to add to the aesthetic appeal. Smart dimmers with microprocessors can be used to easily create various ambiances – one button for dining, another for more light for homework and yet another for partying etc.
To get the correct wattage to properly illuminate your room, multiply the square footage of the room by 1.5 for total illumination needed. For example a room of 200 sq.ft would require 300 watts lighting (200 x 1.5). For specific task lighting for a given space, multiply the square footage by 2.5. For example a kitchen island of 40 sq.ft would require 100 watt lighting (40 x 2.5). Here you can consider 2 pendants of 50 watts.
When you are considering lighting for your home, imagine how unique and eye-catching a crystal chandelier can look whether it is in your dining room, living room or bedroom. It will have a wow effect on your guests. With so many affordable designs and options available now, you can choose one which suits your budget. You can replace the boring lights of your bedroom and bathroom with a right choice of a crystal chandelier to turn it into a spa-like ambiance.