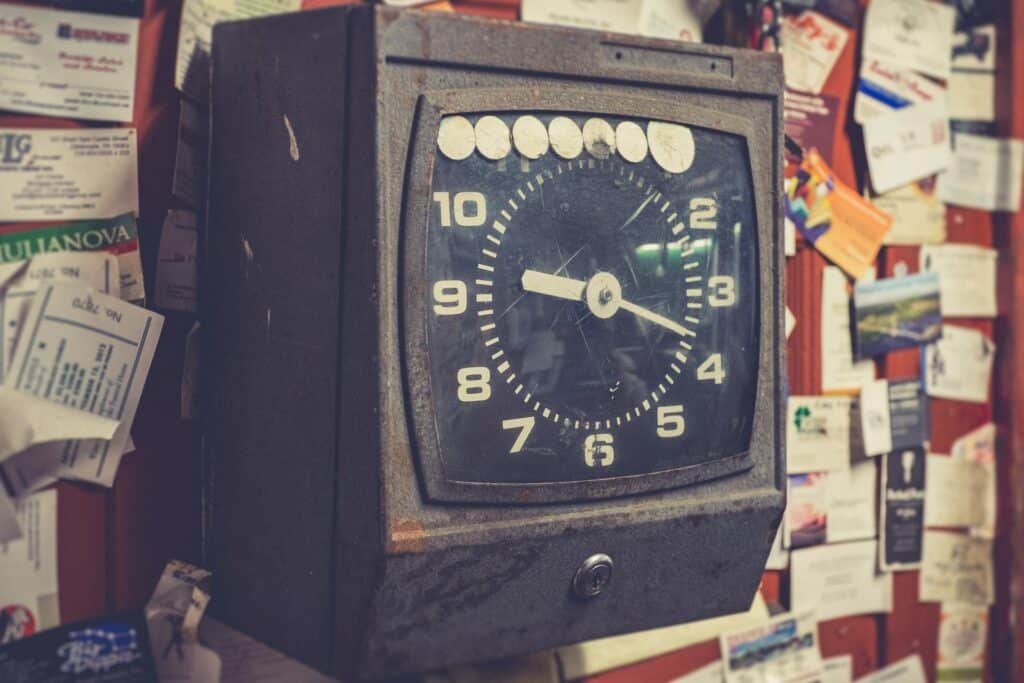 Payment disputes are no news in the workplace. In your records, worker X worked for only 25 hours in the first week of May. So, you pay them USD$250, assuming the hourly rate is USD$10.
Immediately after transferring the cash, worker X comes to your office really charged up. He claims to have worked for 40 hours and thus needs the additional USD 150. And the push and pull start.
Who's To Blame?
If such errors occur every other time at your workplace, it tells you that it's high time you installed an efficient clocking in machine.
Basically, a clocking-in system automatically records the time a given employee reports to work and when they leave. With such records, it won't be difficult to keep track of employee attendance and compute their payments.
Factors To Consider When Installing Clocking In Machines
Here are some important considerations to make before you settle on clocking in the system for your workplace:
1. The Manufacturer and Installer
You'd want to work with a manufacturer that has vast professional experience so that the success of the system is guaranteed.
It's usually not enough to settle on the one operating nearest your office. You do understand that a substandard system may lead to the same disputes that you're trying to avoid.
What you need is a company with a proven track record of excellence. This way, you can rest assured that they'll transform your workplace in regard to attendance records.
While there are many options out there, you may want to check out Egress Systems.
2. Expert Support
Remember, this is a new technology in your workplace. You and your employees aren't used to it. If the installer does his installation job and leaves, you may find yourselves reverting back to the old systems as quickly as you adopted the new one.
It's important to work with a company that does enough training to help you maximize the benefits of such time and attendance solutions.
You may have to spare some office space for the training team for as long as they'll be at your workplace.
3. Face Recognition
You don't necessarily have to start with the usual fingerprint clocking-in machine. The COVID-19 pandemic must have taught you enough lessons regarding the need to avoid touching every other surface.
Germs do spread from person to person. And if such contact can be avoided, the better. Also, constantly touching an electronic machine deposits dust, sweat, and grease on it, and this can lead to malfunctions.
Luckily, there is face recognition clocking in machines in the market. Your employees only have to look at the screen, and their details are automatically recorded.
But if that feels too overwhelming, you can still go with swipe cards and fingerprint clocking in machines.
4. Integrated with Access Control
It's a great idea to have a clocking-in machine that's compatible with your access control system. In other words, when an employee presents their details to the clocking-in machine, the office door also opens.
Their biometric data acts as the security password to gain access to their offices. This way, you're able to improve security at the workplace as well as track employee attendance.
5. Ability To Track Offsite Labour
Telecommuting, or working from home, is now synonymous with nearly every workplace. But you still need to keep track of your employees as they work away from the office so that you can properly compensate them.
Your rule should be 'fair pay for a fair day's work.' As such, consider installing a clocking-in system that additionally comes with software programs that workers can download onto their home computers. You'll easily know when they started and stopped working every single day.
6. Other Features
Here are some more features of clocking in machines you may want to consider:
Ability to periodically email all employees the details of their individual time cards
Ability to export attendance details to the company payroll
Waterproof so as to reduce the risk of damage by moisture and sweaty hands
Automatic calculation of employee wages
Ability to generate automatic reports
Auto-deduct for lateness and early departure
Are You Ready?
Installing a clocking-in machine would be one of the best business decisions you ever made. You'll be able to create indisputable records of when your employees clocked in and out of work. This minimizes the number of payment disputes.
Also, your employees get more conscious when they know that you're watching them. Their productivity is likely to improve, and that means more profits for you.