ASDA's mission is 'to be Britain's best value retailer exceeding customer needs, every day'. This is backed by its purpose – 'to save everyone money, every day'. ASDA recognises that these depend on a commitment always to put customers first in everything ASDA does, which is achieved through dedicated teams of ASDA colleagues.
ASDA is a private limited company, with its Home Office (Head Office) in Leeds. ASDA shares a common culture with its parent company, the US retailer Walmart and puts value for money at the heart of its operations. ASDA's beliefs (also known as values) are lived and communicated to all colleagues and reflected in everything the business does.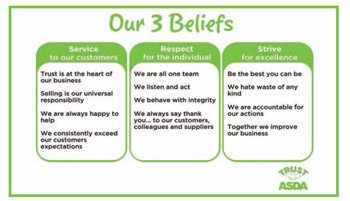 ASDA is always at the heart of the community, often with many generations of a family working at the same store. ASDA also supports a strong corporate social responsibility (CSR) ethos. This is shown through its employment and career opportunities in communities, its support for customers through low prices, as well as charity activities and health initiatives.
ASDA is recognised nationally for its low prices and warm and friendly service. The business has over 500 stores across the UK and Northern Ireland, including large Supercentres and Superstores as well as smaller supermarkets found in towns and suburbs. ASDA has seen significant expansion over the last few years. As well as offering food and general merchandise, ASDA has diversified into optical and pharmaceutical services, as well as mobile phone and financial services, with more categories launched each year.
There are 25 ASDA Living stores for non-food merchandise, two Home Shopping stores supporting the online shopping service and 27 Distribution centres. The George brand overtook Marks and Spencer in 2009 to become the UK's leading fashion retailer by volume. ASDA's customer base has increased through its online services, www.asda.com and ASDA Direct. ASDA's training and development programmes help its colleagues and managers to grow to meet these challenges.