This market research case study illustrates customer orientation by showing how Yorkshire Building Society has carried out detailed research into the financial requirements of young people with a view to offering them products that most meet their needs.
Buying decisions and value
Traditionally, providers of financial services for young savers have competed on products such as savings accounts by offering more attractive rates. A major problem with this approach is that it is product-led: it assumes that the provider knows what the customer requires.
YBS has radically altered its way of thinking about younger savers by moving from a product-led approach towards a consumer-led approach. To date, YBS has used a product-led approach successfully, given its aim to offer long-term value to its members. However, it has come to recognise the importance of creating a customer-focused experience that gives prominence to other factors in addition to financial value.

There are two main ways of providing value to customers:
Financial: through the products offered and their price
Non-financial: including quality of service, customer experience and added value.
Within the financial services sector the traditional approach has been to regard value as 'financial' both for the customer and the provider. However, in the current highly competitive climate with new entrants to financial services such as supermarkets and online providers, it is important for YBS to stand out from its competitors and that's where 'non-financial' value counts.
YBS feels that while 'financial' value has a role to play, 'non-financial' value is a key differentiator in an increasingly cluttered and complicated market. Yet it has been largely ignored to date by financial services providers, who still continue to compete on rate. An example of 'non-financial' value was found in the research conducted by YBS showing that young people (up to 12 years) show a strong preference not for a favourable introductory interest rate but for tangible things such as shopping vouchers and mobile phone top-up cards; hardly surprising, given the popularity of mobile phones.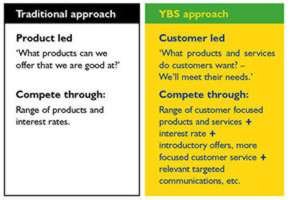 Reasons for change: research results
Every day, young people are bombarded with messages in the form of TV adverts, posters, mail shots or internet banners. But is that what they really want? Feedback from YBS customers allied to market research results suggested this is a differentiated market with differing needs and wants.
YBS commissioned research to help it understand its target audience's needs, behaviours and motivations and to identify their various life stages/age splits. Research found that:
among young people, there is little desire to save money -"it's for spending"
having a cash card (ATM) is highly important to all ages, and especially those over 14.
With its consumer-orientated approach YBS went on to find out more about individual customers, their needs and how these could best be met.

Market research: lifestage analysis
Quantitative research uses questionnaires often involving large numbers of people. By contrast, qualitative research is based on more detailed interviewing of a representative sample from the target population. Organising focus groups is a form of qualitative research, inviting, in this case, young people to talk about their financial requirements. YBS organised several workshops at which young people explained their financial requirements and motivations.
The target audience falls naturally into segments based on life stages. Motivations and key influences at each of these stages are summarised below:
For the under 12's, parents generally make the decision on what account to open, their objectives being the long-term welfare of their child and saving for key events, e.g. first car/home, university.
From the age of 12, although the parent/s still feel that they should be making the decisions, the young person increasingly feels torn between independence and knowing that the parental security blanket is there just in case!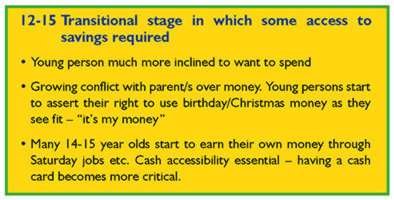 Once they are 16, young people feel independent (even if their parent/s don't agree!).
Financial needs of this older age group are affected by legal requirements, e.g. the minimum age for taking a car driving test is 17. Law affects the age when driving lessons, possibly a car, and car insurance all need paying for. At 18 many young people go to higher education. As more opportunities become available, these people want more independence and opportunities to start to earn their own money.
Market segmentation
Market segmentation involves grouping customers with similar characteristics. Customer focused organisations want to know as much as possible about each of these segments so that they can develop sympathetically the products that cater for that segment's particular needs. YBS has built on its research findings to meet the needs of its youth market and build long-term relationships.

YBS worked with focus groups of parents and young people divided into 4 different segments based on life stage.
Couples planning to have a child
Parents controlling their child's account(s)
Own account: 12-15 years
Own account: 16-21 years.
There are marked differences between the segments, with different motivators for particular financial needs and preference as to how to be contacted.
As an example of the insights YBS has gained through the segmentation and research process, let's look at the segment 'parents in the pre-birth to 1 year life stage'.
Key insights from research
The 9 months pre-birth and 12 months post-birth is a period of major change in lifestyle requiring thoughtful financial planning and self-education. Key factors that affect new parents may include the need to save for the loss of an income, because during this period national figures for this group show that:
21change home
25invest in the home
22buy a new car
35invest in new capital items (TV, DVD, etc).
Other changes in lifestyle include different buying patterns, e.g. different shops are used with more emphasis on purchases for the baby - clothes, books, toys, etc.
New mothers typically access a new network of friends where the emphasis is on information sharing. Email and Internet become important for communication and information. Parents become 'baby-obsessed' and are particularly susceptible to communications that are baby relevant. Grandparents will also become more involved, emotionally and financially, and want to help.
All these changes in this group's expectations and priorities have financial implications.
Key motivators
YBS then examined factors that motivate the choice of financial products by new parents. Results of this research indicated that parents expected to take a lead role in the account choice of their children up to 16. They were also likely to be swayed by relevant promotional offers aimed at the children ('package of goodies'. The desire to save for the child's future was of prime importance and most parents were open to a broader range of long-term saving products.
Most parents saw Building Societies as their favoured provider of child-centred financial services and easy access to a local branch was a main driver for opening an account. Many parents wanted an account that their child could not touch (no temptation!) such as bonds for children.
These insights allowed YBS to identify appropriate ways of communicating with this segment as they move through the following process:
Table to be added here
At each stage in this process YBS seeks to communicate to and engage with its customers, identifying opportunities for education, promotion, social interaction and entertainment.
Customer Relationship Management (CRM)

CRM involves developing real, effective relationships with customers, and YBS has built an important lead in this area. CRM works only if a business is able to build up knowledge of its customers, identify the different segments and adopt a different contact strategy for each segment based on this. Rather than bombarding the public indiscriminately with communications, YBS aims to use a targeted approach, providing only those communications that will be of interest, thereby helping to improve customer acquisition, retention, loyalty and, of course, value for the customer.
Conclusion
The Targeting Customers process has helped YBS to define an approach to engaging with customers in a better way and the new Young Savers accounts are due to be launched in 2003. The final stages of the process include the development of a customer contact strategy based on its CRM programme and the identification of measures to define success, such as retention rates, number of relationships with the Society, brand tracking and customer satisfaction.
Existing customers are an important part of the contact strategy. The existing 'Happy Kids' account has been very successful and YBS wishes to retain these customers. Existing account holders have already been informed that the account is being reviewed and have been asked for feedback. When the new accounts are launched, existing customers will be transferred to the relevant account and immediately receive the same benefits as new customers.
By spending time and resources on fully understanding potential customers, YBS is starting to move from a product-led view of satisfying a single need of the large younger saver market, based mainly on price, to a segmented customer-led view. By anticipating individual needs of a select group, there is more focus on educating rather than advertising, and on customer development and retention as well as acquisition.