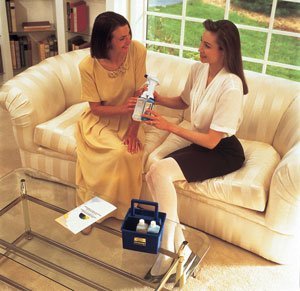 This case study focuses on the launch of a new cleaning product by the multinational organisation, Amway. It considers some of the processes which are essential to the successful launch of a product, such as the marketing strategy for the product, the product's positioning, the launch strategy and post-launch analysis.
Amway is one of the world's largest direct sales companies. Direct selling is based on person-to-person relationships and involves the distributor going to the consumer rather than the consumer going to a shop. Amway's product sales are broadly spread through North America, Japan, Europe, the Western Pacific and South and Central America. One of its largest product divisions is Home Care which accounts for a significant volume of sales, with household cleaning items making up an important part of this Home Care division.
Within the Home Care division, products are promoted and sold by Amway's independent distributors who develop their own client base. Distributors play an important part in introducing new products to customers. New products are often successful if they provide better solutions to consumers' problems and needs. An effective solution is one which makes the consumer feel that the product is:
better than anything else available on the market
just what they are looking for.
We can all think of products and services which create successful solutions, for example:
non-stick frying pans
cordless kettles
personal stereos.
This case study examines the launch of a comparatively new product which met all the criteria of a successful solution.
Marketing strategy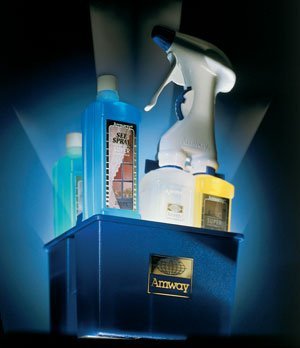 There are many cleaning products on the market. Visit your local supermarket and you will quickly find the aisle which is filled with similar-looking cleaning fluids, produced by a relatively small number of companies. However, most of these cleaning products are single purpose ones and are produced by manufacturers to standard specifications. Many cleaning products lack versatility, i.e. they can only be used for one particular task and in one particular way. Consumers, therefore, buy and store a whole range of inflexible products. You can check this out simply by examining the range of cleaning fluids that are stored in your own home. However, today's consumer does not want to spend valuable leisure time shopping for dozens of different cleaning products.
In September 1995, Amway launched the ultimate multi-purpose cleaner – the Amway Super Concentrated Cleaning System – a unique all-in-one product. The Super Concentrated Cleaning System is a three-in-one unit that saves time and money. Unlike many cleaning products, this innovative system dilutes the cleaning product to suit the job. It is operated through a sprayer gun which locks onto one of three new super concentrated versions of Amway's top selling Home Care products – Liquid Organic Cleaner (LOC), See Spray Glass Cleaner and Zoom Spray Cleaner.
LOC Super Concentrate – cleans any household surface that water will not damage, e.g. walls, floors, appliances, woodwork, work surfaces, dishes and utensils. It can also be used for washing hands and to spot treat hand-washable, colour-fast fabrics.
See Spray Super Concentrate – for all glass surfaces, windows, mirrors, chrome, stainless steel, porcelain and ceramic tiles.
Zoom Super Concentrate – quickly removes tough grease stains and oily grime
Each of these products comes in a new 250ml formulation which is four times the concentration of the litre-sized products. The sprayer holds a water bottle and dilution dial that enables the user to dilute the cleaning product to tackle every home cleaning problem – from floors, walls and windows to bathrooms and kitchens. The dial provides dilution levels from zero (all water) to five (all products) and the whole system fits in a lightweight caddy that is easy to carry around the house. The dilution control is quick and easy to use so there is no messy measuring or pouring.
As with all Amway home cleaning products, the Super Concentrated Cleaning System uses only biodegradable surfactants. In addition, the new system uses 50less packaging than equivalent one litre products and all packaging is readily biodegradable. The importance of providing consumer benefits