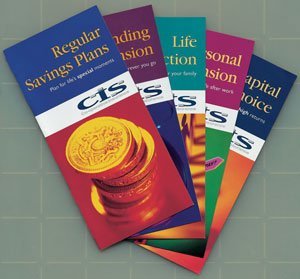 The Co-operative Insurance Society (CIS) operates in one of the most dynamic and complex markets in the world. Insurance is one of the UKÕs major industries with an estimated 700 businesses providing investment and protection products to over 46 million customers. In recent years, competition in the financial services industry generally has intensified. To survive and to continue to prosper, financial services organisations have had to adapt both their business operations and their strategies. As a result, there are now a wide variety of ways for customers to purchase financial products - by phone, by post, even over the Internet. CIS has always applied the personal touch to financial services, offering a high quality service in customers' homes through its own professionally trained field staff.
This case study examines the CIS approach to customer relationships and the steps it is taking to bring a modern face to the traditional values of personal selling.
CIS was established in 1867. It was the world's first co-operative insurer and today remains the only co-operative insurer in the UK. As a co-operative it operates solely for the benefit of its customers. All profits are applied for the customer's benefit, through bonuses on life and pension policies and discounts on motor and household insurance policies. CIS is one of the most successful insurers in the UK providing a broad range of products covering pensions, savings, investments, mortgages, unit trusts and PEPs, protection, household and motor insurance to some 3.5 million families.
Home service – a brief history
Insurance is not a modern idea and many of the products in existence today have been developed in response to the needs of people over many years. Insurance as a concept really caught on with the Industrial Revolution. As towns and cities grew, so did the risks, for example of fire and theft, and insurance companies emerged enabling customers to insure property, belongings or their life for just a few pence a week. This money, known as the premium, would be collected regularly - usually on a weekly or monthly basis - by an insurance agent, who was someone the customers knew, more often than not living in the same neighbourhood.
These are the origins of an insurance distribution channel known as home service. For CIS home service remains the most important way of distributing its products and means that it can maintain a close relationship with customers and gain an excellent understanding of their needs. This is not least because each CIS customer has their own agent who is often a personal friend rather than someone who simply sells them insurance.
The way CIS manages to grow its business is to ensure that not only is the distribution mechanism efficient, but that the following principles also apply:
Easy to understand products
Good investment returns
Low running costs
The combination of these factors helps ensure that customers are provided with value for money products that they understand. CIS customers can be characterised as loyal, long-standing and large in number, as the following facts and figures show:
20 per cent of customers have at least five CIS products.
Customers can often measure their relationship with CIS in decades.
CIS has the second largest customer base in the UK insurance industry.
Customer focus
As the financial services market has evolved, customers have become increasingly sophisticated in their purchasing decisions and are more knowledgeable about financial products than ever before. Most newspapers, for example, have personal finance sections offering advice and guidance. As a result, customers have become selective in their choice of provider and will readily switch providers if they are unhappy with the service they receive. Financial service providers have recognised this change and have responded by becoming even more customer orientated.
Whilst CIS has always been close to its customers through face-to-face contact, it is continually looking at new ways of improving levels of customer service. A primary example is its investment in the latest computer technology to improve the service it offers in customers' homes. Many agents now use state-of-the-art laptops which enable them to better analyse and understand their customers' needs. The laptops also help customers get a clear understanding of what they can expect from a CIS product so that, in turn, they can make a more informed investment decision. For example, the computers can be used to illustrate how an investment product has performed over a given period for a given premium rate. They also allow agents to record customer information while in the customer's home, greatly reducing the paperwork involved. And, because the laptops are to be electronically linked to the mainframe system at CIS chief office, the whole administrative process is becoming streamlined, so that customers receive a more efficient service.
Investing in customer relationships
The major factor in CIS's success is the strong, long-term relationship it enjoys with customers. In an increasingly impersonal business world of telephones, voice mail and faxes, CIS concentrates on face-to-face personal dealings with its customers. This is because CIS believes personal selling to be the most effective way of providing the service a customer has a right to expect. But 'personal selling' is too narrow a definition of the role of a home service agent. In a typical day a CIS sales person might visit existing or potential customers, organise and travel to appointments, process paperwork, attend a training course or gather intelligence on competitors. In CIS's case the customer is less of a sales target and more of a partner for whom it seeks to provide tailor-made financial solutions.
The aims of CIS's approach to personal selling are to retain customers in what is becoming an increasingly competitive marketplace by responding quickly to their needs and to provide instant feedback on what they want. The benefits of investing in such relationships are numerous and self-fulfilling. If customers are loyal, CIS can get to know them better and provide an even better service, which in turn increases customer satisfaction and makes them more loyal.
Communication
Important as it is, personal selling is only one element in the CIS marketing mix. To be completely successful, it is vital that this activity is integrated with the other elements of the marketing communications mix - advertising and sponsorship, public relations and direct marketing. Direct marketing supports the face-to-face communication of the salesforce with customers. CIS has invested heavily in information technology, and computer database facilities allow it to target potential and existing audiences with regular communications to help maintain a dialogue.
Advertising, particularly perimeter advertising at leading football, rugby and cricket grounds, provides high profile nationwide coverage for CIS. Public relations activity and CISÕs sponsorship deal with Blackburn Rovers also increases awareness of CIS among the general public, raises its profile and motivates staff. In this way each of the elements in the communications mix reinforces the other to emphasise and promote the CIS brand. That is why CIS remains one of the UKÕs best-known insurance companies.
Training
CIS is a people business and for many customers their agent is the face of CIS. Therefore it's essential that the organisation's representatives are highly trained professionals. This view has led CIS to approach training and development as an on going activity which occurs throughout the representative's career with the Society, not a one-off event. In fact, this process starts even before an agent joins CIS!
As part of a stringent pre-selection process, applicants must undergo an interview and examination to identify their willingness and capacity to learn. Once they've joined the organisation, agents complete the CIS Professional Development Programme, which develops sales and servicing skills, and study for the industry's professional qualification, the Financial Planning Certificate. Only when they have attained this can they advise on the full range of CIS products.
This commitment to train and develop over 6,000 members of staff on an on going basis takes some organising! CIS has over 30 professional trainers based at its chief office, delivering a wide range of courses. In addition, there are 25 regional training officers; fully qualified and experienced sales people who provide field staff with detailed product knowledge.
Conclusion
Investing in training and a commitment to professional and personal development goes a long way towards motivating sales staff. But to maintain motivation other tactics are necessary. All the training in the world will not make an unenthusiastic salesforce successful. And, as CIS provides an intangible service rather than a product, maintaining motivation is even more important. Motivating a salesforce can be as easy as simply publishing new business figures to stimulate competition, for example between sales teams. Or it can be as complex as a major sponsorship deal with a Premier League football club.
An annual sales incentive scheme offers top performing sales people prizes in the form of holidays, gift vouchers and even hospitality at major sporting events, such as the FIFA World Cup Final or Monaco Grand Prix! Specialist salesforce publications keep the salesforce informed and up to date with what is going on, both within CIS and in the wider financial services industry. Advertising and public relations are used to emphasise CIS's commitment to, and support of, its salesforce. In essence they let the salesforce know that the organisation is doing all it can to help them by promoting the CIS brand and so making the selling process easier. Up to the minute forms of communication such as the CIS Internet web site can work in a similar way.
Traditional values with a modern face
Ever since CIS issued its first policies, back in 1867, it has put customers first in everything it does -by identifying and anticipating their needs and matching its resources to those needs.
CIS is privileged in being close to its customers as a result of its chosen method of distribution. The genuine relationship CIS enjoys with its customers is one of its key strengths. On insurance and investment matters most people like to deal with someone they know and trust, someone who can give sound advice and who, apart from being on hand to collect premiums, can also be on the spot quickly to help in the event of a claim. Home service allows CIS to gain a unique insight into its customers' needs and to develop business accordingly. It represents a massive commitment towards providing customers with helpful, friendly and personal service.