Aims and objectives

Aims and objectives are the 'ends' that an organisation seeks to achieve. It then has to decide the means it will use to achieve those ends, draw up a plan and devise a strategy. Most organisations have general or overall aims which they can break down into specific objectives, or targets.
By setting aims and objectives, companies give themselves a sense of purpose and direction. This provides a framework around which to create their plans. With an overall plan in place, a company can set particular targets and monitor its progress towards reaching them. Targets can vary from a sales target and/or a profits target to a zero-accident target. Having a sense of direction and a coherent, overall plan is particularly important to a global organisation like Michelin, which produces many different product lines worldwide.
One major challenge is to communicate the plan clearly to everyone in a form that they can understand and put into practice. In 2002, the Michelin Group, at the initiative of its Managing Partners, Edouard Michelin and René Zingraff, launched the 'Michelin Performance and Responsibility' approach. Based on the Group's traditional five values, it established a formal framework for the Group's day-to-day activities and responsibilities in all areas: economic, social, environmental and ethical.
Many large organisations set out their overall purpose in the form of a mission statement. Michelin's mission is 'to make a sustainable contribution to progress in the mobility of people and goods by constantly enhancing freedom of movement, safety, efficiency and pleasure when on the move.'
The company intends to achieve this goal through the following means:
constant improvement of its products' technical performance and its tyre-related services' quality
alongside its core activities, development of new technologies or products to support sustainable mobility
ongoing active role both in public debate on future modes of transport and in researching relevant ways of transition towards sustainable mobility
delivering appropriate messages to its customers, enabling them to adopt sound purchasing behaviours and positive attitudes towards road safety and environmental issues.
Any organisation must be based on a sound economic footing in order to achieve its mission. As such, Michelin intends to remain the world No. 1 in tyres and mobility assistance, and to perform well over the long-term.
Having overall aims brings a sense of direction to everything Michelin does. These are then translated into particular objectives and targets for various areas:
markets and customers: sales growth, market shares, product reliability, delivery
employees: safety at work, training, diversity
economic performance: operating margin, free cash flow, return on assets, level of investments
environmental policy: end-of-life tyre recovery, number of sites with a certified environmental management system
production: manufacturing cost per tyre, production capacities, flexibility.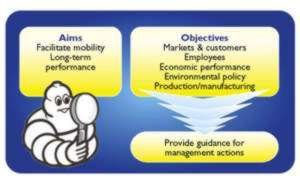 Wherever possible, Michelin expresses its particular objectives or targets in a form that can be easily measured and monitored - that usually means using numbers. For example some of its economic objectives are to achieve:
a 10% operating margin on average over the cycle
a positive free cash flow
an economic performance well above the cost of capital employed.
Michelin intends to achieve these mainly by growing faster than the market in the attractive segments that it has chosen, developing its positions in high-potential regions, reducing overheads and increasing flexibility and productivity.
Michelin Values

Every organisation benefits from establishing a set of values that encapsulate its basic principles and beliefs. These values shape relationships within the organisation and also between the organisation and the various groups and individuals that the organisation meets.
The development of the Michelin Group is based on five values:
respect for Customers
respect for People
respect for Shareholders
respect for the Environment
respect for Facts.
The Michelin Performance and Responsibility Charter explains these values to help managers and employees better implement them in actions and decisions.
Respect for Customers
The very core of Michelin's mission is the long-term satisfaction of its customers. The development of the company has been founded on high quality products and services and customer-focussed innovation (4,000 research and development staff are employed worldwide).
Respect for People
Michelin intends to continue its global expansion through the development of mutually beneficial relations with its employees, its industrial and commercial partners, public authorities, non-governmental organisations, the media or local communities where the Group operates.


Respect for Shareholders
This means fully recognising their role and the investment risks they take by ensuring a sufficient level of operating profits and delivering proper and reliable information on the company.


Respect for the Environment
This involves the development of increasingly environmentally-friendly products and services, the implementation of an environmental management system at all production sites and the promotion of efficient end-of-life tyre recycling solutions.


Respect for Facts
This value demands objectivity and intellectual honesty, above and beyond opinions and preconceived ideas. For example, when Michelin develops its tyres, it puts them to the test in real world conditions. This is testing the facts. This pragmatic attitude is applied in all the activities of the company.
Stakeholders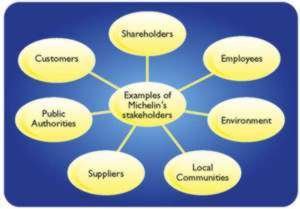 Obvious examples of Michelin stakeholders are its customers and its shareholders. There are, however, others.
Michelin's values are stakeholder led and actions carried out by the company and its people are based on respect for these stakeholders.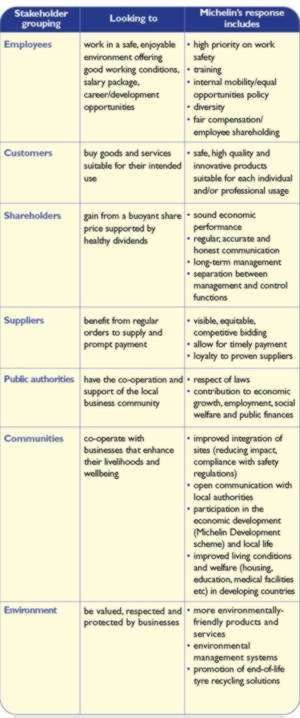 Meeting stakeholders' needs

Michelin looks to combine high levels of performance with responsibility for all stakeholder groupings. The company recognises that its long-term development depends on maintaining a balance between the needs of customers, employees, shareholders and the environment. This involves not only considering the 'individual benefit' of a particular stakeholder grouping, but also the 'collective benefit' of all the groups.
Michelin's policy on products and services reflects this approach. For example its PAX System. This breakthrough innovation allows a car to be driven for 120 miles at 50 mph with a tyre at zero pressure. It also offers increased performance when the tyre is in inflated mode.
Stakeholder benefits include:
for customers:
reduced risks inherent to the loss of tyre pressure
no requirement to change the wheel at the roadside
fuel savings, due to the lower rolling resistance of the tyre
better grip and road holding
for car manufacturers:
new design opportunities
weight reduction and potential reduced costs, as the spare wheel is no longer needed for the environment
less emissions, as fuel consumption is reduced
less raw materials are used
for the shareholders:
increased competitive advantage.
This is an example of the way that Michelin continues to innovate in the interest of stakeholders and with a view to retaining leadership of the tyre market through its competitive advantage.
For Michelin, the challenge is to contribute to 'better mobility' by continually proposing innovative solutions involving both its products and services. This involves fully comprehending and respecting the impact of its activities at every stage of the life cycle of the tyre, from the environmentally-friendly growing of rubber trees to the final recycling of a tyre at the end of its life.
Conclusion
Michelin's mission is to progress and advance mobility. Its innovative 'Performance and Responsibility' approach continues to play a leading part in new developments in tyres, maps, guides and many other services that are concerned with mobility. This purpose relates to every aspect of the business and is driven by values which emphasise respect for the different stakeholder groupings.
Michelin has established clear aims and objectives which demonstrate its plans to provide a satisfactory and sustainable response to travel and mobility requirements. The company is committed to publish, every two years, a Performance and Responsibility Report monitoring its progress (downloadable on Michelin's website).
Michelin | Business aims, objectives, and values