The NDA is a non-departmental public body responsible for the decommissioning and clean-up of the UK's civil public sector nuclear sites. Its sponsoring Government department is the Department for Business, Enterprise and Regulatory Reform (DBERR). It also reports to the Scottish Ministers who agree strategy and plans for Scottish sites. NDA does not directly manage the sites but contracts-out management with licensed operators at each site. Its headquarters are in West Cumbria with regional offices situated throughout the UK. The challenges facing the nuclear industry are huge and range from decommissioning to engineering new solutions, from nuclear power stations to waste management NDA has a major role in ensuring that there is a sustainable workforce to achieve these challenges. It requires technical/technological specialists, as well as people for programme management, finance, contract management, communication and administration.
Contact Address: Nuclear Decommissioning Authority, Herdus House, Westlakes Science & Technology Park, Moor Row, Cumbria, CA24 3HU Tel: 01925 802077 Email: recruitment@nda.gov.uk Website: www.nda.gov.uk
Nuclear Decommissioning Authority
Case studies in Business Case Studies

About this case study:
This case study will show how developing a motivated workforce enables NDA to deliver safe and sustainable solutions to nuclear clean-up and waste management.
Click HERE to download this case study »
Supporting resources
Other Resources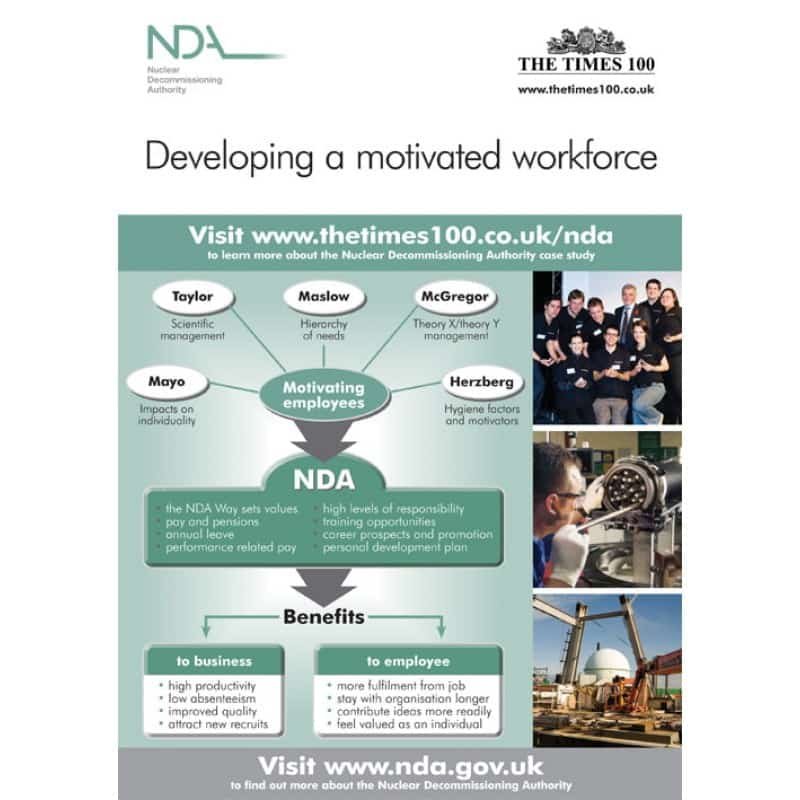 Downloadable ePoster available
Funnel diagram showing the different motivational theory and the benefits of each. Digital download prints in A3 size. – £3.99