Introduction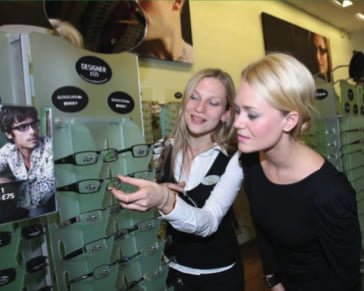 Specsavers is one of the best known names in optical retailing in Britain. Optical retailing involves selling spectacles and other eye care products on the high street.
In 2010 Specsavers was voted Britain"s most trusted optician for the eighth year in a row.
Specsavers was founded in 1984 by Doug and Mary Perkins. They started the business in their spare bedroom on a table-tennis table.
Up until the 1980s British opticians were seen as a form of 'medical' provision and were heavily regulated by government. This prevented competition. When the government of the time deregulated the industry, optical retailers were able to advertise for the first time. Doug and Mary seized this opportunity. They opened their first Specsavers stores in Guernsey and Bristol. The aim was for Specsavers to become a trusted eye care provider, offering a wide range of stylish, affordable glasses.
Optical retailing involves both commercial and clinical disciplines. Specsavers branches provide not only value-for-money products but also professional clinical services. Its expert opticians carry out eye tests using the latest optical equipment. The Specsavers range of glasses includes the latest designs from some of Europe"s top fashion houses. All glasses have high quality PENTAX lenses. In addition, Specsavers offers a wide range of contact lenses and products.
Specsavers is now an international company. It has stores across Europe and in Australia and New Zealand. It is the market leader in the UK with a third of the country's optical retail sales. There are over 1,300 stores across the world and the company has an annual turnover of over one billion pounds. The company"s Head Office is in Guernsey.
Customer focus
Specsavers' culture is all about serving people. Unlike many other types of retailing, selling spectacles involves much interaction with customers. Specsavers depends on its people to deliver the highest standards of customer care and service. To help them do this, the business provides a variety of interesting job roles, as well as opportunities for career development.
The case study shows how different job roles are structured within the organisation and how they support Specsavers' business.
Organisational structure and ownership
The business model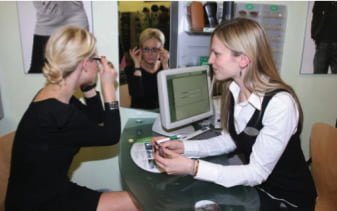 Specsavers has adopted a unique partnership or joint venture approach. This is similar to a franchise model of ownership. Business owners contribute an initial sum of capital to buy into the Specsavers brand. They then become partners and trade under the Specsavers name. Owners are provided with products, training and other support from Head Office.
There are typically two business owners for each store. One is a trained Optometrist and the other a Retail Director. These owners are responsible for running their individual stores. They retain any profits made. This joint venture structure is based on gaining the maximum benefits of both:
centralisation where activities are concentrated at the Head Office of a firm. For example, Specsavers' huge buying power for frames and lenses enables it to pass on savings to customers. Head Office also provides centralised IT, legal, finance and marketing support for all branches
decentralisation which involves giving responsibility for decision making to local operating units, e.g. branches. Individual stores are run by the owners, who have direct, local knowledge to meet local consumer demands.
Organisational structure
Organisational structure refers to the way in which workers are arranged in a business. A hierarchy is an organisation that is structured in layers. Those at the top of the hierarchy have more authority than those lower down.
A typical Specsavers store has a hierarchical structure, with layers of employees reporting up the chain. The business owners (directors) are at the top of the hierarchy. They delegate responsibility for different tasks to employees lower down. The organisation chart shows the chain of command and layers of hierarchy within a typical Specsavers store.
Span of control
The larger the store, the greater the span of control. This describes the number of people that each manager is directly responsible for. For example, in a large Specsavers store there might be as many as 50-60 staff members reporting to a Store Manager. There will also be several Dispensing Opticians, Laboratory Assistants and Optometrists reporting to the Directors.
Tall structures have many layers and small spans of control. This can lead to slow communication as instructions and information have to pass through lots of intermediaries. It is particularly important for a Specsavers store to have clear communication routes to ensure both the retail and clinical sides of the business are working together. It is better, therefore, to adopt a flatter structure where there are fewer layers and larger spans of control.
Roles within the organisation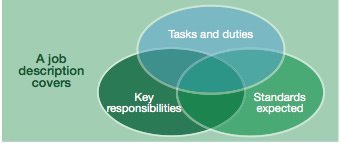 Job roles come with different levels of responsibility. These levels will be directly related to the individual person"s expertise and training. A job description describes the various activities associated with a particular job role.
Skills and competencies
A Specsavers store requires a wide mix of people with different skills and competencies. For example, within a Specsavers store:
the Optometrist has the responsibility for making sure that customers" eyes are tested and for recommending the appropriate type of glasses
a Dispensing Optician will have the responsibility of checking that the correct glasses are provided for the customer
a store Supervisor will manage a team of Optical Assistants. Optical Assistants will have delegated authority to deal with customer enquiries and make recommendation for selecting frames, having been provided with appropriate training to give them the necessary skills.
Specsavers is passionate about delivering outstanding patient care. It does this by ensuring stores give the best dispensing advice to meet customers' needs. It also puts great emphasis on recruiting and training highly motivated staff. Employees are expected to share Specsavers' vision of providing patients with the best possible service.
Professional roles
In recruiting staff, Specsavers puts together a person specification. This sets out the skills required and the behaviours expected of various post holders. Job applicants can see what is expected of them in a specific role.
It also enables Specsavers to match candidates to the relevant qualifications and entry requirements for each job, as well as identifying their potential for career development.
Professional roles
An Optometrist at Specsavers has to work with the whole Store team to deliver the highest standards of clinical and customer service. This enables Specsavers to meet patient needs as well as achieve business objectives. As in any role, Specsavers professional staff have targets and standards they need to meet.
For Optometrists, these include meeting targets for numbers of eye tests carried out and sales of glasses resulting from these tests. Duties of an Optometrist include:
conducting full eye examinations
communicating results to customers in clear, understandable language
providing dispensing advice and ensuring patients understand the recommendations made
maintaining customer records
maintaining cleanliness of test rooms and equipment.
As well as Optometrists, there are other professional staff in each store. Dispensing Opticians deliver spectacle dispensing services following the eye examination. They will provide guidance on frame selection and lens choice, carrying out appropriate measurements where necessary. Some Dispensing Opticians undertake additional qualifications to become Contact Lens Specialists. They can then advise on, fit and dispense contact lenses to customers who wish to have an alternative to glasses.
Nearly all Specsavers stores have an in-store Lab for making up glasses to customers' prescriptions. Lab Assistants support the day-to-day running of the Lab and make up the glasses to the highest possible standards. Lab Managers are responsible for the efficient running of the Lab, ensuring that all glasses are made on time and to the correct standard.
Specsavers also provides solutions to hearing problems. Many of its stores also now have professional staff on site who are trained to carry out hearing tests and recommend hearing aids if necessary.
People development
Specsavers has a big commitment to developing its people. Gurvinder, who has worked as an Optometrist for a number of years, says: 'This is where the size of our company is a big plus. The training we have access to is brilliant. If you have ambitions to run your own practice, Specsavers offers a development programme that will teach you the ins and outs of how to run a successful store from managing staff to understanding accounts.'
Retail and support roles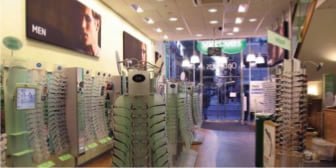 There is a variety of retail roles in stores. Store Managers play an essential part in making sure that their stores meet business objectives and targets for customer service. Managers are also responsible for recruiting, motivating and developing the store team. They ensure that there are the right people, in the right place, at the right time to meet customer requirements. Training and development is a key focus for Specsavers. A big part of the manager's role is to make sure that staff are on track with personal development plans.
Optical Assistants provide the first point of contact with customers and focus on customer service. Key elements of the Optical Assistant"s job description include:
exploring customer needs thoroughly and approaching customers to offer assistance
having a good knowledge of products and treatments
understanding visual perception and basic visual defects
analysing prescriptions accurately and dispensing lenses accordingly
ensuring collections are conducted in a professional manner
working to Specsavers Customer Service Standards.
Indre is an Optical Assistant working at Specsavers Tottenham Court Branch in London. She believes Specsavers offers both variety and opportunity: 'At Specsavers you"ll treat people like you would want to be treated. And you won"t be stuck behind a till. We"ve a range of roles from Receptionists and Optical Assistants to Greeters and Supervisors who all proactively help customers to choose the right product for them. Specsavers values its people and offers the training and flexibility I need to develop my career.'
Retail support
In addition to the branch staff, 1,200 people make up the Retail Support Team in the UK. Some of the Support Team work at Head Office, while others work in the field providing support to the stores.
The Support Team helps to provide training, business planning and merchandising advice for all stores. For example, IT supports the whole of the supply chain from procurement to sales. An IT Service Desk Analyst provides front-line IT support. The role involves handling incoming incidents, diagnosing technical issues, taking responsibility for incidents and providing solutions. IT Service Desk Analysts may visit stores where necessary to resolve technical issues.
Specsavers invests in IT to keep the business at the forefront of development. For example, IT records will be kept of all suppliers and the types of items they stock. A database is kept of all customers with details of their eye tests. Letters can then be prepared automatically at the relevant times to remind customers when they are due for their next eye test. All Specsavers staff are provided with suitable IT training to prepare them for their roles.
Conclusion
Specsavers is passionate about delivering outstanding patient care, combined with sound dispensing advice and product recommendations that best serve individual customer needs. In recruiting new staff, Specsavers seeks to identify people who share this passion and who want to work with customers across a variety of tasks.
Specsavers operates as a partnership matching the central direction and support services provided by Head Office with local operation and management by local stores. Stores have a hierarchical structure with several layers.
Individuals can join Specsavers at any level and there is plenty of opportunity for career development. For example, a number of people who started as Optical Assistants are now Business Owners in their own stores.
Optical retailing offers challenging careers within different job opportunities. In order to get the right people in the right jobs, Specsavers sets out clear job descriptions outlining the features of individual job roles.. These are supported by person specifications which can be used to recruit the right staff.
Specsavers attracts and retains its employees with attractive financial and non-financial rewards. Financial rewards include above-industry pay scales. This, coupled with non-financial incentives such as generous holiday allowances, free eye tests and low-cost spectacles where required, gives employees significant benefits.
Specsavers | Job roles at Specsavers