Introduction
In the modern world brands are as important as the products they represent. Customers only trust reputable brands, so maintaining its brand's reputation is a key objective for a successful business. At the heart of any organisation are the human resources - the people, who through their skills and expertise, help create the brand image of an organisation. Today we use the term intelligent organisations to describe the way in which organisations develop a competitive edge through recruiting, selecting, training and developing highly skilled and intelligent people. This Case Study focuses on how one of the world's best known motor car Brands - Audi - is helping its independent franchised dealerships (known as Audi Centres) with a host of issues relating to their employees. By investing in this group of skilled people Audi is also investing in the future of its Brand.

The Brand grew strongly in 2004 with an outstanding 75% increase in new car sales in the last five years. This means a requirement for more staff in the Audi Centres. Audi UK introduced a Recruitment Service in 2003 to support Audi Centres recruit in larger numbers and employ quality staff to help decrease the employee turnover rate.
What the Brand stands for
The heritage of a prestige brand is important - research has shown that Audi drivers like to be associated with a long and successful prestige Brand. This prestige is reflected not only in the cars but also in the independent Audi Centres which sell the cars and service them for customers.
Audi originated in Germany in 1909 when it was founded by August Horch. The name Audi first appeared on a car in 1910. Right from the start, the company was known for its innovation, a notable example being the introduction of headlights that turned sideways to reduce drag - somewhat of an innovation for 1912!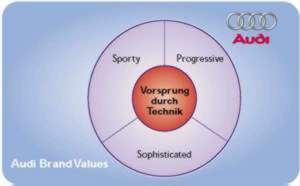 Most people associate Audi with its four rings logo. This resulted from the merger of four leading motor manufacturers Audi, Horch, Wanderer and DKW during the 1930s Depression. The merger was successful because each company had its own particular speciality.
From 1932 - 1969 the company was known as Auto Union. This was later changed to Audi NSU from 1969 - 1977 before finally being simplified to Audi AG. AG is the German equivalent of limited, meaning the company is incorporated and its shareholders' liability is limited to their investment.
The Audi Brand is based on a number of values as illustrated.
Franchises and the supply chain
The franchised Audi Centres are independent, service sector businesses that buy cars from Audi UK - the sole official importer of the cars (another service sector business). Audi UK buys the cars from Audi AG in Germany. This is the secondary sector business that manufactures Audi cars.

As they are independent, Audi Centres are free to run their own businesses as they see fit in accordance with Audi Centre standards. As the Audi experience is determined by that in the Audi Centre, Audi UK sets out to help the Audi Centre re-inforce consistent Brand values in the showroom and service centre.
Each Audi Centre is supported through investments in modern buildings and new showrooms and more importantly, in people and processes. Audi sets out to improve the customer experienceand make it more memorable, so customers want to tell their friends.
A training and development programme has also been designed to encourage employees to think of themselves as a team that can contribute to identifying and delivering improvements in meeting the customers' requirements.
Career development
Recruitment and selection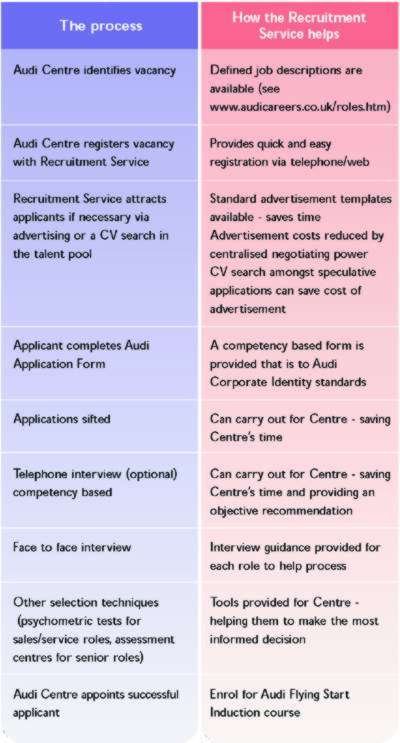 The recruitment process at Audi is designed to attract and select those applicants most suited to working for a dynamic prestige Brand, i.e. those individuals who best fit the Audi culture.
Audi provides a comprehensive recruitment service to all Audi Centres, which includes role profiles, pay advice, recruitment advertising, interview guidelines and assessment centres for selection. Audi provides job descriptions for all roles including Apprentice and Audi Technician, based on researching the activities that high quality employees will be expected to perform.
By formalising and sharing these processes, Audi UK helps improve quality to make customer service consistent across the network of franchises. Centres are able to utilise a central Recruitment Service to help attract and select talented individuals for their businesses.
Staff development and training

Training is the process of enabling employees to develop the skills, which allow them to better contribute to meeting the organisation's objectives. For Audi this includes acquiring the skills that enable employees to deliver its Brand values and to keep abreast with technological change.
In contrast, development is concerned with enabling individuals to meet their own personal needs - e.g. for more education. More often than not, personal development needs can be tied into organisational objectives.
The emphasis placed on training and development at Audi means that:
Audi UK benefits from having highly skilled people who are able to enhance the Audi Brand.
Audi Centres benefit from having high quality, enterprising and motivated employees who are confident, independent and provide a high quality service.
Customers benefit from knowing that they will always come first and that their expectations will be exceeded by highly skilled Technicians and other Audi Centre team members.
Employees benefit through the identification of their development needs and then developing the skills that enable them to become more effective and motivated.
Technicians and their careers at Audi
The following profiles provide an insight into the technical side of the Audi business, the roles on offer and the development opportunities available.
John Heaton - Master Technician
What attracted you to Audi?
Family ownership of Volkswagens and the love of cars led me to an Apprenticeship at the VW/Audi specialist (Smith Knight Fay) straight from school. A natural progression up to Audi when the brand separated.
What section of your training have you enjoyed most and why?
I enjoy all training but get most satisfaction from technical subjects. I enjoyed the Master Technician training as it is good to get together with Technicians at the same level, share thoughts and ideas.
What do you see as your next career move and why?
To continue learning as new models/technology comes along and pass my knowledge onto others and try to remain at the top of the tree.
How do you feel Audi will help you achieve this?
Knowing the Audi Academy has set out goals/targets and increased training days/courses, therefore training should become much more frequent, allowing me rapid updates to the latest technology.
Briefly describe how going to college and working in an Audi Centre has helped you progress throughout the Apprenticeship programme
Many years working on VW/Audi (started 1977 after brand separation) and Training Needs Analysis course. I became the first person in the UK to gain qualified status- with event of the New A8 and the need for Licensed status. I was part of the 'Fast Track' route to Master Technician level.
Matthew Foye - Audi Apprentice Graduate
What attracted you to Audi?
The opportunity to work for a world renowned and hugely successful company with quality vehicles was too tempting to turn down.
What section of your training have you enjoyed most and why?
Doing my BTEC and being paid for it instead of going to sixth form college is a massive advantage and it also stands me in good stead for future Audi technical courses.
What do you see as your next career move and why?
I can't really see myself doing anything other than being a technician so the next step for me would be to become a Master Technician.
How do you feel Audi will help you achieve this?
Audi's technical courses are renowned for being some of the best around within the industry and the training centres are well equipped, making learning so much easier.
Briefly describe how going to college and working in an Audi Centre has helped you progress throughout the Apprenticeship programme
I think doing a modern apprenticeship has helped my development greatly. I don't think I could have qualified through a college or sixth form, as school wasn't my favourite place. Being in a technical environment makes the technical information easier to understand, it gives you the chance to gain practical experience as well as increase your technical knowledge.
Progression of Technicians at Audi

Audi has developed an approach to training and development that meets the individual needs of Centre employees and provides them with a structured career path for their continued development.
All employees have an opportunity to become 'qualified' in their desired job role and have specialist development support on offer. For technical team members, the diagram below illustrates the structured training and development available through the Audi Academy.
Alongside this training and development offer Audi has developed a career progression ladder for technicians to follow. This ladder of achievement provides real structure for individuals to develop within the Brand and provides recognition for their level of attainment.
To help reward and recognise achievement technical team members are offered various motivational incentives, including competitions to test technical skill and expertise that also help the Audi Academy identify training needs.
Conclusion

Audi recognises the benefits of recruiting appropriate staff and having well-led, well-trained, well-motivated people who are happy in their work. Those who work in a team with like-minded colleagues are better able to deliver the level of service customers deserve.
At the heart of the Audi Centre network lies an industry leading recruitment, selection, training and development programme enabling progression within the individual Centres. Recruitment is based on identifying people who are most likely to fit the Audi culture and who can be developed to delight customers within the Audi Brand.
Audi wants Centres to recruit employees who are prepared to work as a team and seek to develop themselves while contributing to the success of a premium company. Employees are continually seeking to develop themselves, while improving customer service in line with the Audi Brand values.
About this case study:
As a result of carefully reading the Case Study, students should be able to: identify the important contribution that human resources make to brand image, know the difference between training and development, understand the importance of motivation in career progression.
Click HERE to download this case study »
Supporting resources
Other Resources