Introduction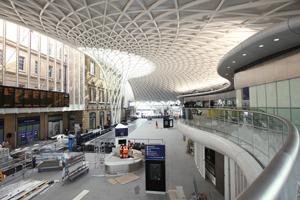 Britain relies on rail. The railway is a vital part of Britain's economy and infrastructure. More people travel by rail now than since the 1920s, even though there are 50% fewer rail routes now than in the 1960s.
Every day Network Rail gets three million people to their destinations. It also moves thousands of tonnes of goods around Britain. Rail is a 'greener' and safer mode of transport than car so it is no surprise that passenger numbers have increased by more than 40% in the past ten years. These numbers are expected to double by 2034.
Network Rail is the business responsible for the tracks, bridges and tunnels that make up the British rail network. These, along with signalling and level crossings, form the railway's infrastructure. Its responsibility extends to 20,000 miles of track and 40,000 bridges and tunnels. It also runs 18 of Britain's major rail stations, from Edinburgh Waverley to London King's Cross.
Network Rail's job is to keep all of these services running both efficiently and above all safely. Its mission is 'to provide a safe, reliable and efficient railway fit for the 21st century.'
Challenges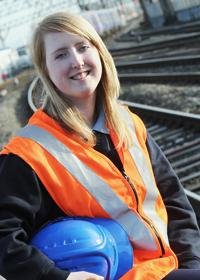 Network Rail faced huge challenges when it took on these responsibilities ten years ago. At the time, the rail network faced a number of problems. Trains were late, costs were high and there had been a lack of investment in both people and equipment. These issues meant that there was low public confidence in the rail network.
Since then, Network Rail has focused on a sustained programme to bring down costs. New ways of working have reduced costs by 28%, largely due to economies of scale. Track and equipment has been renewed and punctuality has risen to over 90%. Major projects have been delivered on time and to budget, leading to more public confidence in the service.
Network Rail has changed its focus to 'predict and prevent' rather than the previous 'find and fix'. This is both more cost-effective and efficient and helps to avoid delay or disruption to journeys for passengers. Between 2009 and 2014, Network Rail will have invested around £12 billion in the rail network. Britain now has the fastest growing network in Europe. This case study examines the role of people in improving the rail network and the British economy.
HR Strategy
Network Rail invests in people and, in so doing, invests in its future. It is one of Britain's biggest employers, with 35,000 employees. There is a broad range of roles, from maintenance and signalling engineers to project managers. There are opportunities in all functional areas. These include specialists in human resources (HR), information technology (IT), finance and customer service.
To achieve its work programme Network Rail needs to recruit and retain talented engineers. Its engineers are currently working on some of the most exciting projects in Europe. These include HS2, the new high-speed rail link between the north and south of Britain, and the London Crossrail project. There are also major upgrades to some of the country's biggest and busiest stations, like London King's Cross and Birmingham New Street.
Vision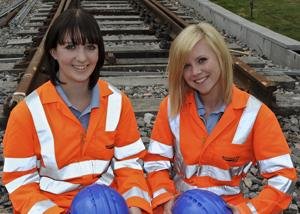 Network Rail's vision is to improve the rail network by providing faster and more reliable journeys. Network Rail's HR strategy focus is on recruiting a diverse workforce. This not only gives depth to the culture of the business but also ensures that it can access the widest pool of talent.
To make sure it has a continuous stream of the right talent to keep its long-term projects on-track, it offers training to suit all applicants, whether school leavers or graduates, male or female. The company also offers a range of opportunities for employees to acquire recognised qualifications, including a unique postgraduate programme, sponsoring a Master's degree in project management, and apprenticeships.
In addition, it provides development opportunities for employees to make sure that their knowledge and skills meet its world-class standards. Many of Network Rail's current senior engineers and managers started their careers through these programmes.
Training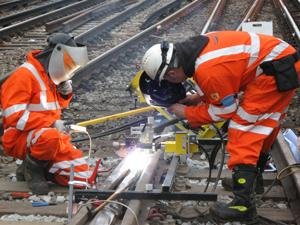 To maintain the quality of staff, Network Rail has put major investment into improving the knowledge and skills of its workforce. It operates a 'learning for life' policy and staff are expected to continue learning throughout their careers.
Training is usually defined as being job-related. It provides staff with new or improved skills so that they can carry out a role or task better. Training staff brings a number of benefits to a business. It makes staff more efficient and therefore they produce more output. At the same time it improves safety and reduces the risk of accidents. Workers become more flexible, allowing the business to use them in whatever areas they are needed. This can also help to improve motivation. The provision of good training has led both to higher quality applicants and to better customer satisfaction.
The UK is currently facing a shortage of young people with skills in technology and engineering. This is partly due to fewer young people taking qualifications in science and maths in further and higher education. Network Rail has recognised that it needs to fill this gap. It has therefore put in place high quality training to make sure that it has people with the right skills it requires in the future.
On-the-job and off-the-job
There are two main types of training – 'on-the-job', which is training based in the workplace and 'off-the-job' which is based at a college or other learning centre. Network Rail has developed many such centres to fulfil its specific needs. It currently has 26 modern training centres across Britain. It has invested £23 million in four new state-of-the-art workforce development centres (WDCs) in Scotland, Kent, Bristol and Walsall.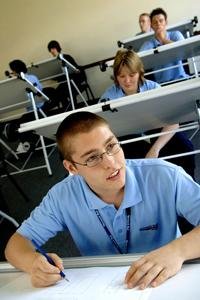 These allow it to train up to 100 front-line engineering and maintenance people at once. Examples of off-the-job training at the Walsall centre include practical training on a purpose-built 60 metre stretch of internal track with signalling and 150 metres of outdoor track. Trainees learn how to practise procedures in controlled environments that they can then use when they return to the British Rail network. On-the-job training includes trainees accompanying mentors, for instance, when fixing signalling issues, and learning hands-on how to maintain the network effectively.
Apprenticeships
The Advanced Apprenticeship Scheme is a three-year programme, designed for young people aged over 17 with at least 4 GCSEs. Both boys and girls are encouraged to apply. This is the largest scheme of its type in Britain and allows young people to earn while they learn.
Apprentices spend a year training with the Royal Navy at Europe's largest engineering training facility at HMS Sultan in Hampshire. Here they learn both technical and leadership skills. A further two years is spent in on-the-job training around Britain, returning to HMS Sultan for additional courses and learning. At Network Rail's own training centres a mixture of classroom learning and job-related experience is given.
Network Rail uses its own expert engineers as trainers. This means that apprentices gain knowledge from people with direct experience of rail issues and projects. By the end of the apprenticeship, young people have the knowledge, qualifications and experience to become engineers in a number of rail-related areas. These include track, signals, electrification and overhead lines. In addition to being paid, apprentices are given accommodation whilst training, subsidised rail travel and generous annual leave.
Graduates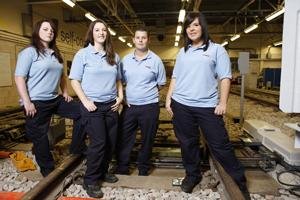 The Graduate Programme helps Network Rail to build the leaders of the future. Graduates control the pace and content of their work so that they can progress at their own rate. They gain key experience on a range of placements and receive regular reviews on their progress and performance.
There are opportunities in all engineering disciplines (civil, mechanical and electrical). Trainees work on some of the biggest engineering projects in Europe and get involved in management and decision-making roles in all functional areas.
Development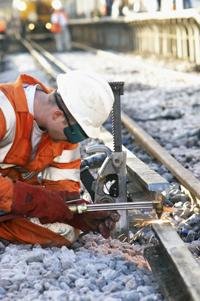 Once trained, Network Rail makes sure that its employees have access to development opportunities. Development is about enhancing relevant skills, qualities and knowledge to give a person greater competency. People who take development opportunities can move into more challenging, higher level roles. However, there is the risk that a person who has better skills can more easily find another job elsewhere.
Network Rail recognises this risk but knows that it is balanced by the excellent opportunities and conditions that it offers. The development programmes that it runs lead to further nationally recognised qualifications ranging from NVQs and HNCs through to degrees and diplomas. These are all backed by a university, college or professional body as appropriate.
Leadership programme
Network Rail also offers employees the chance to take part in its own leadership programme. This is designed to develop employees so that they can take on managerial roles. It is held at the Westwood Leadership Development Centre in Coventry, in partnership with the University of Warwick and is available to employees at all levels of the business. Every year thousands of Network Rail staff benefit from this course. They develop the skills and strategic knowledge to help the company deliver its challenging goals and targets.
Careers at Network Rail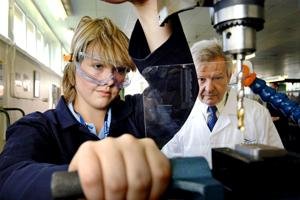 There are career opportunities at all levels within Network Rail, within all the main functional areas. This means not just opportunities in engineering, but also in many other disciplines. All of the jobs benefit from Network Rail's commitment to excellence through its training and development programmes.
Bill is a track maintenance operative. This job is vital to ensure the safety of the public. Bill works to stringent safety guidelines and is committed to carrying out reliable, faultless work. Network Rail has its own in-house maintenance team and provides them with protective clothing and, of course, training. Track maintenance operatives work carefully to maintain safely all the signal, track, power and telecoms equipment across 20,000 miles of track in Britain.
'This is a mostly outdoors role; I use both automated and manual tools to carry out general maintenance on the track. This can include anything from look-out duties for the team to highly complex work.' Bill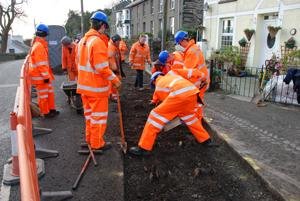 Cho is a signaller. She operates the signals and points that help make sure trains run safely and on time. Cho needs to be able to make decisions quickly and calmly. Signallers are responsible for maintaining Network Rail's high standards with calm and methodical decision-making. Skills required for this job include being able to take the lead, being assertive and being in command of many different situations. Good communication skills are therefore vital.
Katie is a project management assistant. She provides support to the whole team for the day-to-day management of a wide variety of projects. These must run to time and within cost budgets. To maintain quality across projects requires a highly organised and flexible person. Katie's duties include working with both paper and people. She:
monitors progress and produces programme reports
develops effective ways to manage change
deals with internal and external customers and stakeholders.
Conclusion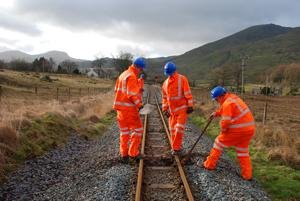 From a position where public confidence was low, Network Rail has improved rail efficiency and customer satisfaction. Whilst keeping safety as its central focus, it has also invested in the future. Network Rail has dramatically increased the punctuality of its services and aims to continue to improve on this success.
Part of this is due to Network Rail's vision and values, which have been used to underpin its training programme. High quality training, from apprenticeships to Master's level, makes sure that the business has the best engineers and the best leaders.
Its investment in the future is tied up in its investment in people. It recruits and retains the best people for a wide range of jobs and roles. It is able to go forward with some of the most challenging, but also most exciting, engineering projects in Europe.
Network Rail | Managing change through training and development
About this case study:
This case study examines the role of people in improving the rail network and the British economy.
Click HERE to download this case study »
Supporting resources
Training and development
Other Resources