Introduction

The Arcadia Group Limited is one of the UK's largest fashion retail companies with over 25,000 employees, 2,000 outlets throughout the UK and a growing number of international stores.
In 2002 Arcadia changed from a Plc to a private companywhen Philip Green acquired the business for £800 million. Under Philip Green's ownership the group has been very successful, growing in profit and repaying the loan used to buy the company in record time.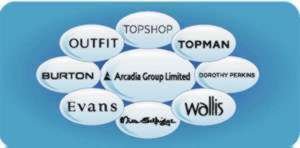 In 2004 the group's turnover was over £1.6 billion, with operating profits of over £290 million. The group includes eight major high street brands; Burton, Dorothy Perkins, Evans, Miss Selfridge, Outfit, Topshop, Topman, and Wallis. Each brand targets its own specific group of customers and maintains a leading position within its respective market segment.
The importance of good management
The success of any business depends heavily on the effectiveness of its managers. Good managers need to make the right decisions and ensure the business is able to exploit any opportunities open to it. At the same time, good managers protect the business by anticipating and acting against any threats to its welfare.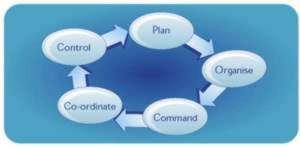 According to Frenchman Henri Fayol (1841-1925), managers have to:
forecast and plan to determine where the business is going
organise the resources necessary to achieve these objectives
command people to do things
coordinate the different activities
control the activities to make sure they are completed as planned.
Managers in an organisation have to decide on its priorities and allocate resources within it. They must decide what needs doing and how best to do it. A good manager should push the business forward, as new challenges arise, and take responsibility for their decisions.
Types of Management style
There are several different management styles. For example, managers may be:
Authoritarian (or autocratic). This type of manager tells subordinates what to do. An authoritarian approach may be necessary if tasks have to be completed quickly or if subordinates lack the experience or skills required for the job. This style of management may de-motivate employees, if they do not feel they have an input into what happens in the business. Supporters of an authoritarian style of management can point to some outstanding successes. Equally, critics can cite some spectacular failures.
Democratic. This type of manager adopts more of a listening approach. Employees have an input into the decision-making and managers can benefit from their ideas. Greater involvement may motivate employees by meeting their esteem needs but also delay decision making.
Philip Green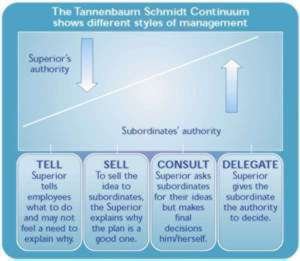 There are, of course, other management styles too. Philip Green's style is probably best described as being firmly entrepreneurial. He sees opportunities and is willing to take risks but only after he has examined relevant data carefully.
Green says of himself: 'I am brave but I take a view. It is an educated view. I am careful; I am not reckless.' He constantly seeks new ideas and better ways of doing things. He also encourages others to use their initiative and is renowned for his energy and for his attention to detail. He focuses on every aspect of retailing from what stores actually stock to how the products are laid out and displayed.
Within his chosen field of expertise, Green has an excellent grasp of what customers want and are willing to pay for. He is passionate about retailing and has a hands-on approach. In this way he ensures that he understands every aspect of the business.
He started in shoe wholesaling at age 16 and set up his own business at 21. He has made a career by identifying and acquiring undervalued assets, buying left over stock and turning around under performing retail chains.
Green bought the department store Bhs in 2000 before buying the Arcadia Group two years later. His success with both Bhs and Arcadia has clearly established him as one of the UK's most successful retail entrepreneurs. He bought Arcadia for £800m and just two years later, it was valued at £2.3bn.
One of his strengths is an ability to make decisions quickly. In such a fast moving and competitive environment as fashion retailing, rapid decision-making is vital. If you get it wrong, or are slow to react to a changing environment, competitors are equally fast to catch up to your business.
Green appreciates the value of having good managers around him. He likes to give them the space to make their own decisions. His employees are set demanding targets but have the authority to decide for themselves how best to achieve them.
Working for Green is demanding because there are always new challenges within such a fast paced environment. It is also fulfilling because there is a sense of achievement when targets are hit. For those that are successful there are very good rewards and excellent promotion opportunities.
Recruitment and selection
Given the Arcadia Group's growth in recent years, as well as its plans for further expansion (more and bigger stores), the company is busy recruiting new staff.
Recruitment occurs both at store level (with each store recruiting its own sales advisors) and centrally. Arcadia's Head Office is using specially designed management development programmes to target two groups: school leavers and newly qualified graduates.
With these programmes Arcadia is looking to recruit the next generation of students who are passionate about a career in retailing and able to become future leaders in the business. The Retail Management Trainee Programme (MTP) targets students with 2 'A' levels or equivalent. The Graduate Retail Management Programme and entry level Graduate opportunities in Head Office roles target students who have University degrees.
Applicants for these programmes and other jobs within Arcadia are attracted via:
career fairs and presentations
advertisements and posters
the group's website: www.arcadiagroup.co.uk/recruitment
When selecting potential employees, Arcadia is looking for people who can demonstrate the following competencies:
working with people
putting the customer first
maximising own impact
inspiring performance
driving the business
making the right choices.
These competencies are all enterprise related. They refer to an individuals' ability to satisfy customers and move the business forward.
Arcadia is attractive to potential recruits because of the opportunities it can provide, its leading brands and the quality of its training. The company is constantly changing and has a culture that makes it an exciting, dynamic and fast paced environment in which to work.
The Selection Process
The Retail Management Trainee Programme has a two-stage selection process:
Online application form
Assessment centre.
The online application form has questions structured around the competencies required of Retail Management Trainees. Candidates who demonstrate these competencies in their answers and are successful at the application form stage are invited to an assessment centre.
Assessment centres feature a combination of exercises that several candidates participate in and a number of assessors attend. The Arcadia assessment centre takes place over one day and involves a structured interview and group exercises. Group exercises are a popular recruitment tool, recommended on the basis that their format allows a close analysis of social interaction.
Assessors at Arcadia assessment centres are able to view the candidates' ability to get on with and influence others, to display their understanding of customer service and to reach conclusions. Candidates successful at the assessment centre are offered a position on the Retail Management Trainee Programme.
Training
The Arcadia Group regards training as vital to the company's continuing success. The Group believes that high quality training will provide the company with its future managers. The Group provides new recruits with a structured training and career programme. This develops their portfolio of skills and builds on their potential.
Recruits experience both informal and formal training. For example:
on the job training- working alongside established and experienced managers in the branches. Approximately 90% of a trainee's time is spent on the shop floor so on the job training is very important.
workshops- in the training year there are six group workshops. Each focuses on a particular issue e.g. team motivation, planning for future success, developing others.
formal training courses
coaching and mentoring
placements - in the first year, each trainee works in a particular branch. They also have a minimum of two placements at other stores for at least two weeks each. During these placements, trainees are accountable for branch profitability and performance.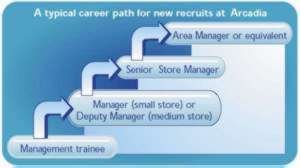 Arcadia sets out a clear career path for employees who join the Management Programmes and who are successful at each stage. A trainee will typically be appointed to their first management position within 12 months of joining the programme.
At Arcadia, the responsibilities of a Retail Manager include:
motivating and coaching team members
championing brand initiatives
delivering excellent customer service
keeping up to date with new fashion trends
being aware of competitors
making crucial decisions regarding a store's day to day operations.
Head Office functions within Arcadia that have entry level positions for Graduates include Merchandising, Buying, Distribution, Human Resources and Finance. On the job training is competency based within Head Office.
This structured framework not only allows training and development requirements to be identified and acted upon, but also gives complete autonomy for the speed of personal development and related rewards. Whether based in Head Office or in store, there is considerable responsibility given at an early stage.
Wherever possible, the company encourages recruitment for particular positions from within the group. This is known as internal recruitment. Some benefits of internal recruitment are that these people:
know the culture of the business already; this means that they understand how the business works and already have a network of contacts so can adapt to their new role more easily
know how the business works; this saves time in training
are motivated to remain with the business because of the promotion opportunities; this reduces recruitment costs because staff stay longer.
One trainee's view of the MTP
Sara Caleb - Management Trainee, Evans
'I started the Management Trainee Programme with an induction in Evans, Bluewater. It was a really hectic few weeks with plenty for me to learn! Whilst on the training programme I've been involved in so many exciting things. Along with daily tasks and the training programme workshops, I've attended meetings with all managers from my area and I've worked with visual merchandisers. I've had placements in other branches, which gave me a taster for what is to come in the future when I have my own branch. I can't wait to see where the programme takes me next!'
Links with schools and colleges
To develop its links with communities and students, Arcadia is a major business partner to 50 secondary schools across England. The company is supporting them in their bids to gain specialist status as Business and Enterprise Colleges.
Arcadia provides both financial and business skills support to each of the sponsored schools. Every school will be linked to an Arcadia employee, who will provide support such as:
talking to students about retail careers and interview techniques
providing work experience opportunities for under 16's in local Arcadia stores
setting business studies projects.
Philip Green is keen for Arcadia to be involved in the education of young people. He is looking to help them develop their entrepreneurial and business talents. The Group's funding initiative promotes the attraction of working in retailing and builds school links with the local communities.
Conclusion

The Arcadia Group comprises a highly successful group of retail brands owned by Philip Green. He is widely recognised and respected for his ability to see opportunities and make things happen and recently topped the Drapers (Record, The Journal) Top 100 List of the most influential people in fashion retail.
Those working for him are also given the space to make decisions that help to sustain a dynamic and entrepreneurial culture in the business. The Group's success depends greatly on its employees.
Recruits to the business are given high quality training and the opportunity to progress in their careers. Working at Arcadia provides the opportunity for a highly challenging and rewarding career for young people.
Arcadia | Recruiting, selecting and training entrepreneurial managers