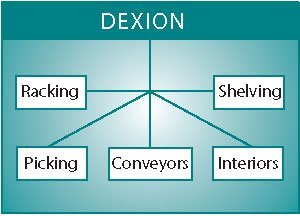 Making products available, wherever they are required, benefits customers. Although customers do not actually view the operation of supply chains, they value product availability made possible by distribution processes. In fact consumers have become so dependent upon the operation of supply chains that they would quickly complain if the processes of distribution suddenly broke down.
The process of physical distribution involves stages in the movement of goods from producers through to consumers. Even today there are very few situations where goods go straight from a manufacturer through to a consumer. If a business manages to perfect its distribution activities, then it gains a genuine competitive advantage, particularly if it can do this better than any of its competitors. On the other hand, if retailers do not have the stocks their customers require, this inevitably will lead to customer dissatisfaction which, in turn, adversely affects the reputation of a business.
To meet these increasing customer requirements considerable changes have taken place over the last 20 years. From a situation where transport, storage and distribution had a minor role at the end of a production line, the process of supply chain management - logistics - has developed into an important management concept in which today's managers are responsible for the control of a whole supply chain, from raw material to beyond the finished product, until it is enjoyed by the final consumer.
This case study focuses upon how one organisation, Dexion, uses its skills and abilities to provide help for businesses of all shapes and sizes with their supply chain management problems. To illustrate the sort of issues involved in logistics management, it focuses upon the help Dexion provided to deal with different logistical issues for two organisations:
A Storage and Distribution facility at Minworth, for Cadbury, a manufacturing organisation.
A Distribution Centre at Manton Wood, for Wilkinson, a hardware retailing organisation.
Changing technology in warehouses
In fact today Dexion's name is associated with the creation of complete solutions where the cost-effective utilisation of space leads to greater business efficiency.
RACKING
Dexion designs and manufactures racking systems for the safe storage of pallets and large loads.
SHELVING
Versatile shelving systems are developed to fulfil storage requirements.
CONVEYORS
Package and pallet handling conveyors are designed and manufactured for production lines, warehouses and stores.
PICKING
Dexion is a major supplier of picking systems which allow items to be picked from pallets, shelves, bins, carousels and live storage racking or from a combination of storage types.
INTERIORS
Dexion provides a range of office partitioning systems which help to improve the working environment whilst, at the same time, making the most of the space available.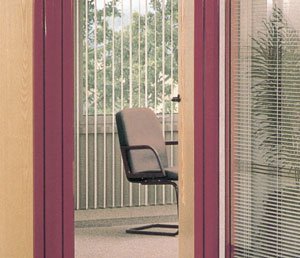 Completing projects - especially as large as the examples illustrated can take perhaps two or three years from concept to completion. They require a high level of team work between Dexion and the warehouse operating customer, right through to testing to prove the original specifications - including speed of handling, picking accuracy and labour costs - have all been achieved.
Trends in distribution
For most companies the modern objective of the process of physical distribution is to decrease costs whilst at the same time increasing customer service. Customers expect dependable deliveries and in the area of physical distribution, availability, promptness and quality are the most important aspects of customer service.
To meet higher customer demands and requirements, the modern trend is towards smaller but more frequent orders, moving faster and this has placed much greater emphasis upon the need for efficient yet streamlined warehouse operations. Being able to respond quickly and accurately to orders now forms a vital part of customer service, even where 'shelflife' is not a predominant concern. Today's warehouse has become part of an increasingly sophisticated supply chain. The modern warehouse and distribution manager is often required to satisfy the demands of:
Just-in-time (JIT) systems which require a high level of co-ordination between producers and suppliers. JIT is a technique which focuses upon a business providing a flexible approach to production, with low stock levels and minimum waste. Suppliers and producers are linked through a demanded system which relies upon distribution flows in the supply chain. For example, every time a sale takes place this signals changing stock requirements.
Electronic Point of Sale (EPOS) systems which link sales trends to customer needs through the use of bar scanning and other retail technology.
Quick Response (QR) systems which develop a method of working throughout the supply chain to produce a closer relationship between supply and changes in demand. QR is particularly effective in highlighting any change in customer requirements, which then enables the supplier to develop new methods of meeting these changing tastes.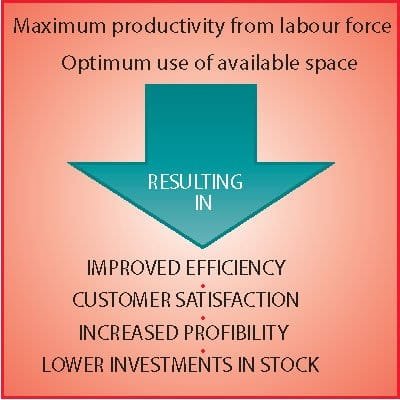 The storage of chocolate products can be critical. It requires special facilities as the product might deteriorate if it is not kept in a chilled environment. Any new warehouse has to have the capability of storing in ideal conditions, to meet demand peaks and, in order to provide for the needs of customers, be able to discharge to retailers in huge volumes over very short demand periods.
Solving this type of problem required a massive investment. Given the size and nature of the needs it was essential to avoid any wastage of space. Cadbury invested more than £24 million in a state-of-the-art storage and distribution facility on a greenfield site at Minworth, near Birmingham. Its major benefit was that it was close to the Cadbury point of manufacture at Bournville which would help to minimise costs from the manufacturer to the warehouse.
The warehouse was designed around the requirements of the storage system and when the main contractor for the new building, Taylor Woodrow Design & Build, specified the equipment to be installed, they chose Dexion's double deep pallet storage system. This system was selected because it offered the best combination of storage density and product selectivity thus making the best use of the available floor space.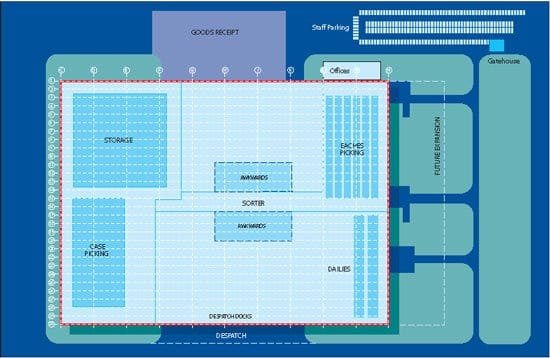 At Minworth, with 36 aisles, each 106m long and with seven storage levels in the 15 m height, the Dexion set-up provides more than 100 km - or in excess of 64 miles - of pallet storage. Put another way, the warehouse has storage space for an impressive 50 million Easter eggs and chocolates from around 250 product lines. Within the warehouse, nine specialised narrow aisle fork trucks with an unladen weight of 13 tonnes are used to lift the pallets, using - for the first time anywhere in the world - a new type of double lifting fork. The goods are then manoeuvred by AGVs (Automatic Guided Vehicles) operated by an underfloor wire guidance system. Movement of the AGVs is continuously monitored via sensors in the floor linked to a dedicated stock-control system.
improved response to order request;
a higher level of accuracy with the ability to get it right every time;
higher quality of dispatched items.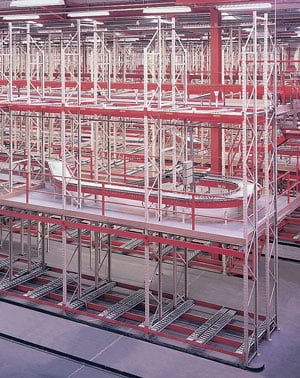 It would be impossible for each and every store to buy its own stock and co-ordinate its own supply sources. By carrying out its own wholesaling activities with a central warehouse supplying the stores, the Wilkinson business can buy ahead of season, develop expertise in the buying process, understand the local needs for each and every store and carry out physical distribution activities at low cost, allowing each of the stores to specialise in what they do best, which is serving customer needs.
The aim of the project
Wilkinson's aim through Project 2160 is to have 200 stores throughout England by the year 2000. It required a logistics development to facilitate this expansion, one which would allow more than 500 suppliers to deliver each week. They opted to build a new near Worksop in Nottinghamshire,a development which would become the largest of its kind in the UK. Wilkinson's expansion programme represented a widespread move into new regional trading areas for the Group, building upon its traditional bases in the Midlands and the north of England.
One hundred acres of land were purchased and work began on the site in the autumn of 1993. Dexion was appointed by the main contractor Ballast Nedam Construction Ltd to supply and, where necessary, install the bulk of the advanced racking, storage, picking and materials handling equipment required. For this, the company was closely involved in the design and specification from the beginning. The aim was that the centre should be able to provide Wilkinson stores with 'the right goods, in the right place, at the right time and in the right quantity' - a goal which was achieved within three weeks of operation. The £2 million Dexion contribution included:
over £1 million of Glidestock, the twin-track live pallet storage system moving by gravity was developed by Dexion to maximise space utilisation and occupancy rates;
some £800,000 of Selecta-Flo carton live storage for picking of hand-loaded cartons, bins and packages;
18 case picking lines;
over 20,000 pallet spaces in the bulk store.
With Dexion's help, the Wilkinson Distribution Centre represents a solution to a major logistics development, designed to serve highly specified needs. The warehouse is 2.5 times as large as the Cadbury facility and a truly enormous project by any global standard, with the Distribution Centre itself covering one million ft2 – enough for 12 football pitches or 20 jumbo jets.
FACTS
There are seven miles of conveyer belt in the new Distribution Centre.
The Centre has 2,500 miles of electrical wiring - that's enough wiring to stretch all the way from London to Baghdad!
Half a million cubic metres of earth were moved to cut and fill the site prior to the Centre being built. That would be enough soil to fill both the largest and the smallest halls of the National Exhibition Centre in Birmingham.
Over 2,000 tonnes of steel and 34,000 tonnes of reinforced concrete were used in the construction.
The 100 acre Manton Wood development would be big enough to accommodate the grounds of Buckingham Palace, add the Louvre in Paris and still have a room for a site double the size of Wilkinson's present headquarters.
Given all of these statistics, the key element in the development of the Distribution Centre is its ability to serve the needs of Wilkinson's customers. Together all of the investment in the site from the building itself to the components involved in picking from a pallet, help to provide the fast turnaround needed to meet daily orders as well as larger, less urgent and/or regular calls from stock.