Vodafone sponsors several leading sporting brands including the record breaking Ferrari Formula 1 motor racing team and Manchester United, one of the world's most successful football clubs. Sponsoring these leaders is an important part of Vodafone's corporate and marketing strategies, which are designed to make the company one of the world's best known brands. As a winner itself in its own line of business, Vodafone sees good sense in being associated with other winners, and being involved in aspirational activities which excite the public.
The benefits of sponsorship
Sponsorship is the material support of an event, activity or organisation by an unrelated partner. It is a good way of increasing brand awareness, which helps to generate consumer preference and to foster brand loyalty. A company can reinforce awareness among its target market by sponsoring an event or organisation that attracts a similar target market.

Sponsorship is not an act of charity - it must show some form of positive return on investment (ROI). Since sponsorship is a business arrangement, standard evaluative criteria should be used to establish the suitability of a proposed event in relation to the sponsor? image and products. A sponsor can enjoy a wide range of benefits from a carefully selected sponsorship, which can:
raise brand awareness and create preference
create positive PR and raise awareness of the organisation as a whole
provide attractive content for a range of products and services
build brand positioning through associative imagery
support a sales promotion campaign
create internal emotional commitment to the brand
act as corporate hospitality that promotes good relations with clients.
Before sponsoring an activity, the sponsor must feel sure that the event/organisation will be successful; has a proven track record, good prospects and generally be aligned with the sponsor's brand and business objectives. Sports sponsorship is the most common and can range from international to regional and local events.
The organisation receiving the sponsorship (sponsee) stands to benefit enormously from both financial support and other forms of backing from an established partner, provided that both parties have agreed a set of common objectives to underpin the sponsorship. In this case, Ferrari will benefit from joint ventures and shared revenue streams arising from the creation of a range of products and services, as well as the sale of merchandising within the telecom sector.
Sponsoring Ferrari
Vodafone intends to be recognised as one of the world's leading brands. Its sponsorship of Ferrari, with the immensely valuable media coverage that Formula 1 attracts, helps Vodafone to achieve this objective. Vodafone has over 100 million customers worldwide, spanning five continents and 28 countries. Formula 1 offers Vodafone high profile exposure in a sport that commands a worldwide television audience of 360 million people for each race.

Ask most people to name one racing team that they associate with Formula 1, and they will say 'Ferrari'. The name conjures up images of passion, joie de vivre, a can do attitude, innovation and technology, all qualities that help Ferrari to take it to the top and keep it there. Who better then, to sponsor Ferrari's next two assaults on the world title than Vodafone - the world's largest telecommunication company. That is the thinking behind Vodafone's offer of sponsorship, and Ferrari's acceptance of it.
Key events in the early days of the sponsorship were:
25th May 2001 - The sponsorship agreement was announced at the Formula 1 Grand Prix at Monaco.
6th February 2002 - The Vodafone-branded car was launched at Ferrari's headquarters in Italy.
3rd March 2002 - The Vodafone-branded Ferrari team raced for the first time at the Australian Grand Prix.
Sponsorship strategy

Vodafone sees sponsorship as involving far more than having a logo on a football shirt or a racing car. The company believes that its sponsees act as ambassadors for the Vodafone brand, saying to the world 'This brand is all about being dependable, empathetic, innovative, can do and full of vitality and life.' Moreover, Vodafone has established tangible links between the products and services it offers and the organisations that it sponsors. For example, Ferrari fans can subscribe to Multimedia Messaging Services (MMS), news services and chat forums, download games, ringtones, wicked welcomes, wallpaper and other images and play in quiz competitions. Similarly, the Vodafone Race Track racing simulator allows customers to compete in a racing simulator. Vodafone is thus committed to developing a range of value added connections to the sponsorship package. It explains this link in the expression. 'It's no good having the toys if you don't invest in the batteries to make them work'.

Organisations gain competitive advantage by developing USPs: things that only they provide and which make them distinct from anything provided by their competitors. Vodafone's link with Ferrari gives them a USP in terms of up-to-the-minute involvement with the world's leading racing team.
Fitting into corporate strategies
An organisation's strategies are the long-term plans that are the means that enable it to achieve its objectives (ends). Vodafone's current target is to become one of the world's top ten brands. To achieve this, it is expanding its global presence.

Vodafone is the market leader in the UK and in many of the other markets in which it operates. To stay ahead of the field it continually seeks to bring new technologies to the market. For example, it has recently launched 'Vodafone live!' This is a completely new world of mobile services, delivered on the latest camera phones. Users will be able to communicate with more than just words, helping them to keep in touch with the people that matter to them, better than ever before.
Marketing strategy
Marketing strategy is a key part of overall corporate strategy, which is concerned with developing plans for finding out what customers want and then efficiently meeting their requirements. Vodafone's marketing aim in the UK is to retain market leadership on revenue per customer, network quality and customer satisfaction.
Vodafone's strategy is customer focused and product led; the company is continually developing new products and services which utilise the latest technological advances. However, as consumers become increasingly sophisticated users of modern mobile technology, they make new demands and seek added value through product improvements. Vodafone must feed this back into its product strategy.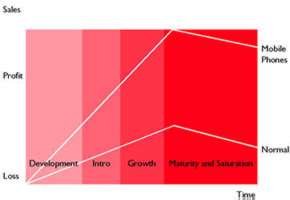 In the UK, the mobile phone market has approached maturity in a very short space of time, particularly with young people. To keep its leading edge, Vodafone is continually looking to add value to the services it provides and to the packages it offers to customers. Soon, within the UK, there will be few new customers available. So the challenge is to provide added value services and competitive charges to existing customers who are becoming more sophisticated and demanding. For example, young people think hard about which mobile phone to buy. In their search for the widest range of appropriate services and the best value for money, young people in particular examine catalogues, surf the Internet and study what their friends have bought. Trying to sell to them is tough. In order to retain market leadership, Vodafone has established a set of marketing objectives. These are to:
keep the customers it already has
increase penetration of new data service (i.e. Vodafone live!)
introduce new technologies and services (e.g. Vodafone live! and mobile internet)
continue to develop the Vodafone brand
acquire new customers.
Vodafone is achieving these objectives by continually updating the range of phones and services offered to keep ahead of its competitors. Also, Vodafone's distinctive 'How are you? & live!' advertising is helping to improve the brand image and saliency to all mobile users.
Vodafone UK, Ferrari and Formula 1 products - building public relations
Public relations (PR) is the planned, sustained effort an organisation makes to establish, develop and build relationships with its many publics. Links that Vodafone has built with its partners (including Manchester United and Ferrari) provide excellent positive public relations. In an information hungry society, many people want to know about key events and breaking news. Consumers want information whilst on the move - hence the need for modern phones which give far more control and access to information. Providing up-to-the-minute sports services is a winning formula , and is one that is providing Vodafone with plenty of positive press coverage, word-of-mouth and public relations.
Vodafone has provided a range of value added services that form part of its sponsorship package of Ferrari and Formula 1. Examples include:
'Grand Prix on the Fone' Generic Alerts
Customers can obtain wide-ranging updates texted to their Vodafone mobiles for every race of the 2003 Formula 1 season. They can even follow their favourite team, with lap speeds and times, positions of drivers and constructors as well as the drivers points table after the race. With Vodafone live!, it will be possible to compliment this service with up to the minute images, technical drawings, circuit layouts and graphics showing the grid order.
Ferrari news
Exclusive news from Ferrari texted to phones includes comments from Michael Schumacher, Rubens Barrichello and team manager Jean Todt. In addition there are exclusive results from Ferrari's test track on every day of testing, as well as key announcements from Ferrari (e.g. new driver signings) all through the year.
Grand Prix Quiz Trivia Game
This service is tied to races during the Formula 1 season. To win Ferrari merchandise prizes, players must be the quickest to answer 5 Ferrari Trivia questions.
Ferrari Ringtones and Icons
This service allows you to customise your phone with exclusive Ferrari logos, pictures, screensavers and ringtones.
Ferrari content on Vodafone live!
Ferrari content is particularly suited to Vodafone live! being provided in colour and pictures. Users can access regular alerts including pictures, that can be banked as wallpaper or sent on to friends.
Is it worth it?

Sponsorship is expensive, particularly at the premium end of the market; a world famous company like Ferrari deals only with partner organisations that it also sees as its equivalent. Given the cost of sponsorship agreements, companies make a careful financial analysis of them to ensure that there are substantial ongoing rewards. Vodafone is committed to sponsorship because the benefits are extensive, ranging from increasing the visibility of the brand name to providing sponsor related services as value added to Vodafone products.
Conclusion
This case study has shown that intelligent sponsorship involves far more than putting the sponsor's name on football shirts or racing cars, however famous. A sponsorship partnership involves identifying a shared set of objectives, and also leveraging a set of additional benefits from partnership - which in this case involves providing a range of value added services to users that enhance consumers' use of the latest technologies such as Vodafone live!