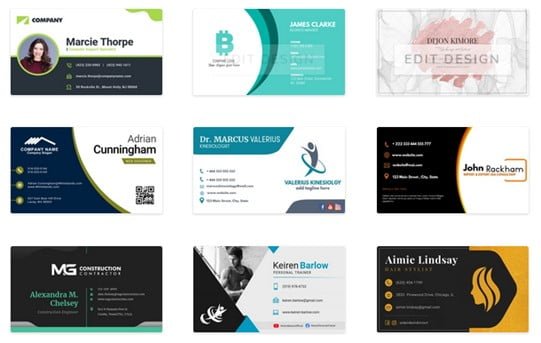 In today's modern world with all our digital assets like smart phones, email, and online networking on sites like LinkedIn it is more important than ever to have a physical business card. Carrying your contact information with you always is an essential part of business, you just never know who you will meet and where you might meet them. Business cards are a key part of networking and add to the first impression given to a new potential client or supplier, you never get a second chance to make a good first impression and the last thing you want is for that big future customer to write or enter your telephone number incorrectly.
Thankfully, you do not need a team of designers or a huge budget to produce high-quality business cards that will make an impact. There are plenty of readily available online tools to help you create a professional business card in no time at all, one such graphic design tool that will help you design a personalised card for your business in minutes and has hundreds of business card templates.
Whilst you will see there are lots of templates and options to help to make your business cards there are some key elements that need a little thought to get the right content on the card and a design that will work for you, below are my top six tips to create a great business card.
Design
The design is the building block of a good business card, try to find a template that reflects your business, have a look at ideas from your industry or competitors. If you are an IT company then it might be suitable to have a crisp modern corporate design with a sharp font that matches your business. However, if you are a party planner you might want your business card to convey your sense of fun with vibrant and bright colours. If you have a logo or colour scheme that you use for your business, ensure your business card mirrors this style to give you a professional look on all your stationery and finally ensure you don't clutter your card with too much text.
Content
The content you want on the card will determine many of the other factors, do you want to include just the standard, details like the address, telephone number, email, website or should you include an area on the back to record an appointment if you are a hairdresser for example. You can add a call to action or a QR code which when scanned is a one click way to send people to your product pages or subscribe to your newsletter or promotions.
Use the right typeface
If you have used a specific font on your other marketing materials or on your website, use the same on your business card. Like the design the font you choose should represent your business and should be easy to read, it is a good idea to keep all your text at least 8pt, with the key information larger or bold.
Size and Shape
The size and shape of your business card affects the amount of space you have and what information can be included, a non-conventional size or shaped card can make a big statement about your brand or make you stand out from the competition. Most business cards are rectangular and designed in a landscape format, if you want to stand out you can consider a different shape or format it just depends on what you want the business card to say about your business.
Stand out from the crowd
Use a quality finish to make the card stand out from your competitors, you can send out the right message about your business by using a spot UV, metallic inks, foil blocking or embossing to give a finishing touch that gives a great visual impression. You can put information on the back of your card or visuals about your products or services, just ensure you opt for a quality finish with a good quality card.
Proofread
There is nothing worse than receiving a freshly printed box of business cards only to discover an error or missing information. Check and double check everything before you order the cards and if you can ask a colleague or friend to look and give it all a quick proofread.
Conclusion
Once you have finished your card, get the opinion of some good friends or if you have a client who you have a great relationship with then ask them for their feedback and listen to their suggestions.
Above are the key points to consider while creating business cards for your company, pay close attention to the detail so that everything stands out in the design, content and finish.
Business cards are not just a way to provide customers with your companies contact details, they have become marketing tools to build the brand identity of your business. They should be a unique but simple designs that can convey your business message and stand out from the crowd.