This case study focuses on how Cadbury Schweppes acquired the American-based company Dr Pepper/Seven-Up. Of particular interest is the thinking and purpose behind the acquisition, and how the acquired company will be managed in the future.
Dr Pepper/Seven-Up is not a very familiar name in the UK, although many people will have heard of or purchased the 7-Up product. Dr Pepper/Seven-Up owns the 7-Up brand in the USA and the Dr Pepper brand worldwide. Created in 1885, Dr Pepper is the oldest, nationally distributed soft drink in the US. The 7-Up brand was introduced in 1929. Within the US carbonated soft drinks' market, Dr Pepper/Seven-Up is one of the fastest growing companies.
In 1994 Dr Pepper/Seven-Up brands had an 11.6 market share in the US. Sales volumes over the previous five years grew by 5 per cent per annum, more than double the industry average.
The Cadbury Schweppes Group
The origins of the Group go back over 200 years. Jacob Schweppe perfected his process for manufacturing mineral water in Geneva in 1783. In Birmingham, John Cadbury first started selling tea and coffee in 1824, then cocoa and chocolate, which was soon to become the main business. The two companies – Cadbury and Schweppes – merged in 1969. Since then there has been a continuous programme of expansion worldwide.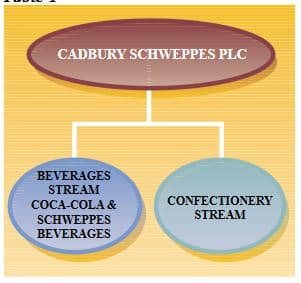 The Group has undergone major changes during its development and since 1984 its structure has been based on its two business streams of Beverages and Confectionery.
The range of companies and countries through and in which the Group operates is vast; for instance, it owns Stani, a leading confectionery company in Argentina, and it has an interest in Camelot (the company which runs the UK National Lottery).
Cadbury Schweppes describes itself as a 'British-based but internationally-focused food and drinks business operating primarily in the 'impulse purchase' or 'informal consumption' segment. Following on from this, the company has a stated commitment to:
Continue to focus operations in the market sub-sector of confectionery and soft drinks, and specifically consolidate its soft drinks position worldwide as the largest and most successful non-cola brand owner
Aim for a 'top three' position in the global confectionery market
Aim for profitable growth via a flexible but carefully selected use of organic development, acquisitions and alliances
Monitor positively and regularly growth opportunities in adjacent market sectors where acquisition or alliance could bring real gain through synergy.