Introduction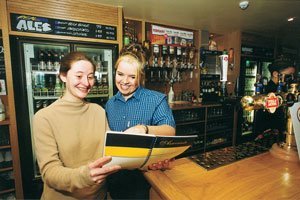 A successful business understands its market and how best to differentiate its product so as to appeal to its target audience. It also knows how to recruit, train, develop, retain and motivate its employees. This case study looks at a company that is achieving all these goals.
J D Wetherspoon owns and operates pubs across the UK and is the UK's fastest-growing company (shown on a recent business survey, 2001). It provides customers with good-quality food and drink at reasonable prices, served by well-trained, friendly staff. Many of the company's pubs are successful conversions of formerly disused premises. Each has its own individual character but has the same high standards to meet.
A distinguishing feature of Wetherspoon pubs is that they are music-free so as to encourage conversation. All have substantial no-smoking areas. Meals are served from opening until one hour before closing and account for over 25% of sales. They also specialise in the sale of cask-conditioned beers from Britain's regional brewers.
In modern service industries, friendly, motivated employees who are willing and able to provide the required level of customer service can make all the difference between success and failure. J D Wetherspoon has 11,200 either full or part-time employees, of which 220 are at the Head Office in Watford. The company is convinced that the high performance of its staff is a direct result of its approach to staff recruitment, training, development and motivation. This case study looks at how the company motivates staff towards helping it achieve its aims of high standards, ongoing improvement and growth.
Business culture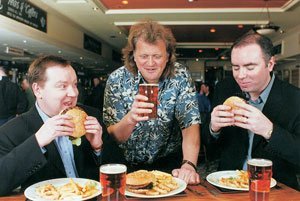 The pattern of relationships within an organisation reveals its culture. In a hierarchical culture, decisions are made 'on high' and passed down to lower levels. In an inclusive culture, everyone is encouraged to take part in decision-making within multi-channel communications. Modern service industries require an open culture that encourages employees to participate. Service-oriented employees must regularly decide how best to deal with a customer's complaint or unusual request. Companies have general guidelines for such eventualities, but many situations still require a personalised response. Well-trained, trusted and motivated employees will tend to respond in a way that is beneficial both to the customer and to the company's reputation. So good employee management is in everyone's interests.
Wetherspoon operates in a highly competitive market in which it is important to stay ahead of rivals who are themselves improving. Often the people best placed to suggest improvements are the front line staff responsible for operations. Enlightened firms show trust in their employees and display a willingness to learn from their experiences. With its open approach, Wetherspoon actively encourages its staff to challenge existing ideas and practices in pursuit of continuous improvement. This often involves adjusting many things a little rather than making a sweeping change. Suggestions mainly come from employees, based on their experience at work. Ongoing improvement includes identifying 'best practice' within parts of the organisation and applying it throughout. Only an open culture fully achieves this sharing of good practice.
Communication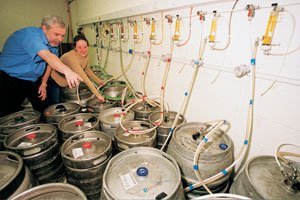 Many of Wetherspoon's initiatives stem from ideas put forward by its 'Associates': employees who are paid an hourly rate. For example, Kitchen Associates are encouraged to suggest ways of improving menus or food preparation, or to advise the company on which products to promote. Often the best ideas are glaringly obvious in retrospect but may be missed by a higher level manager who is not interacting with customers on a day-to-day basis. Associates are encouraged to communicate their ideas for improvements to their line manager. Good ideas are then rapidly implemented, normally within weeks.
Every two weeks the company holds a 'Big Meeting'. Over 100 employees attend, including the company chairman and directors, pub managers and some associates. These meetings consider company performance and ways to improve it, ranging from small operational decisions to major strategic plans. For example, the marketing manager might present a selection of posters proposed for a promotional campaign and the meeting decides which ones to use.
Because individuals are included in decision-making, many Wetherspoon employees have a high level of commitment to the company and are proud to work for it. The company firmly believes that a key factor that differentiates it from rivals is the quality of customer service that comes from having committed employees. There are no hidden secrets in Wetherspoon's approach. It is based on an understanding of, and belief in, some key ideas about human motivation.
Motivation
There is a big difference between motivating someone into wanting to do something and merely getting them to do it. The motivational theorist Frederick Herzberg noted that he could get even his dog to move by shouting at it or kicking it. He did not regard this as successful motivation.
Successful motivation is based on appealing to an individual's intrinsic drives rather than using external threats and rewards. Herzberg argued that to motivate an individual involves identifying and using a range of 'satisfiers'. These are factors that will motivate someone to want to do a job successfully eg by meeting their need for more responsibility, higher status, greater job satisfaction or enhanced self-esteem. Herzberg's ideas on motivation are similar to those of Abraham Maslow.
Maslow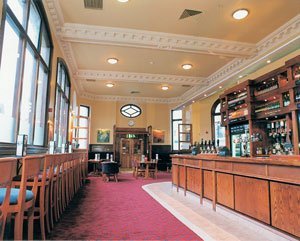 Maslow identified a hierarchy of needs at eight levels. The first four are essential needs. The other four are life-enriching. Physiological needs are those of food, shelter and clothing. Safety needs are met by providing a non-threatening working environment free from danger and intimidation. Belongingness (a sense of belonging) can be created through good team-working. Esteem is fostered by giving a person a valued job role or position. Wetherspoon recognises all of these employee needs and sets out to meet them.
The other four needs are also important. Cognitive needs include the need for intellectual stimulation – being expected to think and to make decisions, for example. Aesthetic needs relate to how humans respond to beauty in its many forms; workplaces can be aesthetically appealing or unappealing. Self-actualisation is concerned with personal fulfilment; and self-transcendence relates to the joy that comes from exceeding personal expectations.
Maslow suggested that only 1% of the population ever self-actualise ie 99% never overcome the obstacles to achieving complete personal fulfilment. Maslow's hierarchy of needs provides managers with useful insights into how best to manage people. Managers look to find out not only where individuals feel themselves to be in relation to the hierarchy but also the level that they really want to reach and hold on to. Wetherspoon seeks to provide individual employees with the skills and knowledge that will enable them to climb the hierarchy ladder permanently.

Training and development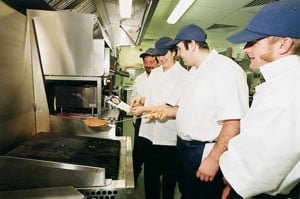 The company believes in creating a highly committed and motivated workforce made up of people who achieve personal fulfilment through the freedom to act given to them in their daily work. The company sees its workforce as a prime organisational asset that is motivated through a positive organisational culture, pay and benefits, as well as training and development.
J D Wetherspoon recognises that many of its employees will not stay with it for all their working lives, but it wants its employees to develop a sense of loyalty. It pays a rate above that of its competitors, in the belief that employees are more likely to be motivated when they know they are being paid more than the minimum required. The company also bases its pay on reviews of performance, so that the higher pay reflects its positive view of the worth of its employees.
Employee retention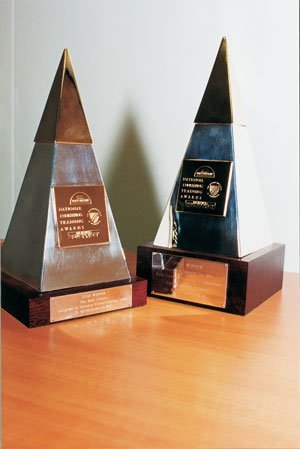 The company does well at keeping its employees. It feels that its good rates of pay and proper treatment of its workforce are major contributors to this success, which reduces ongoing training costs and also creates a body of committed people. The company has a bonus scheme. All staff receive a bonus, dependant on the performance of the pub where they work. The company also runs a number of incentive schemes eg a monthly draw for examples of excellent customer care, with a paid holiday for two in New York for the winner.
The company also operates a share option scheme enabling employees to buy shares at a guaranteed price. By holding shares in the company, employees are likely to feel a greater sense of belonging and will want to see the company do well. Wetherspoon's training and development programme is a combination of 'on the job' and 'off the job' training courses. Wetherspoon's training focuses on career progression and links training to national qualifications. The company is justifiably proud of its record, in that:
54% of pub management began as hourly paid Associates
40% of area managers were once pub managers
50% of Wetherspoon's board were area managers.
The company encourages all employees to feel that if they show the right qualities then they will receive the support they need to advance their careers within the organisation.
Wetherspoon understands the importance of enabling employees to gain relevant qualifications recognised at a national level. In particular, training is closely linked to qualifications offered by the British Institute of Innkeeping, including areas such as licensing law, food hygiene and health and safety.
National Vocational Qualifications also feature heavily in training. Employees are encouraged to identify their own development needs and the company seeks to provide appropriate development opportunities. The company also supports professionally recognised training eg in the fields of accountancy, law and personnel management.
Conclusion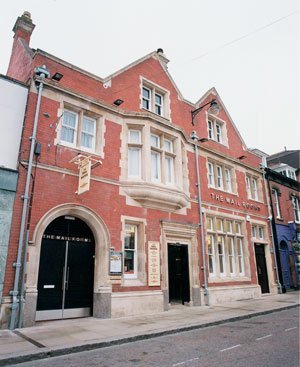 Wetherspoon's enlightened approach towards its workforce is soundly based and demonstrably successful. The company has recently won a range of awards that reflect its commitment to customers and employees. These include:
Pub Company of the Year 2000
Retailer of the Year 2000
Retailers' Retailer Award for Best Company 2000
National Innkeeping Training Award: supreme award for overall training programme 2000
National Innkeeping Training Award: the best course designed to develop food and catering skills 2000.
In a highly competitive business environment, the company knows that its ability to recruit, train, retain, develop and motivate its employees will remain a key factor in its success.
J.D Wetherspoon | The importance of employee motivation