Ben Sherman is a globally recognised lifestyle brand. It has grown from its business beginnings in quality shirts in Brighton in 1963 and is now sold in 35 countries around the world. It has expanded into the USA, Europe, and Australasia.
In 2004, Ben Sherman was acquired by the American-based company, Oxford Industries. This group is an international apparel design, sourcing and marketing company that features a diverse portfolio of owned and licensed lifestyle brands.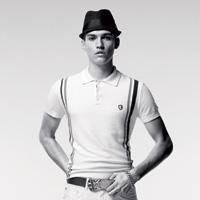 Ben Sherman's name has always been closely linked with the British music scene and with fashion. Its customers are young and at the forefront of style.
Throughout the years high profile customers include musicians, models, actors and bands, such as Blur, Oasis and the Kaiser Chiefs. The growth of the brand can be traced through changes in musical taste and this is a key part of Ben Sherman's marketing strategy.
As a young person reading this, you are a central market segment of Ben Sherman's target market. A market segment is a group of people with similar needs or characteristics, such as age, gender or lifestyle. For example, you like music, you like fashion and you are willing to spend money on top brands that deliver the quality and image that you want.
As the company founder Ben Sherman said in 1963: 'Looking good isn't important, it's everything.'
Ben Sherman has developed a balanced marketing mix. This is often referred to as the 4 P"s – product, price, promotion and place. By getting the mix right, the company ensures that its products reach the market segments it is aiming the brand at. This approach helps the business remain competitive and extends its market share and influence.