Premium brands capture the public imagination when they stand out from the rest. Obvious examples are Earl Grey tea which connoisseurs recognise for its distinctive name, flavour and taste, Rolls-Royce for its pedigree of no-expense-spared luxury and Parker pens for their stylishness coupled with functionality.
Another premium brand that is widely respected in this country is Singapore Airlines (SIA) which is particularly well known for the quality of its product offering and excellence of service standards. Singapore Airlines' customer service standards are symbolised by the distinctive uniform of its flight stewardess, a sarong kebaya in batik material designed by Parisian couturier Pierre Balmain, reflecting its Asian heritage.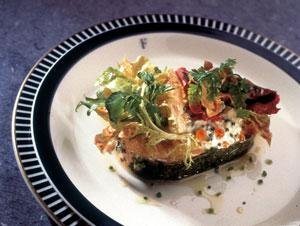 In the modern service economy, it is frequently customer service that differentiates one product from another. A prime example is the airline business, where passengers may be travelling for many hours. During these periods people want to relax in comfort, knowing that their individual needs are being catered for. SIA aims to provide the best product for its passengers, plus the best customer service available. This case study highlights how SIA is achieving an advantage in the competitive airline industry.
After operating as Malaysian Airways and then as Malaysia-Singapore Airlines, SIA was officially launched in 1972. Today SIA's network reaches out to 93 destinations in 42 countries, serving Asia, Europe, North America, the Middle East, the South West Pacific and Africa. Its regional airline subsidiary SilkAir serves 21 destinations in 8 countries. SIA has also created a number of strategic alliances with other major world airlines to serve other markets jointly.
Remarkably for the airline industry SIA owns all its aircraft, unlike many other airlines who lease a substantial part of their fleet. It also has one of the youngest fleets of any major airline, with an average age of just over five years.
SWOT analysis
SIA initially needed to carry out an analysis of its operating environment. The traditional business tool for doing this is a SWOT analysis (strengths, weaknesses, opportunities and threats). The strengths and weaknesses are factors internal to the organisation.
Strengths and weaknesses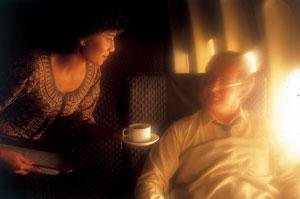 SIA's key strength lies in the location of Singapore as an important crossroad of the world. Singapore is a relatively small country which has been one of the economic success stories of the last 25 years. As with other South-East Asian economies Singapore's success lies in the strong trading links that the country has developed in the global economy. As a former British colony which gained independence in 1965, it had to market its services globally to be successful.
In its early days the airline was much smaller than its rivals. This was a major internal weakness. SIA, as the national airline, was faced with an intensely competitive global market in which the big players like British Airways operated on many routes with large fleets of aircraft. Until recently many countries have restricted access to air routes and airports in order to protect their national airlines against foreign competition.
Today all this is changing, as, along with many other areas of international trade, there is strong pressure to open up markets and allow greater competition. However, in the early years SIA had to work very hard to secure the right of access to many important countries and airports. It took many years of struggle to achieve landing rights at Heathrow, followed by Manchester. Most recently SIA is seeking access to transatlantic routes from the UK.
SIA is committed to the notion of 'open skies', i.e. open access of routes to airlines with the consumer deciding with whom he or she wants to fly. It continues to be a bone of contention for SIA that while Singapore has opened its own airport to other airlines, SIA is still restricted from access to other routes, e.g. transatlantic.
Opportunities and threats
The main opportunity facing SIA was the rapid growth in air transport for both passenger and cargo. Today the globe is a much smaller place, people can move rapidly from one continent to another in a matter of hours and more people have the disposable income to afford this. However, there are threats to an airline like SIA from the major national carriers of much larger countries, and restrictive regulation of air routes.
The SIA Group is Singapore's largest private sector employer with a 28,000 strong workforce. The airline is committed to the development of its human resources. The airline has been able to develop its distinctive competitive edge in customer service through its people. From an early date SIA recognised the importance of customer service in gaining and retaining customer loyalty. SIA has always placed great emphasis on quality training for staff, which has established its cabin crew as the 'hallmark' of efficiency and customer service. This has led to greater competitive advantage.
Extending the offer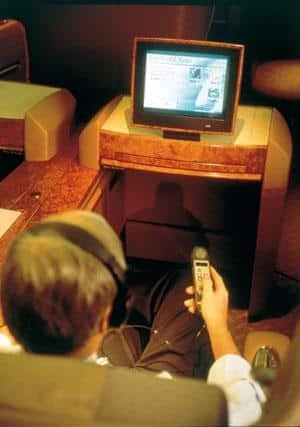 Product innovation and service excellence form the pillars of SIA's operational philosophy. SIA strives to continually 'raise the bar', by setting new product and service quality standards for the aviation industry. In the 1940s in-flight refreshments comprised a thermos flask of iced water; this was later extended to sandwiches and cold drinks; today customers expect a lot more.
There is a great opportunity for airlines to offer added value for their passengers. This is achieved through a host of additional extras that make up the customer service package.
As the industry is so competitive, standards are continually improving. SIA has been at the forefront of developing new initiatives over the years including:
In the 1970s: first to offer free headsets, a choice of meals and free drinks in Economy class.
In 1991: first with satellite-based in-flight telephones.
In 1995: the introduction of Kris World, a state-of-the-art in-flight entertainment and communications system across all three classes (First Class, Raffles Class and Economy Class).
'Raising the bar' through trainingn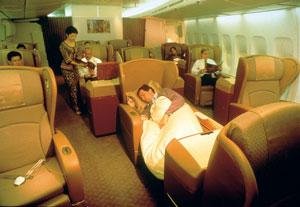 Initial training for SIA cabin crew lasts for three months. It is designed to support staff in learning to anticipate and meet the needs of all passengers, e.g. during the course trainees are encouraged to visit old people's homes and to work with children while they are undergoing training. Other aspects of training include grooming and make-up, plus detailed Health and Safety Training.
The main emphasis is on top quality customer service and attention to detail. Language training is important and staff will be able to speak a number of international languages including English. Training encourages team spirit and staff understand that they are ambassadors for Singapore. For many visitors SIA staff will be their first glimpse of Singapore, so it is vital to create a positive impression. By continually pushing up the level of service SIA is creating a standard which others find difficult to follow.
SIA's policy is that all promotion should come from within the company, so there is plenty of scope for staff development. Scholarships exist within the company to send cabin crew to University (as long as they come back!). SIA has its own management development centre which employs top quality trainers (including professors from Harvard University).
Developing competitive advantage
Most recently SIA has developed some product innovations which gives it further competitive advantage.
Investment in leading-edge technology has seen SIA achieve an industry leadership position in the field of in-flight entertainment. With KrisWorld, customers have access to 22 video channels, 12 audio channels, 10 popular video games, real-time news, information on popular SIA destinations and a personal in-seat telephone. WISEMEN is a major enhancement of KrisWorld being the first in-flight entertainment system to offer both video and audio on demand. SIA customers were the first to experience in-flight surround sound offered by Dolby Headphones. The revolutionary technology brings high quality cinema-style surround sound to in-flight film viewing in all three classes.
SIA has taken in-flight dining to new heights with the formation of its International Culinary Panel (ICP) and the introduction of World Gourmet Cuisine. Comprising eight world-renowned chefs – including the UK's Gordon Ramsay - the ICP has created world-class menus for all SIA flights, including signature dishes exclusively for SIA. Other members are Georges Blanc of France, David Burke and Nancy Oakes of the USA, Dietmar Sawyere of Australia, Yoshihiro Murata of Japan, Satish Arora of India and Yeung Koon Yat of Hong Kong.
Customers on SIA can enjoy an extensive selection of wines and champagne from the world's major wine-producing regions. SIA has also created unbeatable packages in each Class (students can view the interiors of SIA planes by following a virtual tour on the Singapore Airlines website).
Meeting the needs of different markets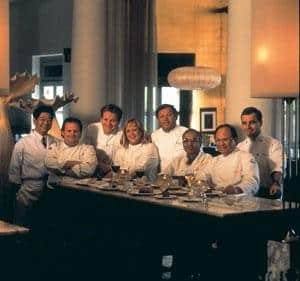 First Class passengers are able to enjoy individual compartments (Sky Suites) on 747 flights, providing a private space including sleeper beds. Cabins are fitted out in leather and burr wood to provide a luxury feel. All amenities and linen have been redesigned, mostly by Givenchy. To top it off, each individual compartment has a 14-inch personal video screen, specially produced for SIA, by Sharp of Japan.
Raffles Class passengers have new seats designed by the Swiss firm Ludeke Design, giving a generous recline and the longest business class seat pitch among major airlines offering three classes. The cabin colour scheme is blue and rose cloud with alternating seat fabrics to impart a touch of style and elegance.
SIA's leadership in Economy Class is underlined by KrisWorld – the most sophisticated range of video and audio entertainment. Seats have been updated to provide more room and comfort. Passengers are able to enjoy World Gourmet Cuisine and even champagne.
Conclusion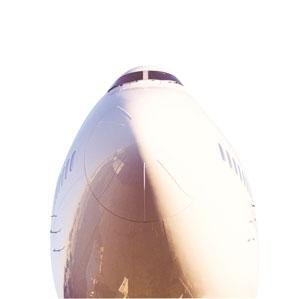 SIA provides an excellent example of continuous improvement in the face of extensive global competition. Staying ahead of the field means that a company can never afford to stand still. This case study has shown how SIA is always seeking to improve the service it provides to customers and how it is constantly striving to improve customer service.
SIA has been able to successfully differentiate its product by continually providing the benefits to meet the needs of the modern air traveller whether a child, a young person, a tourist, a business traveller, a film star or a Prime Minister.
By steadily improving the quality of products by using the world's best designers and chefs, SIA is able to create the synergistic benefits that stem from working with the best employees in the world. While passengers are invariably delighted with SIA, they can be sure that SIA is working to make their next flight even better.
Singapore Airlines | Developing a competitive edge