Fast-developing organisations have a range of business objectives that provide a direction for their actions and drive them forward, particularly in markets that are prone to change and innovation. In recent years few market areas have changed quite as much as that of hotels, where there has been a general recognition that consumer groups have different and changing requirements.
This case study outlines how Travelodge quickly established itself as the leading brand in the budget hotel market and how it is now consolidating this position through embracing the Internet technologies needed to create competitive advantage in the 21st century.
Many leading businesses have gained their positions of prominence by identifying consumer needs that are poorly provided for and then presenting business solutions to satisfy consumer requirements. Having provided the solutions to customer needs, the intelligent business will then seek to improve its product in line with ever-rising customer expectations.
Travelodge is an example of a leading brand which has been created in a relatively short space of time. Today, nearly everyone has heard of Travelodge, yet the first lodge only opened in 1985. Travelodge recognised the need for budget accommodation when it created the sector in the UK, with the opening of the first lodge at Barton-under-Needwood, a 20-bedroom property on the A38 near Burton.
Today Travelodge has over 200 properties in the UK and Ireland providing more than 10,000 bedrooms. Travelodge now has properties in most major towns and cities. The 200th site opened in the city of London in July 2000. This was a 140 bedroom Travelodge just off Liverpool Street in Harrow Place.
The Travelodge offer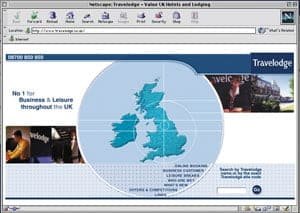 A market consists of buyers seeking to make purchases and sellers who compete with each other to make sales. Some markets are intensely competitive with many sellers offering almost identical products at similar prices. Other markets are less competitive with fewer sellers offering differentiated products.
The budget accommodation sector in the UK has become much more competitive over the past 15 years with more and more players entering the market each year. This forces competitors to look for better ways of communicating brand and product benefits. The total market comprises more than 40,000 rooms in the UK alone. Travelodge has 25% of the market. In order to retain and increase this market share Travelodge is investing heavily in developing its Internet presence to make it easier for customers to find out more about the Travelodge offer and book rooms.
Travelodge provides hotel accommodation for two major market segments families and business customers. Families seek leisure breaks, whereas business customers seek hotel accommodation close to hubs of business activity or convenient locations for meetings.
Families
For families Travelodge provides family and friends, short stay breaks on long journeys. They provide a combination of good facilities and excellent value for money. Travelodges can be found nationwide on motorways and 'A' roads in towns and city centres. They are also located near tourist attractions and areas of natural beauty.
Each Travelodge provides en suite rooms and family rooms for four people with accommodation for two adults and two children. Rooms include satellite television with cartoon, sports and film channels. Each room has tea and coffee making facilities, luxury beds and every guest is provided with a free newspaper. There is a friendly atmosphere and an easy checking in and out process to make life easy for people with busy travelling arrangements.
Business users
For Britain's business people, Travelodge offers full in-room facilities and access to a telephone and fax machine. With these facilities available and comfortable beds, it means that the business customer can wake up refreshed and prepared, ready to face the day. Guests pay on arrival and can drop the key at reception on departure.
Travelodge provides 'meeting points' for business meetings. Following detailed market research, Travelodges are situated at key business locations, making for easy access from all parts of the country. Travelodge has also made sure that its hotels include good restaurant facilities or are close to first-class restaurants.
Supporting the brand
Well known brands need to be supported through advertising and promotional activity.
Travelodge was the first budget hotel brand to appear on television and coverage on a national scale is further enhanced by a strong presence in all the major press titles. This activity has seen brand awareness rise to over 70% nationally. The effectiveness of this activity was recognised when Travelodge was awarded the 'Most Improved Brand of the Year' Award in the Year 2000 British Hotel Guest Survey.
Travelodge has recently started to send direct mail to its huge customer base. The first mailings were sent out in 2000 and produced excellent results. Travelodge is now using the database to target specific customers, for example, loyal customers with exclusive offers.
Ease of use
It is all very well having the right product at the right place and at the right price. However, in the budget hotel market it is necessary to ensure there is a top quality booking system enabling the consumer to purchase the accommodation. Travelodge took an early lead over its competitors by focusing on centralising all inventory.
To support this, Travelodge has a reservation sales centre which employs almost 300 staff, takes over 3 million calls per year and sells over 2 million rooms. Some business people and families may simply pull up at a Travelodge for a stop-over on a long journey. More frequently customers will plan ahead and book accommodation in advance of holidays, meetings and so on. With this in mind, Travelodge has designed the most sophisticated booking system in the budget hotel market.
The most important development in this area has been Travelodge's development of a sophisticated Internet site. Travelodge first appeared on the Internet in 1996. The introduction to the web was about providing information to a new worldwide audience. In the early days this was achieved through the provision of an on-line brochure. Travelodge continued to move the site on to new platforms in order to maximise the opportunities available.
Building the Internet presence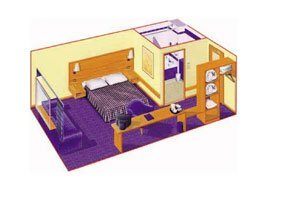 As more and more households and businesses in this country become regular Internet users it is no longer just optional for a leading business brand to have a top quality Internet site. Travelodge was one of the first companies to realise this and its Internet presence has become increasingly sophisticated since 1996.
Travelodge quickly appreciated the importance of developing customer relationships with a global rather than a national audience from the outset and has embraced the Global Distribution System and the worldwide web. Since 1997 all Travelodge properties are listed on the Global Distribution system. These include Galileo, Sabre, Worldspan and Amadeus. These channels offer the opportunity to access the business travel sector worldwide.
In 1996, Travelodge simply used the Internet as a means of promoting its brand image. The site included an online brochure, downloadable maps and a location finder. By 1998 it had developed a new-look site based on printed brochure material. An important breakthrough was the development of online ordering through email request to the reservation sales centre staff. Today the site offers seamless online availability and booking facilities with dedicated business and leisure sections.
Travelodge is a leading edge player in the e-commerce market, offering inclusive packages nationwide. Travelodge's Internet service enables the company to develop personalised relationships with customers. A database built up by the interactions of customers with the booking site enables it to provide personalised information and to make promotional offers to corporate and family clients. Users can quickly click on to sections of the map that are relevant to their search for accommodation. Users can then narrow down the search to the locality where they want to arrange a business meeting or a short family stay.
Alternatively the user can select from a drop-down list which area and town is required; the lodges available in that area are shown. The site shows clear illustrations of room layout and the facilities offered. Having selected the most suitable Travelodge, the potential customer can then find out about the number of beds available and make an online reservation. Nothing could be simpler. Once the customer has selected a Travelodge they are then provided with the phone number of the lodge, should they need further information.
Conclusion
In the dynamic modern business world, no organisation can afford to rest on its laurels. Becoming a brand leader involves painstaking efforts including detailed market research, to give a leading edge over competitors. Once the organisation is in front it must press ahead with embracing the sort of change that will help to keep it there. For Travelodge, this means constant innovation.
This case study provides a practical example of how Travelodge became the brand leader and how it has since gone on to develop new value-added services to keep it ahead of the competition. Travelodge is developing a sophisticated Internet service which, among other innovations, will help it to consolidate and build on its lead.