Introduction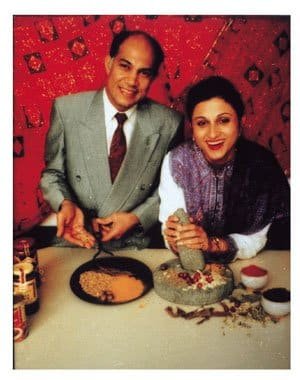 Successful marketing organisations develop product ranges to meet the needs of selected groups of customers. These groups are identified by research which analyses customers' needs and compares them with the products which are currently available. This allows the identification of gaps in the market where a new product could be introduced to meet a need which is not currently being satisfied profitably.
This case study examines how one of the country's most innovative companies, Patak (Spices) Ltd., the leading supplier of authentic Indian food worldwide, has identified a market opportunity and launched a new range of 'curry bases'. The curry base is a blend of natural spices, preserved in oil in a paste, which provides the foundations of an authentic Indian meal.
Although Patak's currently holds a 67 per cent share of the paste market, the new product has been designed to introduce new consumers to the market by offering a more convenient size and pack format at a lower price, thereby encouraging trial amongst people looking for an authentic Indian product to prepare in the home for a meal for two.
The product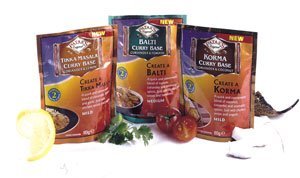 Patak's was set up by the father of the current Chairman and Chief Executive, Kirit Pathak, in the late 1950s. On his arrival in the UK from Kenya, LG Pathak began by selling samosas from home to raise sufficient capital to buy his first small shop in North London in the late 1950s. The business expanded with the introduction of other products, including pickles and chutneys, as orders from small shops, housewives and students flooded in and Patak's fame spread.
Kirit Pathak joined his father's expanding company in 1970 and, with his wife Meena, who heads up product development, has spearheaded the company's rise to the number two position within the UK's Indian food sector. Patak's supplies products to well over 90 per cent of the Indian restaurants in the UK, underlining its authenticity and Indian heritage.
Patak's products are also available nationwide through independent grocers and major supermarket chains. In addition to being the No.2 brand in the UK grocery market, Patak's is the most readily available brand on an international basis, being marketed in over 40 countries.
Patak's ingredients are selected and imported from India and around the world, under Kirit Pathak's personal supervision and blended under the direction of Meena Pathak. Meena, a qualified chef and expert on Indian cuisine, also takes personal responsibility for overseeing all recipe development. At the end of 1999, Patak's held the dominant share of the UK's Indian pastes market with 67 per cent of the market (its value share was growing at 35 per cent per annum). To understand the roots of this success we need a brief outline of Patak's history to understand the organisation's domination of the market is based on an ability to provide the most authentic Indian pastes in the market.
Growth
Patak's has expanded quickly from employing six people in 1978 to 400 in 1999 and by increasing its turnover from £5 million in 1988 to in excess of £40 million by 1999. In 1994, the company acquired a food factory in Brechin, Scotland and, in 1997, a frozen food company in Dundee. This enabled the company to meet consumer needs for authentic canned, ambient and frozen Indian sauces, meals and accompaniments including breads,
pickles and chutneys.
In the modern business world we tend to associate rapid growth with the major established public companies like the soap powder giants Procter & Gamble and Unilever, or Coca-Cola from the soft drinks and beverages sector. It therefore came as a surprise to many in the marketing industry when the private company Patak's won the award for the fastest growing grocery brand in 1993 and became the only company to feature in the top 20 fastest growing grocery brands over four consecutive years. This achievement demonstrates that there is still scope for the family-run business which combines knowledge of product with an understanding of market conditions.
Product development
In addition to developing recipes passed down through the generations by both Meena's and Kirit's families, new recipe ideas are constantly being created, all made from authentic Indian
ingredients. The Patak's range of pastes, for example, were created to preserve the original taste of spices by encapsulating them in vegetable oil. Fresh aromatic spices and fragrant herbs are carefully ground to bring out their subtle and varied flavours and are then blended with oil before being sealed in a jar, creating a convenient paste whilst retaining the freshness of the herbs and spices.
The company's product range extends from pickles, pastes and chutneys to sauces in jars and cans, ready-made meals, pappadums, ready-to-eat naan breads and chapattis and now includes frozen meals and snacks. Patak's packaging has been developed specifically to communicate its authentic Indian heritage and to generate greater brand recognition and range differentiation.
Building on success
Successful marketing involves identifying opportunities and then developing products to take advantage of them. Throughout the last quarter of the twentieth century more and more people in this country tried and then became regular consumers of Indian cuisine to the extent that, today, there are more Indian restaurants in London alone than in Bombay and New Delhi combined. As Patak's became established as a brand name, it was able to capitalise on this growing popularity by selling to people who knew about Indian cuisine - restaurants and regular consumers of Indian food.
Consumer dynamics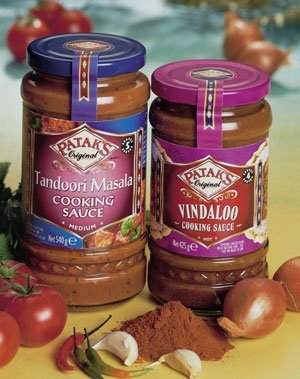 In recent years consumers of curry pastes have been predominantly in the ABC1 categories (i.e. professional people and those in higher income groupings - doctors, teachers, accountants, business managers, office administrators, etc.). The market is also largely made up of younger adults in the 25-44 year age range who are more cosmopolitan in their eating habits (rather than older people who tend to be more conservative).
As consumers have become more educated about Indian food, more and more of them have started to cook their own meals using materials and ingredients from Patak's and other suppliers. For example, by 1998, 54 per cent of all Indian food consumers were buying their own pastes. And yet market research indicates that 65 per cent of UK adults do not currently cook Indian food at home. The main barriers to this are that:
many people lack confidence, thinking that preparing Indian food is for 'good cooks' only
many people think that there is a lot of time and effort required to produce good quality Indian food
many people lack the knowledge of Indian cooking and of blending and using the ingredients. They are not sure about how much to cook, what to add during the cooking process, how long to cook the food for, what cooking methods to employ and so on.
Providing a solution - the new product concept
Given the growing interest in Indian food and the barriers above, Patak's marketing strategy for its 'curry base' range is to meet the increasing needs of Indian food consumers for authentic ingredients by providing a product which has pre-mixed spices making it
a convenient, easy to use product which provides a quick meal.
The product concept which Patak's has designed for its 'curry base' range is designed to make Indian cooking readily available to even more consumers. Patak's has created a range of convenient, easy-to-use, one meal serving curry base pastes in a modern pack format, designed to attract new consumers. The company has also consistently sought to educate consumers about Indian cooking, particularly in the form of labelling with clear recipe suggestions. The initial launch of the new curry base range was focused on the three
most popular Indian flavours with UK consumers:
The pastes are packed in 80g sachets which are designed to serve two people. The pastes are also attractively priced - an initial selling price of 89 pence per unit.
Targeting a market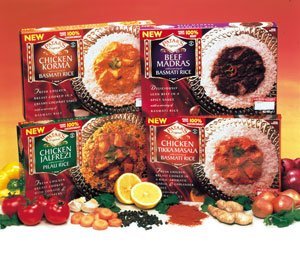 Marketing specialists need to have a clear view of their targeted customer. Knowing who your customer is enables you to choose the right sort of marketing mix - getting the product right, promoting and advertising your product in the most appropriate way, selecting the most suitable price and putting the product in the most convenient place for the consumer - e.g. on the expected shelf in their local supermarket.
Patak's target market for its new product range is ABC1 single people and couples in the 20-35 year old age range. Primarily these are people who are working full time and have busy social lives. These consumers need convenience while at the same time appreciate product quality and authenticity and were not purchasing the larger family sized jars. Research had also shown that they were nervous of the cooking skill required and the speed of preparation.
The product is therefore also designed to appeal to the adventurous spirit – to people who like to try new products. However, they would also be young people who have grown up with Indian food as part of their diet. Such an audience would consist of consumers who already eat Indian food regularly in a variety of forms - take-away, restaurant meals, chilled ready meals, etc. and want to replicate restaurant quality at home.
How the new product launch will help to build the company
Patak's is clearly an exceptionally dynamic company which has gained market leadership in the pastes sector in a relatively short period of time. This market leadership is based on a clear understanding of the consumer for authentic Indian foods. The new range will help to add value to the existing pastes and sauces market by introducing new users to the category. Many purchasers of the new range are likely to make repeat purchases and to extend their horizons into making other purchases from across the range of other Patak's products. For many of the targeted customers, making an 89p purchase of a Korma paste will be a low risk meal solution. If the solution proves to be successful they will want to buy again and they will want to try out other new alternatives confident that Patak's is able to meet their needs.
The product launch will witness distribution throughout major supermarkets, cash and carrys, as well as independent grocers, thereby ensuring its target consumers are reached regardless of income or shopping habits. Promotional activity will encourage the trial of the smaller curry paste packs, emphasising its convenience. PR programmes will communicate the benefits in a variety of trade and consumer press titles and bring to attention a tastings programme. All this activity will be consistently backed up with Patak's TV advertising campaign.
Conclusion
AC Neilsen's research has shown that Patak's is "the most authentic brand of Indian food in the United Kingdom" and the success of the company goes well beyond our own shores. Patak's is the market leader in over 40 countries worldwide, as shown below in the statistics for brand share in selected markets. By effectively building new brands and ideas designed around recognised consumer needs and requirements, Patak's is able to experience continuous growth based on confidence in its products and a sound marketing philosophy.
Patak's | Launching a new product range