Introduction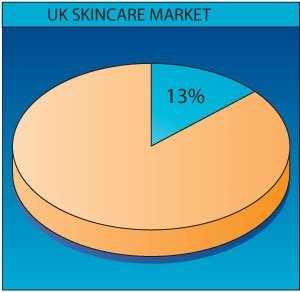 When a new product is launched, which is subtly different from existing brands and the new arrival is successful this often leads to hectic activity as competitors introduce rival versions. Marketing involves managing the effects of change and competition. An organisation cannot stand still in this environment of change. It needs to determine how these changes affect consumer wants and needs and then develop objectives and strategies to confront these challenges.
No business can survive for long without responding to a changing market-place. This is why marketing should be looked at as the 'generalship' of business; the function which directs and secures an organisations long-term viability. Marketing enables an organisation to:
be more responsive to consumer needs
improve its competitiveness
develop a direction for its activities
build upon past achievements.
This case study focuses on the most recent relaunch of the Boots No 7 brand in 1995. The No 7 brand was launched in 1935 as Boots own cosmetic brand, at a time when women everywhere were striving to copy glamorous, famous women like Greta Garbo, Marlene Dietrich and Lady Astor. The era created a tremendous demand for an increasing variety of cosmetic products, resulting in a thriving and competitive beauty market. The original range included just 7 products, designed to provide the basic necessities in make-up and skincare. It was presented in classic art deco packaging using a scripted 'Number Seven' logo.
Changing nature of the market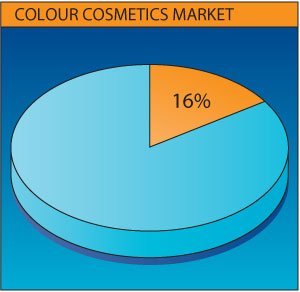 Since 1935, No 7 has been re-launched on a number of occasions to reflect the changing nature of the market for cosmetics. For example, cosmetics became more sophisticated towards the later fifties with varying degrees of lustre added to nail, lip, eye and cheek preparations. During the 60s heavy black eye make-up and pale lipsticks were made fashionable by singers such as Dusty Springfield.
By the 70s there was a greater awareness of eating for health and more emphasis was placed upon skincare than on decorative cosmetic application. During the 80s cosmetics expanded to meet every taste so that cosmetics reached an all time high in terms of sophistication. Products now offer state of the art technology combined with the latest scientific developments and natural ingredients collected from around the globe. As the cosmetic market has expanded, products and ranges have been developed to be 'micro-marketed' to specific age groups and socio-economic groups. The No 7 brand was last relaunched in 1991 with the introduction of the grey and rose gold tones. In 1995 Boots brand held a 13.0% share of the UK Skincare Market and a 16.0% share of the Colour Cosmetics market.
The cosmetic market
The Cosmetic market in the western world is huge business. In 1995 the Total UK Skincare Market was valued at £459.6 million and the UK Colour Cosmetic Market accounted for £551.8 million. The market is divided into a number of sectors to accommodate important segments:
Teenage/Budget Market. These products are aimed at fashion conscious young women and include brands such as 17, Rimmel, Outdoor Girl and L'Oreal. Products are for those who wish to buy more make-up for less money.
Mid Market. Customers who buy in this sector require premium products but at affordable prices. Brands include Revlon, Max Factor, Sensiq and Almay.
Premium Market. Products at the top end of a market are known as premium brands. Estee Lauder is a good example. Customers value the perceived benefits of these brands and are prepared to pay significantly more for them.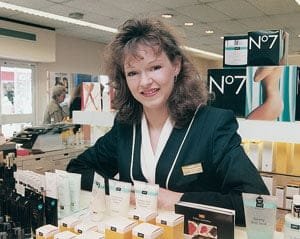 Prior to the relaunch of No 7 in 1995, the market had polarised. The Teenage/Budget and Premium markets were growing while, the Mid Market sector was relatively static. No 7 positioned in the Mid Market sector was perceived to be good quality, sold at a reasonable price but brand identity was not strong. Confusion existed between No 7 and 17 and it was often referred to as 'Boots Own Brand'.
Although No 7 was widely used it had a large number of older customers. It was the most salient and used brand along with Rimmel and Max Factor but, of the three, it was most biased towards the 31 to 45 year olds rather than the 20 to 30 year olds. The driving factor behind the 1995 relaunch was to move the brand from the Mid Market sector to the growing Premium Market. The objective of the relaunch was to encourage lapsed users to repurchase and to generate new customers.
Benefits
No 7 is the UK's most popular colour cosmetics brand. New products are the lifeblood of the cosmetics industry. No 7 offers women an innovative and exciting range of products with many new colours, advanced scientific skincare and is packaged in stylish and classic designs.
Over recent years the development work conducted by Boots Skincare and Colour Cosmetics Specialists has enabled No 7 to make some substantial claims for many products in the range. No 7 products are:
Not tested on animals.
Hypo-Allergenic and are less likely to cause allergy.
Dermatologically Tested (products have been tested or user trialled on the skin of human volunteers).
Many products are non Comedogenic (non pore blocking).
Most of the range is Fragrance Free.
Strategy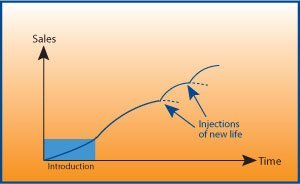 Re-launching a product extends the lifecycle of a brand. A relaunch strategy involves reviewing all the ingredients of the marketing mix in order to differentiate products from competition and thereby provide a more appropriate market position.
No 7 products were perceived as being good quality but drab and old fashioned, before the re-launch. The re-launched product range radically altered this image, as they were of the highest quality and at value for money prices. Two thirds of the colour relaunch range were new. This enabled every possible innovation to be incorporated. The New Light Diffusing Foundation contained elements to create a flawless and soft focus look and effectively reduce the appearance of fine lines, while New Moisture Active Lipcolour was designed to give 8 hour hydration to care for lips whilst colouring.
To ensure that Boots No 7 range was equal to the premium houses an extensive level of benchmarking with competing products took place. All new No 7 products were tested by at least 100 volunteers. The best available similar competitor's products were tested against the new No 7 formula. The products were presented anonymously, in the same packaging and the volunteers were asked to fill in an extensive questionnaire as to how each performed in relation to the other. No 7 products were only accepted for launch if they outperformed the competitors.
Packaging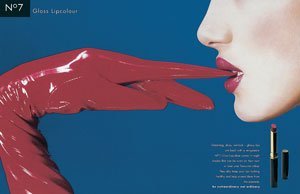 Packaging generates one of the strongest messages to a consumer. Initially it says more about the brand than the product itself. It must attract attention and make consumers feel good about the product - by looking good when used or displayed on the dressing table. The 1991 grey packaging now lacked visual appeal by being dull and un-inspirational and had become outdated. To enable the brand to move into the Premium Market, redesign was a necessity.
Premium. The packaging had to compare favourably with premium houses. Small details such as the click of a compact or lipstick can instantly portray quality.
Lasting. The packaging would have to be long lasting. A classic look was chosen to avoid becoming outdated.
Clarity. The names and the designs had to demonstrate differences between the brand sectors clearly. They also had to show the differences between brands to ensure that No 7 stood out from its competitors. The design chosen featured classical shapes and lines. The gold clasp was 'the twist' that made the classic design more interesting. The dark colour of the compact was seen as timeless and premium.
Advertising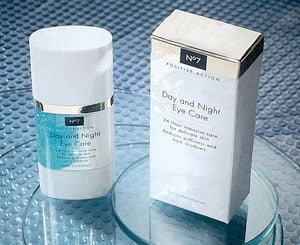 The TV approach was a new departure for No 7 and also for cosmetics and the skincare market. It reflected a style which would be impactful and noticed. It was visually very rich. The central character was portrayed in a series of scenarios, all of which were directed and aspirational for the target market. She was shown as a confident, independent individual who enjoyed life to the full. Ultimately, she was a woman's woman - someone the target market would like to emulate - a woman who is not over-concerned with her effect on men or their place in her life.
The advertisement finished with the endline 'be extraordinary not ordinary' - indicating that women could reach any level of extraordinariness by either changing their daily routine or by being totally outrageous. Clear branding was emphasised by using the new pack shots at the end of the commercial. Ultimately, the advertising succeeded in projecting the aims of the relaunch – to make No 7 premium and accessible by being more:
upmarket
interesting
exciting
relevant and contemporary.
The press campaign was planned as a support medium capturing the sensuality of the brand. A series of adverts featuring key products were placed in the popular monthly women's magazines including Vogue, Elle and Cosmopolitan. They reached 60% of the target market of females from socioeconomic groups BC1 aged between 20 and 35. A press launch was held on October 6th 1994 to raise the awareness of a large number of beauty and fashion journalists from leading UK national magazines.
Merchandising
Boots stores operate two types of display. Mass market brands are housed in self selection units which are free standing and allow customers to browse with no specialised assistance. Premium brands are situated on counters and arranged in such a way as to allow customers to be assisted by specialised brand consultants.
Before relaunch, No 7 had been situated on counters or in self selection units. No 7 had 300 consultants in key stores. The stores without consultants were either self selection sites or utilised Boots Sales Assistants. It was felt that in order to portray a premium image, all counter sites must have a dedicated consultant. To achieve this goal a training programme was initiated which increased the numbers of fully trained consultants to 745 by July 1996.
Conclusion
The counter is crucial in the projection of the No 7 brand image. Before relaunch the counter was perceived as drab, uninteresting, poorly sectioned and dated. The merchandising units were cheaply manufactured and did not promote the intended premium image.
During 1993 a brief was written for the design of new counters, which resulted in the new No 7 counter becoming revolutionary. All premium counters display testers and consultants sell from beneath the counter. This was impractical for No 7 due to the vast number of customers shopping everyday, thereby making it impossible to serve customers individually. Customers had to be able to select some items themselves. The new No 7 counter was designed to display all the products and colours without looking cluttered. Its layout had clarity enabling customers to find their way around it easily and being able to choose what they wanted. This was a significant challenge given the amount of stock on display! Customers purchasing cosmetics need to be able to test with ease and so it was important to lay out testers to encourage trial.
A huge logistical exercise resulted with 1200 stores being fitted with new counters overnight. These ranged from a small self selection unit to 12 modules of counters, with 52 variations in between. The result was an appealing premium looking counter. By Saturday 20th February new products and new counters were in situ nationwide, enabling the changes to be made in all 1200 stores on 22nd February. No 7 was featured in the windows of every Boots store and heavily dominated the gondola end displays.
The new TV advertising began on 24th February. This drew customers to stores to see 'What had happened to No 7.......'
The Results
Following the launch, claimed usage by the target market increased by 7% to 40%. It was important to understand how individuals responded to the new image created by the brand. The re-launch changed the brand's personality and is now perceived as more seductive, independent and individual.
Prompted responses to the changes to the brand were:
modern and up to date - 63% of target sample
fun to wear - 59% of the target sample
confident about yourself - 45% of target sample
best choice for today's women - 27% of target sample.
The image of the brand as 'really modern' doubled from February 1995 to March 1996, with the brand performing equally well with 20 to 30 year olds and 31 to 54 year olds. Research revealed that the target market found the advertising extremely modern and exotic. No 7 has now become the most bought brand. It is purchased by 27% of 20 to 30 year olds and 33% of 31 to 45 year olds. Sales in 1995/96 increased by 40% in volume over 1993/4.
This case study illustrates how Boots reacted to changes in the market-place to re-launch its major brand of cosmetics. The marketplace had moved on and, in recognising these changes through its re-launch strategy, No 7 was provided with a marketing opportunity to become a premium product in an expanding market sector.
Boots | No 7 - the relaunch of a brand