Introduction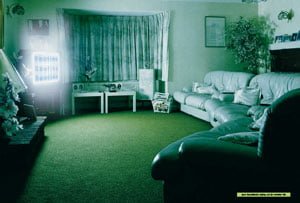 Television is moving into a radical new era, heralding the most exciting televisual developments of your lifetime. Increasingly viewers will take charge of their own entertainment in the home. Digital television will give viewers more opportunity to watch what they want, when they want. There are a host of new applications involved with the digital revolution, which are set out in the case study.
This case study focuses on how BSkyB is driving the digital revolution and examines the marketing activities taking place alongside the advent of digital television.
Digital television is the latest development in fast moving TV technology and is arguably the most exciting invention since John Logie Baird first dreamed up TV. Until now consumers have had to rely on TV signals which are beamed from transmitters and travel by analogue waves. Analogue systems, however, can suffer from a fuzzy picture or vertical banding in areas where the signal is weak. Pictures created from a decoded digital signal will be crystal clear in all instances.
In essence, digital television is very simple. TV signals, that have been compressed using digital compression routines, are beamed out through the usual distribution means (satellite, cable or terrestrial broadcast) and then decompressed by a box plugged into the television. Huge amounts of information can be squeezed into a digital broadcast, and that essentially means many more channels to choose from.
The recent deregulation of the TV market has resulted in a channel explosion. As a result, the number of available analogue frequencies to broadcast on is fast disappearing. The increasing number of channels can therefore only be accommodated digitally. The 40 existing terrestrial TV frequencies could support up to 240 digital TV services - just imagine the variety that this will present!
Digital TV will be the norm sooner than you think - the Government has decreed that analogue transmissions will be switched off sometime between 2000 and 2013. This means that after the switch off date, if you want to watch TV, you will have to view programmes through digital.
There are three systems (also known as platforms) for providing digital television. These are terrestrial, cable and satellite.
Digital terrestrial television is received via an aerial and set-top box. Initially the system will offer about 15 channels and will be available in about 70% of the country.
Digital cable television will build on the recent growth in cable television in this country. Cable is currently available to about 50% of homes although only 20% of total homes are actually connected. This service will offer a similar number and selection of channels compared to satellite although full details are not yet clear.
Digital satellite television has built on BSkyB's success as the providers of satellite TV over the past ten years. This system currently offers the greatest choice of viewing and is available everywhere in the country. The digital version of the satellite dish is sleeker and smaller (black and elliptical) than current dishes and reception is via the dish and a set-top box. Digital satellite television offers up to 200 channels as well as a number of interactive services which will be available soon.
Developing new products and services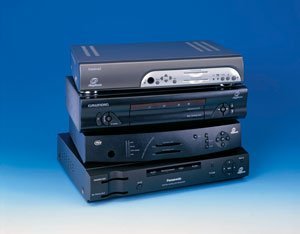 New channels
SkyDigital offers a vast number of new channels from British and International programme makers with quality that Sky believes will be unbeatable. This includes two new sports channels - MUTV, the new Manchester United Football Club channel, and Sky Sports News; new non-subscription channels from the BBC, including the brand new BBC Choice - the BBC's first new entertainment channel in over 30 years; and new music video channels from MTV - M2 - and 44 audio channels of digital quality music.
SkyGuide
SkyGuide is Sky's unique on-screen listings guide. Sophisticated and easy to use, it puts viewers in control of their viewing, with instant access to a whole range of programmes, movies and events at the touch of the remote control, as well as interactive features which will be available shortly. For example:
Box Office - impulse ordering of movies and events
Search-and-Scan - a unique facility which allows the viewer to sample other programmes without even changing the channel
Interactive services (see BIB section).
The parental block
The parental control feature on SkyGuide means parents / guardians can block channels and programmes above a certain rating, restrict ordering of Sky Box Office programmes above a certain price, or remove access to certain channels completely.
Digital quality picture and sound
Digital signals utilise binary transmission of information - a series of noughts and ones - just as in computer systems. The picture and sound quality of digital is, therefore, guaranteed to be near perfect, whereas current analogue transmissions can suffer from signal interference.
New services
Multiscreen Movies
Sky Movie multiplexing or 'multiscreen movies' provides 11 screens of movie entertainment with a choice of up to 5 different movies every hour. Certain movies are additionally shown in widescreen format with a Dolby Pro-Logic soundtrack. Sky continues to provide the wide choice of films which subscribers have come to expect, from Classic to Adventure, from Thriller to Romance. This service is provided 24 hours a day.
Sky Box Office (near-video-on-demand)
Sky Box Office new near-video-on-demand movie and events service is very convenient - with up to 48 channels showing up to 25 different movies and / or events each month. This will provide as much choice every night as there has been up to now in a month! Viewers can order and pay per film so that they will only pay for the movies they actually watch – like renting a video without having to leave the house! Viewers will be able to choose what to watch on impulse via their remote control rather than having to plan and order ahead.
Digital Teletext
Digital Teletext will be far more sophisticated than current text services and have the look and feel of the internet. It will be easy to read and use, with greater access to information and better graphics. It provides a reliable, convenient and quick informative service.
Digital music
Music Choice provides 44 channels of digital quality music 24 hours a day. This is the ultimate service for the music-lover - no DJ's, no advertising and additional information at your fingertips. CD and artists' details are displayed on screen if requested.
BIB/Interactive
One of the most exciting aspects of digital broadcasting is its potential for interactivity. In May 1997, BSkyB helped establish British Interactive Broadcasting (BIB) - a company providing interactive services in the digital environment. Interactive services will include home shopping, banking, a travel ticketing service, an email capability, interactive games, as well as informational and educational services. Navigation through the system is simply by a touch of the remote control.
New equipment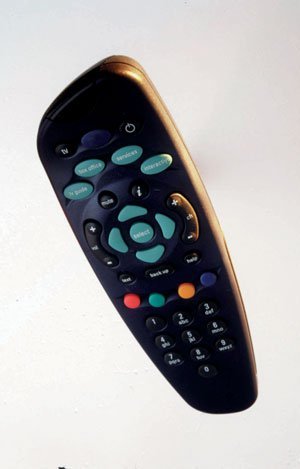 tvLINK
The tvLINK, about the size of a matchbox, is a new optional feature which, when connected to the Digibox, allows the viewer to watch the same digital channel in more than one room, or watch a digital satellite channel in one room while someone else watches terrestrial TV in another.
Digibox (or set-top box)
The Digibox is made to a high specification technical brief by four well-known suppliers. (Already, Sky has placed orders in this country for up to a million boxes!) It comes in four distinctive individual design styles and, as new software can be downloaded by satellite, new features may be added as and when developed – the ultimate in 'future-proofing'!
The Digital MiniDish
The Digital MiniDish is about half the size of the current Sky dish, with a contemporary design and advanced technology to provide improved reception.
Remote control
A single remote will control all Digiboxes plus most TVs. The user-friendly remote has been ergonomically designed with a colour-coded layout and special cursor control. It is equally friendly to both left and right-handers.
Building a brand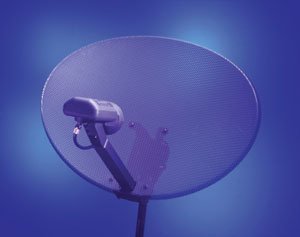 In short, all of Sky's marketing activities aim to:
drive subscription growth and sales
encourage loyalty and retain customers
develop the Sky brand.
To inform consumers about digital satellite television, Sky has engaged in a national campaign running across TV, radio, internet, press and billboard sites: a multi-media explosion to support this major new product launch! In addition, Sky is actively generating interest through impactful in-store displays in retail outlets, as well as carrying out a national retail training programme to make sure retailers have the widest possible knowledge and understanding of the product.
The launch of SkyDigital sees not only a revolution in technology, but an evolution in marketing. Sky's marketing activities can be divided into three major stages:
Stage 1 - Event marketing
Stage 2 - Brand building
Stage 3 - Evolving the SkyDigital proposition.
From Sky's launch in 1989 to 1997, Sky focused its efforts largely on event marketing. In the past, events were Sky's primary product - sporting events (Premiership Football, Rugby Five Nations, etc.) and programming events (movie premieres, first run series etc). Sky is credited for having transformed televised sport with the breadth, depth and style of its coverage, as well as having revolutionised entertainment TV provision.
The near universal appeal of these events provided a very powerful marketing tool for Sky in terms of driving sales. Sky therefore focused much of its advertising on high profile events which were exclusive to Sky viewers.
Although event marketing has been tremendously successful, it did lead to the polarisation of Sky's target audience, which, as a result, was largely made up of male sport-lovers. Also, for a number of people, Sky had become a distressed purchase - instead of thinking 'I want Sky', they thought 'I have to have Sky!' - a very different proposition!
Creating a wider consumer base
From 1997 to Autumn1998, the emphasis at Sky shifted to brand building. Sky set out to broaden the consumer demand for Sky. Up to this point, the brand had a strong but narrow appeal (male, sport-lovers). A number of people viewed Sky as 'TV for boys' and thus the brand was inadvertently alienating women viewers and families not interested in sport.
So, the marketing objectives for Sky became to:
re-ignite interest and enthusiasm for Pay TV
establish a new and softer 'voice' for Sky
demonstrate relevancy to a wider audience (women, families, etc.)
differentiate satellite from cable.
The marketing strategy put in place to meet these objectives involved:
establishing the 'quality' and 'choice' values of Sky by using programming genres or types (movies, documentaries, news and sport) to make choice relevant. The message to consumers became 'If you're into documentaries, you'll love Sky' or 'If you love movies, you'll love Sky.'
promoting the value-for-money represented by the multi channels.
Evolving the proposition
Sky has identified a number of key brand values for SkyDigital:
Choice - gives the viewer more control. The more choice that the consumer has, the more likely he or she will find what is of real value.
Control - is a new principle to TV viewing - in essence, the choice belongs to the viewer and not the broadcaster. SkyDigital empowers viewers to choose what they want, when they want. It is liberating and simple to use.
Value - SkyDigital offers value for money. Not only does it give the viewer more choice, it will maintain the quality of the product and service.
Quality - a pledge to deliver quality of programming and services.
Marketing strategy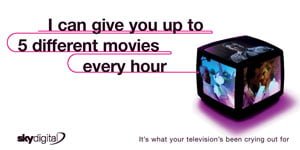 The advent of digital satellite has made it possible for Sky to improve its market position. From the launch onwards, the marketing objectives have been to create fresh demand for Sky, to position digital satellite television as the market leader and to make sure that potential customers fully understand the product's benefits. The marketing strategy has extended to establishing a unique positioning for SkyDigital in the minds of non-subscribers.
SkyDigital set out to create an event around the launch and to fulfil the marketing objectives through a large scale advertising campaign involving television, radio, posters, magazines, newspapers and the internet. However, advertising in itself is not sufficient to drive consumer understanding of the new product. The campaign and communications have become an integral part of SkyDigital's marketing mix embracing public relations (PR), sponsorship and consumer promotions, in-store marketing, branding and direct marketing activities.
Widening the target market
The target market for SkyDigital includes everyone, as almost everyone watches television! Therefore, it remains imperative to tailor Sky's marketing messages to different segments of the population. Although the core audience remains the 'family unit', with SkyDigital, different features and benefits have different levels of appeal, so it is necessary to communicate these different options to the various target audiences. For example, some of the things digital will offer:
Films - to film lovers, young couples etc.
Home banking (interactivity) - to busy, career-minded people
Documentary programmes – to retired, nature-loving people, as an educational tool etc.
SkyDigital – marketing and sales
The ongoing mission for Sky's marketing and sales is to drive subscription growth (i.e. more buyers), encourage loyalty and retain customers. With SkyDigital, this becomes a two-tiered mission:
To generate new digital customers (i.e. people who are not current Sky subscribers).
To encourage current Sky subscribers to move from analogue to digital.
Sky has a great history of generating sales through innovative and creative marketing, and this is set to continue. (See graph).
In order to drive sales, Sky is continuing its partnership with and commitment to a group of major high street retailers including Comet, Currys, Dixons and Granada. In addition, Sky has a well-established direct sales operation publicised through an easy to remember number.
Conclusion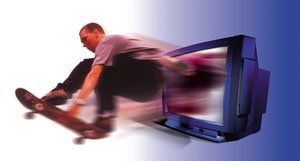 This case study explains how Sky is at the forefront of the digital revolution currently underway in the television market-place.
The fast-moving changes taking place are radically altering how the consumer interacts with his or her TV - choosing the type of television delivery to suit the consumer's preferences, choosing what the consumer wants to watch, as well as how and when he/she wants to watch it.
Sky has altered the focus of its marketing activities in order to carry the brand forward into the digital age and broaden its consumer base. Sky fully intends to maintain its position as the leader in multi-channel TV and continue to drive digital technology forwards into the next millennium.
Sky | Sky and the digital revolution