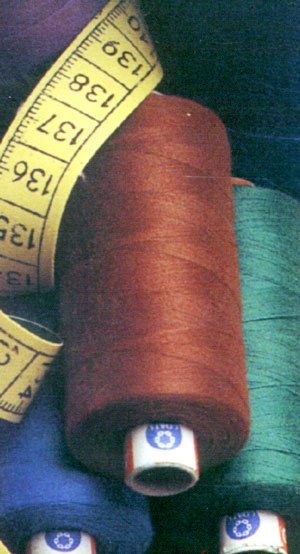 Many of the goods we use in our everyday lives are based on "threads." For example, the room in which you are sitting whilst reading this may have a carpet and curtains. Without doubt the people surrounding you will be wearing a variety of clothes – some of which will be exotic and original, others will be more conformist. A large assortment of fibres and filaments that form the raw materials of threads are to be found in general use in consumer and industrial textile fabrics and other materials.
This case study focuses on how Coats Viyella Thread Division has achieved success in a dynamic global market environment which has experienced considerable changes in recent time. Coats provides a variety of top quality threads to meet the needs of local customers throughout the world. It has an unrivalled network of international resources, experience and expertise. With companies located in over 60 different countries, Coats is a truly global thread supplier.
A powerful production base allows the company to pass on considerable economies of scale. As the garment industry becomes increasingly global, Coats has been able to apply successful technical and marketing expertise gained in one market to meet the growing requirements in another. As the waves of fashion ebb and flow around the world, Coats has been able to identify the coming trends at an earlier point in time.
A dynamic industry
Very few organisations operate in a static situation. Today we live in a global marketplace for goods and services, in which technology, purchasing power and tastes are changing all the time. In the past the textile industry was criticised for being manufacturing-led. For the larger organisations in the industry there had been strong consumer demand and emphasis was placed upon structured work and output. Today this is not the case. Organisations like Coats need a high degree of flexibility at all functional levels in order to:
look outwards to respond to changes in markets, business conditions and competition.
look inwards to develop the organisation so that it can continually meet changing customer needs.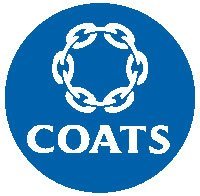 The textile and clothing industry is one of the most dynamic in the UK today. While some sections of this industry have gone into decline, other areas have flourished. Today the textile industry employs over 400,000 people in the UK, which is substantially more than agriculture and in the first half of the 1990s the textile industry had a better export performance in terms of growth than the food industry, chemical industry and even the automobile industry.
The level of product innovation in the Textiles and Clothing Industry is second to none. How many other industries would be really comfortable with the knowledge that the vast majority of their product range changes twice a year and increasingly, more than twice a year? Textiles and clothing therefore need to provide dynamic responses in a constantly changing business environment.
The external environment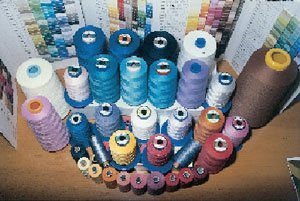 The textile industry has been characterised by keen international competition ever since the days of mass production in factories. Increasingly this competition is being intensified as global markets are exposed to free competition. In this respect, one of the most significant changes is the phasing out of the Multi-Fibre Agreement, as textiles and clothing are integrated into the General Agreement on Tariffs and Trade. GATT was a global agreement by countries to create free trading arrangements which has recently been superseded by the Multilateral Trade Organisation (MTO).
The Multi-Fibre Agreement (MFA) was set up in the early 1970s, essentially with the intention of trying to control imports from the developing world into the developed world. It consisted of a series of bilateral quotas between exporting and importing countries. In 1993, it was agreed progressively to phase out the MFA over a ten year period. In year one, 16% of textile imports had to be quota free, in year four a further 17%, in year eight a further 18% and in year ten 100%. The overall effect is an ongoing relaxation of quotas.
A major advantage that UK industry has over its European competitors, such as Germany and France, is that of relatively low labour costs.
Value chain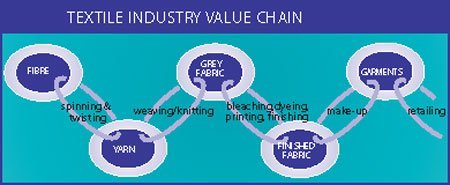 A value chain shows all the stages involved in adding value to a product and the links between these stages. The stronger the chain, the more value that will be added in the process of production. This chain is the key to gaining competitive advantage.
The textiles and clothing industry involves a complex value chain. For example, there is a set of processes which develop between actually picking fibre in a cotton field and being able to go into a local store and buy a garment which is liked, which fits, is the right colour and has the right fashion appeal. The illustration below shows the value chain. It is the quality which goes into the value chain that determines its effectiveness. To be successful, the value chain needs to be driven by the market i.e. it must result in providing those benefits which consumers demand and value.
The chain begins with the fibre which is processed before being spun and then (usually) twisted into a product called yarn. The yarn is then woven or knitted to produce what the industry calls "grey fabric." The next step involves a major change which has various descriptions: bleaching, dyeing, printing and finishing.
All of these transform what was essentially unwearable and unusable into what consumers are happy to have close to their skin. It gives it something which is termed "handle" i.e. strength, the ability to keep its shape and in the case of dyeing it gives colour or in the case of printing it gives it a design. Most importantly for some, it gives the product ironing properties - everytime it is washed, it is also possible to iron it. The material is then classified as "finished fabric." Finally, it goes into the garment which appears in shops and other retailing outlets. The strength of this chain explains why some garments will be seen as good value for money even though they cost hundreds and thousands of pounds, while others may remain unsold even though they retail at two or three pounds.
Adding the value
If you study the value chain for textiles it is possible to make some important generalisations. On the left-hand side of the value chain, the business is more capital intensive, is less differentiated, has relatively low variety and is inherently more stable. On the right, particularly once we move into garments, we are involved in a business which is relatively labour intensive, which has high levels of differentiation, high levels of variety and changes often. In fact we are in the fashion industry. It is important to appreciate these shifts in the value chain.
In this case study we will focus on the largest part of the Coats Viyella Group - The Thread Business – in order to highlight how it creates a key competitive advantage at the start of the textile industry value chain. Before focusing on The Thread Business, it is helpful to appreciate the Coats Viyella product spread. Coats competes in a variety of product areas across the textile value chain, as well as in precision engineering, with direct customers varying from Ford to the department store shopper. Product groupings are:
THREAD
FASHION RETAIL
Jaeger Ladieswear
Jaeger Menswear
Viyella
CLOTHING
Branded
Marks & Spencer private label
Other contract manufacturing
PRECISION ENGINEERING
Metal dyecasting
Plastics casting
HOME FURNISHINGS
Objectives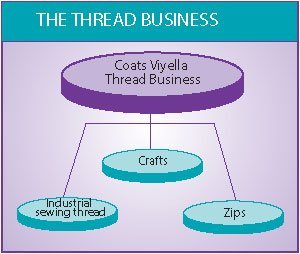 The first and largest division is Industrial Sewing Thread in which Coats is the world leader with over 20% share of the world market. Industrial sewing thread largely goes to garment makers. But there are some other important users, for example, the shoe industry and an important growth area is the automotive industry, where Coats is currently involved in developing the appropriate sewing threads for air bags. So the industrial thread business, although largely focused on the garment industry, also caters for other important niches.
The second division in The Thread Business is the Craft business: that is consumer sewing thread, hand knitting, embroidery thread, hand-craft kits – a wide range of products increasingly designed more for craft enjoyment than for making clothes. Again, Coats Viyella is the world leader in craft products.
Finally, there are Zips, where through ownership of Opti in Europe and Talon in the United States, Coats are the second largest zip maker in the world. The vast majority of zips are sold to industrial customers and they are increasingly sold and distributed alongside industrial thread. This is an area of intense competition and includes the major Japanese competitor YKK.
Driving the value chain
In a keenly competitive market "winning companies" will be the ones who are able to satisfy customers effectively and provide them with value for money. The end consumer of the value chain is the buyer of clothes (or other textiles) who is looking increasingly for sophisticated and fashionable products. Supplying the consumer is the retailer who today is demanding higher and higher service from manufacturers. Retailers want to minimise the amount of stock they carry. They are seeking to be able to sell new stock as quickly as possible and to have as few "write downs" as possible in the form of end of season sales.
Retailers are looking for just-in-time delivery from manufacturers of the latest fashion items to replace existing stock. This pressure passes down the line from the garment manufacturer to the thread manufacturer. The garment manufacturer wants to have the right products, the right colours and the right qualities just-in-time. Coats is the largest manufacturer of threads in the world and it has also been able to become the best. The premium value that it is able to add in the process of production is to produce the colours and service which customers require.
The objective of Coats Viyella Threads is to provide the customer, large and small, with a responsive, flexible and reliable service. The Business recognises that it will only thrive by establishing a close working partnership with its customers to create mutual benefits. The goals are excellent products, ready availability, with fast and accurate turnaround from order to delivery.
Quality management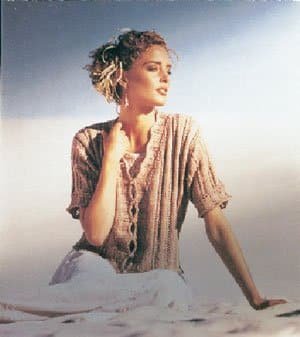 Coats Viyella believes that there are three bases for competition - Quality, Service and Value.
"Quality management" requires clear identification of customers and their needs and meeting these needs with products and services which conform with the customers' requirements or are "fit for purpose". Coats' effective and extensive product range is the foundation for its present success and the platform for future ambitions. From general purpose spun polyester and high performance core-wrapped threads to the latest developments in air-jet technology, the aim is to provide a range of products, colours, lengths and sizes to meet the most specific customer needs.
As Coats is the largest producer, it is able to employ the finest technology. This means, for example, that Coats is able to produce thread in large quantities which is of the exact colour required by individual customers. Uniformity of dyeing is made possible by the sharing of colour physics data with the Division's 50 dye houses around the world. Fewer errors occur, making production planning more accurate and speeding up order fulfilment.
Given the choice, a customer will deal with a supplier (Coats) who is able to supply almost instantaneously, the quantity of thread that is required, in the exact colour and which meets all other specifications, rather than a competitor who is not sure when it can deliver and cannot guarantee uniformity of product. Coats has introduced a system known as "Right First Time" which is based on making sure that all of its dye houses throughout the world do just that - "get it right first time." Because this happens, there is no need to reprocess, thus saving energy, labour and raw materials.
Service
In a competitive environment, Coats' ability to provide high quality services for its customers is an important way of differentiating what it does. If organisations are not marketing orientated or do not provide customers with desired levels of satisfaction, the needs, wishes and aspirations of customers will have been ignored and this could affect the success of the whole organisation. Coats has been involved in six distinct developments designed to improve the whole area of service.
Historically, Coats has produced much of its product range from stock and offered a service to customers from this stock. In industrial thread, Coats has moved increasingly to 'make to order' which reduces the need to carry high stock levels and the risk of dormancy. This is assisted by Right First Time described above.
Coats has a network of dyeing plants around the world designed to provide local services which respond to and cater for local customer needs. Coats continually enters new markets as clothing manufacturing migrates and has built or acquired manufacturing in China, Vietnam, Bangladesh, Morocco, Hungary, Poland and Egypt over the last 10 years.
Coats embraces new technology to produce goods which are tailored to individual customer requirements.
The enhancement of supply chain management, particularly by using information technology and electronic data interchange (EDI). The use of such technology by Coats improves service to customers on a variety of levels, especially response to orders.
Value Added Services is an initiative started in the Industrial Thread Division. Traditionally the business regarded the thread which manufacturers have left over at the end of a job in the same way as Colmans became rich - "mustard on the side of the plate". To the manufacturers however, it was waste. Coats has therefore started to work with a number of its larger companies on a stock management service in sewing thread. The customer provides Coats with the production plans and in return Coats guarantees to have the thread there on time and to manage the stock supply, so much so that there will not be any returns. A growing number of customers have said that this adds a lot of value to their business and improves their bottom line through the prevention of waste.
Speed to market. Coats Viyella on a company wide basis ensures that it gets its goods to the market very quickly. This is essential in the market environment described in this case study.
Value
The last of the three bases is value. One of the most important requirements for ensuring value is to develop alliances with suppliers. Closer links and the sharing of information help both organisations to reduce costs and focus activities.
Another key way to improving value has been to encourage more energy and autonomy in Coats' operating divisions. It has recognised that the fundamental disciplines in manufacturing and customer service are quite different and that they must provide both with appropriate managerial focus. Coats as a Group has, therefore, developed a very decentralised style of management, with decisions being made as close to the market as possible.
Conclusion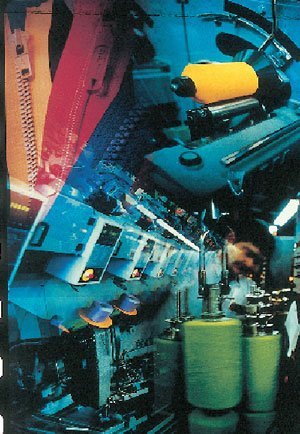 To conclude the case study it is helpful to identify some further opportunities which will help to enhance Coats' performance and thus add further momentum to the value chain. In particular, Coats believes that there are opportunities for growth in certain geographic areas: in India, China and Eastern Europe - each with their own challenge. The key drives for these markets is the growth in their export of clothing. All have opportunities for indigenous production of thread - in fact Coats is already producing thread in India and China. All offer very exciting potential to service the local demand for clothing products. All these areas will demonstrate real growth and substantial demand.
In the developed world where garment manufacturing is static to declining, the key area is through niche markets, particularly those for non-apparel use such as automotive seats and seatbelts, tampon threads and teabags. This involves highly targeted marketing activity which enables Coats to understand the specific needs of customers in these niches. For example, think of the niche markets in which you use products which require threads. They may include threads for training shoes or embroidery thread for fashion garments. Coats global presence, balancing its experience of managing growth in the developing world and its strong market positions in the developed countries, make it unique in its industry and Coats should flourish in the next millennium.